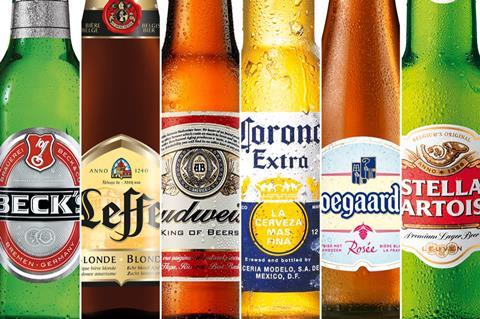 Top story
The world's largest brewer AB InBev (ABI) said it experienced a "challenging" third quarter, with sales and profits lagging expectations due to declines in the US and China.
The maker of Budweiser, Corona and Stella Artois reported flat Ebidta year-on-year at $5.3bn, below analysts' expectations of a 3% rise, as a result of cost of sales headwinds and marketing spend.
So far this year, Ebitda grew 5.6% to $15.7bn with margins rising to 40.4%.
Sales in the third quarter increased 2.7% to $13.2bn, while in the nine-month period since the beginning of the year, revenues were up 4.8% to $39bn, driven by "healthy growth from ongpoing premiumisation" and revenue management initiatives.
Combined revenues of its three global brands, Budweiser, Stella Artois and Corona, grew by 4.1% globally, and by 5.2% outside of their respective home markets, while growing 6.4% in the nine-month period.
Total volumes declined 0.5% as "solid growth" in Mexico, South Africa and Colombia was offset by declined in China and the US, both driven by shipment phasing impacts.
Own beer volumes fell 0.9% in the quarter but non-beer volumes rose 4%, meaning that total volumes in the first nine-months were up 1%, with own beer up 0.7% and non-beer up 3.6%.
Normalized profit attributable to equity holders of AB InBev in the quarter was $2.41bn versus just $1.51bn in the same period in 2018, while in the nine-month period it jumoed to $7.12bn from $4.84bn.
Underlying profit (excluding mark-to market gains linked to the hedging of share-based payment programs and the impact of hyperinflation) was $1.87bn in the third quarter compared to $2.19bn last year.
Ab InBev said it continued to expect "strong revenue growth" for the full-year, but warned that Ebitda growth will be "moderate" due to the headwinds faced in the third quarter. It had previously expected strong earnings growth for the full year.
The latest results follow a busy summer for the brewer after the listing of a minority stake in its Asian operation for $5bn and sell off its Australian business to Japan's Asahi for $11bn.
Ab InBev shares dropped 9.9% trading at €74.75 in Brussels.
Morning update
In this week's issue of The Grocer read about how startups are feeling unsupported by the wider retail insustry, bottling giant Refresco took a £8.1m hit from the acquisition of peer Cott and Bear owner Urban Fresh Foods saw sales go backwards in 2018, reversing its previous rapid growth.
Check out thegrocer.co.uk/finance for all the details.
This morning the FTSE 100 opened marginally lower at 7,323.48pts.
Fallers included British American Tobacco (BATS) down 0.9% at 2,734.50, Diageo (DGE) down 0.5% at 3,126p and Unilever (ULVR) down 0.5% at 4609p.
Among the risers Marks and Spencer (MKS) recovered, up 0.5% at 184.75p, while WH Smith (SMWH) was up 0.5% at 2250p.
Yesterday in the City
The FTSE 100 closed up 0.9 at 7,328.3pts surging past the 7,300pts mark and reaching its highest point since the beginning of October.
As the UK awaits decision from the EU on whether a three-month Brexit extension will be granted, the pound rose marginally against the dollar trading at $1.2857.
Among the risers, Ocado (OCDO) closed 2.6% higher at 1,317.50p, Just Eat (JE.) was up 0.9% at 753p and Bakkavor (BAKK) was up 2.7% at 128.40p.
C&C (CCR) closed up 4.4% at 378.50p after posting a first half rise in net sales and profits despite lapping tough comparisons after the bumper summer of 2018.
In the red, Marks and Spencer (MKS) dropped 3.8% at 183.75p, Greggs (GRG) closed 1.5% lower at 1807p and Hotel Chocolat (HOTC) 1.8% at 480p.