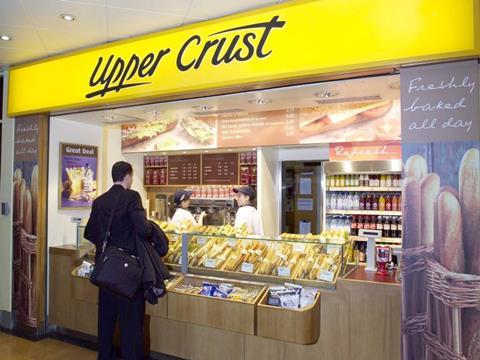 Top story
Travel retailer SSP Group (SSPG) has grown sales by 7.3% in the third quarter, with like for like growth of 2.7% in the period.
The Upper Crust owner reported net contract gains of 3.3% in the three months to 30 June, with headline sales boosted by a further 1.3%pts by its acquisition of German travel catering business Stockheim.
At actual exchange rates, given the relative strengthening of sterling against most currencies compared with the same period last year, total group revenues for the period increased 5.8% year-on-year. The overall impact on revenue of the movement of foreign currencies during the first three quarters of 2018 compared to the 2017 average was -1.9%.
SSP Group said like-for-like sales growth in the UK and Continental Europe were broadly in line the first half of the year, driven by on-going growth in the air sector.
Trading in the rail sector continues to be softer, with some additional impact from strike action in France.
In North America, like-for-like sales growth was good, again driven by increasing air passenger numbers.
In the Rest of the World, the trends seen in the first half have continued into the third quarter with good like-for-like sales growth, including in Hong Kong, Egypt and India.
SSP expects overall like-for-like sales growth for the group to remain between 2% and 3% for the rest of the year.
Net contract gains were driven by strong contributions from North America and the Rest of the World, while trading in the new units has been "encouraging" and the programme of new unit openings for the rest of the year, in particular in North America, is slightly ahead of its plans. It now expects the contribution from net gains for the group in the second half to be around 3%, and around 4.5% - 5% for the full year.
It also said it had experienced a "good" improvement in operating margins in the third quarter driven by the on-going roll out of its strategic initiatives, with operating margin growth a little ahead of that seen in the first half.
For the nine month period from 1 October 2017 to 30 June 2018, total Group revenues increased by 10.2%, including like-for-like sales growth of 2.8%, net contract gains of 5.6% and revenues from acquisitions of 1.8%. At actual exchange rates, total group revenue has increased by 8.3% year on year.
Its shares have risen 2.4% to 675.3p in early trading on the news.
Morning update
Dairy Crest has released a short trading update ahead of its AGM later this morning.
The Cathedral City maker said trading in the first quarter has been in line with our expectations and our outlook for the full year remains unchanged.
Combined sales revenues of Dairy Crest's four key brands - Cathedral City, Clover, Frylight and Country Life - were 6% higher than the same period last year, driven by the strong performance of its two largest brands, Cathedral City and Clover, which both grew revenues by 10%.
CEO Mark Allen commented: "2018/19 has started as we expected, with our two most important brands, Cathedral City and Clover, delivering a strong performance. While the butter market remains challenging, our spreads portfolio continues to go from strength to strength, demonstrating the benefit of our diversified portfolio. Our Functional Ingredients business is becoming more established and the customer base continues to build.
"Innovation is the cornerstone of this business and we expect to announce several new product launches before the end of 2018. Following the May capital raise our balance sheet is more robust and our expectations for the full year remain unchanged."
On the markets this morning, the FTSE 100 has opened largely flat at 7,598.7pts.
In addition to SSP Group's rise, Dairy Crest is also up this morning after its trading update - rising 2.6% to 480.6p.
Other risers include PayPoint (PAY), up 1.4% to 972p, Greggs (GRG), ujp 1.3% to 967.5p and WH Smith (SMWH), up 1% to 1,982p.
Fallers include C&C Group (CCR), down 1.6% to €3.43, McBride (MCB) down 1.2% to 132.8p, Hotel Chocolat (HOTC), down 1.1% to 350p and tobacco giants British American Tobacco (BATS) and Imperial Brands (IMB), both down 1.1% to 3,830.5p and 2,823.6p respectively.
Yesterday in the City
The FTSE 100 slipped 0.6% to 7,600.5pts as the global oil price fell in the aftermath of the meeting between US president Donald Trump and his Russian counterpart Vladimir Putin.
In the grocery sector, Finsbury Food Group (FIF) was up 1.3% after a 3.4% drop in annual sales, though this represented like for like sales growth of 2.4%.
Other risers yesterday including McBride (MCB), up 3.1% to 134.4p, Ocado (OCDO), up 2.4% to 1,054.5p and Nichols (NICL), up 1.4% to 1,495p. Dairy Crest was also up 1.3% to 1,495p ahead of today's AGM and trading update.
FTSE 100 fallers included British American Tobacco (BATS), down 1.4% to 3,872.5p, Marks & Spencer (MKS), down 1.3% to 310.3p and Diageo (DGE), down 1.3% to 2,769p.
Other fallers yesterday included Hotel Chocolat (HOTC), down 3.7% to 354p, PZ Cussons (PZC), down 2.3% to 224p, Majestic Wine (WINE), down 1.7% to 444.5p, Applegreen (APGN), down 1.5% to 522p and McColl's (MCLS), down 1.4% to 209.5p.