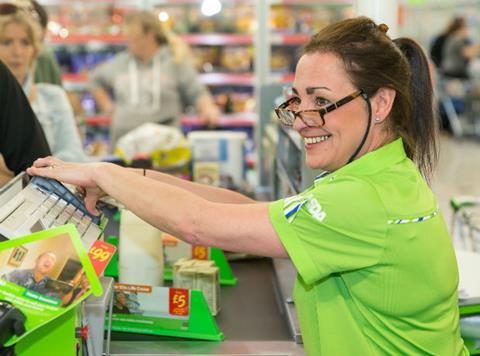 Top story
Asda has posted a 13% drop in annual operatings profits as it invested in price and new products to regrow sales.
The newly filed accounts for Asda Group Limited at Companies House show that in the year to 31 December 2017, the supermarket's like for like sales increased by 0.5% compared to a 5.7% slump in 2016.
However, operating profit was fell from £845.3m to £735.4m in 2017 driven by "planned strategic investments" in price, quality and service.
The strategic report prefacing the accounts, notes the return to like-for-like sales growth was driven by investments in lowering prices to mitigate the impact of food inflation, further improving the range and quality of its own brand products.
The investments made towards the end of 2016 led to what Asda termed a "planned reduction in operating profit".
During 2017, Asda opened one new Home Shopping Centre, three new superstores and five new supermarkets, representing 146,000sq ft of new space.
Earlier this month, Asda reported its fourth consecutive quarter of growth with a 1% (Easter adjusted) increase in like for like sales during the first quarter of 2018.
Asda President and CEO, Roger Burnley, said: "Our 2017 accounts reflect a solid performance and a strong, well-managed business. During the year momentum returned driven by a series of planned investments in lowering prices, further improving quality and innovation in our Own Brand ranges and providing an even better shopping experience whether in store or online. Our customers have responded well to this strategy and the momentum of 2017 has continued into the first quarter of 2018."
Morning update
UK supermarket property specialist Supermarket Income REIT (SUPR), has bought the Tesco Extra supermarket in Scunthorpe, north Lincolnshire, from Legal and General Pensions for £53m net of acquisition costs, reflecting a net initial yield of 5.1%.
Tesco developed the 98,000 sq ft hypermarket which sits on an eight-acre site with more than 580 parking spaces, an eight-pump filling station and dedicated online fulfilment distribution docks.
The store is strategically located to support online fulfilment given the excellent motorway and road connections, the statement released to the Stock Exchange this morning said.
The statement said the store had a strong trading record and was next to the Lincolnshire Lakes development of more than 6,000 new homes.
The REIT is acquiring the store with an unexpired lease term of 22 years with annual, upward-only, Retail Price Index-linked rent reviews (subject to cap and floor) on fully repairing and insuring terms. It has funded the purchase from the proceeds of a £65m equity placing on 25 May.
Ben Green, director of Atrato Capital, the investment adviser to Supermarket Income REIT, said: "We are delighted to continue our track record of rapidly deploying our capital in high-quality, omni-channel supermarkets. This store has an impressive trading record on site and plays an important role in Tesco's online fulfilment network.
The investment was a strong addition to its growing portfolio, increasing both the weighted average unexpired lease term and net initial yield of the company's portfolio, Green said.
Elsewhere, international fresh produce company Total Produce (TOT) is targeting continued like-for-like growth for 2018, excluding the impact of its $300m (£225m) purchase of a 45% stake in Dole Food Company, which is expected to close in the second half of 2018 subject to regulatory approval.
The group said it's full-year growth expectations were unchanged but the first half-year growth would be limited because of "the unusual weather and currency movements" in the period.
Total Produce entered into a binding deal to buy the stake in Dole, the largest fresh produce companies in the world on 1 February when 63m new ordinary shares were issued raising $180m to finance the deal.
The 2019 financial year would be the first full year reflecting the scale of what it said was a "transformative" transaction.
The trading statement said Total Produce was in a strong financial position and the Dole transaction represented "a very significant step and a continuation of the group's successful expansion strategy".
Smurfit Kappa (SKG), the global provider of Bag-in-Box packaging solutions, announced this morning it had produced its 4 billionth Vitop tap which it said had revolutionised the Bag-in-Box system.
Vitop quickly grew in popularity because of its tamper-proof design and high oxygen barrier which provides extended shelf life and product freshness, it said.
Didier Pontcharraud, chief executive, said: "Vitop stands out for its reliability, service and dynamism. There is only one tap that can claim an almost zero leak rate and thanks to our team working with great expertise, skill and passion, we can offer an excellent product, every day and throughout every part of the world."
Vitop has successfully branched out to offer a range of complementary products including the Bag-in-Boxconnector, Bag-in-Boxhandles and Hydrotap, Vitop Compact.
On the markets this morning, the FTSE 100 rose 1% in early trading to 1.700.6pts.
Early risers so far today include Majestic Wine (WINE), up 1.9% at 446.5p, B&M European Value Retail (BME) climbed 1.5p to 395.6p in the afterglow of yesterday's results announcement. PureCircle (PURE) climbed 1.2% to 345.1p and Premier Foods (PFD) lifted 1.4% to 39.9p.
The standout faller in early trading was Marks and Spencer (MKS), down 3.3% at 287.8p. SSP Group (SSPG) slipped 1.3% to 648.2p, PayPoint (PAY), 2.2% to 980.2p and Nichols (NICL), 1.6% to 1,540p.
Yesterday in the City
The FTSE 100 bucked up after a miserable start to the week closing up 0.8% at 7,689.6p.
The unusually warm weather over the past four weeks has helped supermarkets return to volume growth, the latest Nielsen Homescan Total Till figures show.
Grocery sales climbed 5% and supermarkets enjoyed the best non-seasonal growth in a four week period since July 2013 when a summer heatwave pushed four-weekly industry growth to 6.7%.
The latest heatwave helped supermarkets return to 2.1% volume growth. Shoppers spent 12% more on alcoholic drinks, 13% more on soft drinks, 41% on ice cream and 7.5% more on crisps and snacks.
Mike Watkins, Nielsen's UK head of retailer insight, said: "This growth is well ahead of inflation, indicating that despite any underlying concerns shoppers may have around balancing the monthly household budget, they are willing to spend on food and drink.
"This is likely to be driven by a combination of the early May bank holiday, a royal wedding and unseasonably hot weather over the period."
Asda had the most improved year-on-year sales growth of the top four supermarkets in the 12 weeks ending 19 May, up 3.3%, followed by Morrisons, 2.6%. Overall, Iceland had the best growth figures outside of the discounters at 3.8%.
Marks & Spencer food sales improved in line with the overall market in the past four weeks despite the recent announcement surrounding store closures and the refocus of its clothing and homeware ranges.
Convenience stores have benefited with sales up 4.3% "Low prices are expected now, so it's product range, customer service and convenience that's becoming more important to shoppers," Watkins said.
GfK's Consumer Confidence Index increased two points in May to minus 7.
McColl's Retail Group (MCLS) non-executive chairman Angus Porter, will become a non-executive director of Hilton Food Group from 1 July, the convenience store chain announced.
FTSE 100 fallers included Applegreen (APGN), off 3.7% at 548p, McBride (MCB), down 2% at 126.2p, McColl's Retail Group, off 2.9% at 237p and PayPoint (PAY) closed 0.8% lower at 1,002p.
Stocks on the up included B&M European Value Retail (BME), which climbed 4.5% to £389.9p, after impressive full-year results announced to the Stock Exchange in the morning.
Hilton Food Group (HFG) closed up 2.2% at 920p and food-to-got group Greggs rose 1.9% to 1.702p. Sainsbury's managed to put on 1.2% at 319.2p, Ocado (OCDO), 1.5% at 887.6p, further cementing it promotion to the FTSE 100 and PureCircle (PURE) climbed 2.3% to 341p.