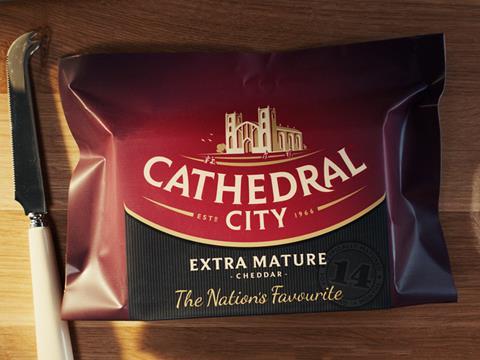 Top story
Cathedral City manufacturer Dairy Crest (DCG) expects a rise in profits and sales for the first half of 2018, driven by its cheese and spreads.
In a pre-close trading announcement, the dairy group highlighted that strong performances by Clover and Cathedral City have driven growth in the period, set to end on 30 September.
Cathedral City is expected to deliver good growth on "strong volumes", it said, while Clover is also expected to provide growth in revenue and volume, compared to last year.
The dairy group stated, however, that it has continued to restrict promotional activity for Country Life, as high butter costs have impacted sales.
Oil brand FryLight has also dropped in performance for the period, and is expected to show a "reduction in revenue and volumes" for the half-year, as unusually hot weather has decreases oil usage, Dairy Crest said.
Sales have however improved over the past few weeks, it said, and this is predicted to continue through into the second half.
There will be continued innovation in 2018, the company said, with "several new product releases" planned for Cathedral City, including flavoured snack bars, set to be launched in October. Cathedral City will also be launching a lactose free range later in the year.
"Our Cathedral City and Clover brands continue to drive the business forward, supported by an exciting pipeline of new product development," commented chief executive Mark Allen.
"Innovation is the cornerstone of this business and we're looking forward to showcasing a number of examples at our Capital Markets event this week. Our Functional Ingredients business is progressing well and we are excited by the potential of the launch of the Promovita GOS 'shot'.
"Our balance sheet is in good shape and we are moving forward with the first phase of the expansion at Davidstow. Our expectations for the full year remain unchanged."
The company reaffirmed its full-year forecast and added that its net debt at the end of September will be significantly lower than last year.
Peel Hunt analysts expect first-half profit to improve by over 5 percent.
Morning update
Bakery business Finsbury Food Group (FIF) saw pre-tax profits tumble 65% as it was impacted by £12m in costs caused by the closure of its Grain D'or bakery business.
The company said recorded a "resilient performance" despite the closure and the "unprecedented inflationary environment", as operating profits improved by 2.3% for the year.
As a result of the closure, total group sales fell 3.4% to £303.6m, while like-for-like sales improved 2.4%.
The company highlighted a growth strategy driven by M&A, including the company's recent deal to buy free-from specialist Ultrapharm.
The private label manufacturer bought Ultrapharm for an initial £17m and up to another £8m in the period to June 2021, depending on performance and retaining key staff.
"Our performance over the period has further illustrated the Group's resilience and our ability to deliver against our strategic priorities, ultimately allowing us to grow like for like sales and profit year on year, reduce our debt further after significant investment, and continue to grow the dividend," said John Duffy, chief executive of Finsbury Food Group.
"The ongoing capital investment programme and relentless efficiency focus of recent years has enabled us to not only cope with this challenging market environment but also maintain our margin.
"Throughout this period, we have continued to drive product innovation with the launch of both our Mary Berry cake brand with a number of product formats across a broad customer base and also our own Free From brand in Europe, Wiso.
"We are confident that we are well positioned to deliver on our strategic objectives and capitalise on growth opportunities both organically and through future M&A."
Listed restaurant discount company Big Dish has announced plans for its trial launch in the UK, starting today in the Bath and Bristol area, targeting 70 restaurants.
It says it is setting the stage for an aggressive rollout in the fourth quarter and 2019, when it plans to target 6,000 restaurants.
"Launching today in the UK is a fantastic milestone for BigDish. We have seen that TablePouncer achieved incredible success in Bournemouth in terms of user adoption and we are excited to replicate this success across the UK with BigDish," said CEO Joost Boer.
"In the fourth quarter of 2018 we plan to establish our foothold in the UK and set the stage for rapid and explosive growth around the UK next year."
Trade concerns are still dominating sentiment across the markets, as the FTSE 100 has started on a steady decline, but down just 0.1% to 7,297pts so far.
Dairy Crest (DCG) is among the early risers, up 1.2% to 464.5p after predicting sales and profit growth. Others include Majestic Wine (WINE), up 1.8% to 404p, Cranswick (CWK), up 1.5% to 3,339.7p and McBride (MCB), up 1.3% to 152p.
Early fallers include, Ocado (OCDO), down 1.1% to 905p, AG Barr (BAG), down 1% to 732.4p, and Finsbury Food Group, down 0.8% to 123p after its full year results.
This week in the city
Following last week's busy period for results, there are a number of other interesting trading announcements coming this week.
Ocado Group (OCDO) is expected to announce a pre-close trading update tomorrow, following the retail technology companies continued rapid rise in value.
Another technology company in the industry, Eagle Eye solutions will also be announcing results on Tuesday as it announces its final year figures.
Stevia producer Purecircle Limited (PURE), which has seen big fluctuations in value over the past few weeks, will also be announcing it full year results on Tuesday.
Further afield, American giant General Mills will be revealing its results for the quarter later in the day tomorrow.
Wednesday will see UK inflation data, with BRC UK retail sales data revealed on Thursday.
On Thursday, AIM-listed sports nutrition business Science in Sport (SIS) will be announcing its interim figures.
Later in the day, drinks behemoth Diageo (DGE) will also be holding its AGM to keep investors and pundits in the loop.