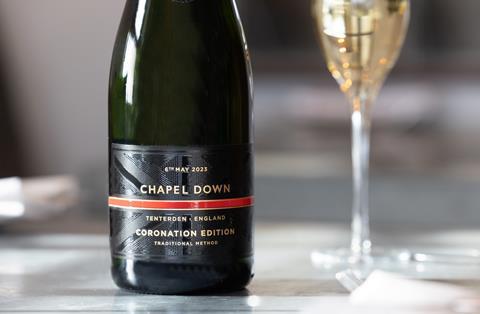 Top story
England's largest winemaker Chapel Down has posted first half growth of 21% amid strong domestic sales for English sparkling wine and increased exports.
The group's net sales (excluding duty) in the six months to 30 June were up 21% to £8.4m.
Off-trade sales were up 25% to £4.8m, with Chapel Down market share increasing to 36% in the period and the brand driving 80% of overall English sparkling wine category value growth.
On-trade net sales grew by 20% through increased distribution in premium outlets. This is now a total of 1,997 outlets, up 40% since 31 December 2022.
Additionally, the period saw a successful launch into travel retail, with listings secured at London Heathrow and London Gatwick, contributing to the 90% growth in export revenues.
Direct to Consumer sales also grew 4% to £2.1m, supported by an e-commerce growth of 6% to £1.1m and strong sales at summer events.
The winemaker's traditional method sparkling wine was the standout performer, growing sales by 45% to £5.7m.
Total wine volumes increased 6% to 721k bottles, with traditional method sparkling wine volumes up 32% to 428k, reflecting its premiumisation strategy.
Volume growth was boosted by pricing growth of 16%, driven partly by a stronger mix of traditional method sparkling wine and partly by realised unit price increases.
Gross profit margin increased by 3% points to 55% in the period, driven by this mix shift to traditional method sparkling wine as part of its premiumisation strategy alongside the unit pricing increases.
Operating profit grew 27% to £685k, while profit before tax grew 26% to £618k and EBITDA grew 36% to £1.2m all driven by the strong sales growth.
Chapel Down said current trading is in line with management expectations and our outlook for the full year 2023 remains positive, with continued double digit net sales revenue growth and sustained margins forecast for the full year.
The outlook for 2023 harvest is "very positive" due to excellent growing conditions. It has recently begun harvesting and expects the 2023 vintage to be of "an exceptional quality and with a record-breaking volume and yield".
This, it said, will provide a platform for increased stocks of traditional method sparkling wine to deliver our 2026 business ambition.
A proposed new purpose-built winery at Highland Court Farm, outside Canterbury, has now received planning approval and it will continue to explore future opportunities for vineyards and an expanded tourism offering in the short to medium term.
CEO Andrew Carter commented: "Our focus remains on delivering significant growth in traditional method sparkling wine sales, margins, profits and cash flow, so we are extremely pleased with the powerful momentum of the business in the first half of the year. We are continuing to deliver on our growth plans by building our leadership position in the fast-growing English traditional method sparkling wine category to deliver long-term shareholder value.
"Consumers' love for Chapel Down continues to grow with record levels of brand awareness and household penetration, as more people at home and abroad learn about our brand and our wines. This is fuelling strong and profitable growth across all our distribution channels. We have a world-class team in place, are successfully executing our premiumisation strategy to support and grow our margins and have a strong balance sheet to enable us to meet our target of doubling the size of our business by 2026."
Morning update
Brewer and pub owner Shepherd Neame has posted sales growth of almost 10% in the year to 24 June, despite a off-trade slowdown.
Overall revenues for the year were up 9.7% to a record £166.3m, with VAT adjusted like for like retail sales up 17% driven by a 22.4% organic rise in drinks sales and 3.1% for food.
Total brewed beer volumes were down -2.7%, despite own brewed beer volumes were up 5.2%.
The growth in its own brands was driven by the brewing of Singha beer at Faversham which commenced in February 2022, and has offset the declines in cask ale and premium bottled ales, as experienced across the market.
Cost of goods inflation in beer production has been material, it said, pointing to the cost of inputs for bottled beers alone which has increased in excess of £2m, before logistics and distribution costs.
Legislative changes in packaging waste due to be introduced in 2025 will drive further inflation, it noted.
It said it has strong heartland on-trade business and enjoy first-class customer relations, customers have been generally supportive as it tried to recover some of this inflationary impact through higher prices.
The off-trade, though, has proved more challenging though, after many years of strong performance.
CEO Jonathan Neame said: "Demand has been strong all year with recent trade in our pubs encouraging.
"We have faced considerable inflationary challenges in the last year but these are now easing.
"We have an excellent pub estate which has been performing in line with the best in the sector. We have a loyal customer base, a high profile within the communities we serve, and we have an ambitious investment programme ahead.
"The turmoil of the last few years is now settling and the outlook is positive. We have much to look forward to. The balance sheet remains strong and the business has momentum in our pipeline of investment. We are confident we have the team and skills to deliver good returns for our shareholders over the long term."
On the markets this morning, the FTSE 100 is up 0.2% to 7,637pts.
Early risers include Glanbia, up 4.9% to €16.00, Naked Wines, up 3.6% to 57.8p and PayPoint, up 1.5% to 550p.
Fallers include Bakkavor, down 2.1% to 92p, Ocado, down 1.4% to 672p and Hotel Chocolate, down 1.2% to 128.4p.
Yesterday in the City
The FTSE 100 ended the day broadly flat at 7,625.7pts.
Ocado bounced back from heavy recent losses, regaining 3.7% to end the day at 681.6p.
Other risers included THG, up 2.9% to 72.2p, Imperial Brands, up 2.1% to 72.2p, Britvic, up 1.6% to 884p, B&M European Value Retail, up 1.5% to 585p, Associated British Foods, up 1.5% to 2,089p and Coca-Cola HBC, up 1.3% to 2,250p.
Fallers included Naked Wines, down 5.4% to 55.8p, Just Eat Takeaway.com, down 3.7% to 1,040p, Deliveroo, down 3.5% to 108.5p, Sainsbury's, down 2.9% to 261.7p and SSP Group, down 2.3% to 205.2p.
PZ Cussons, which announced its annual results yesterday, dropped 5.1% to 151.8p.