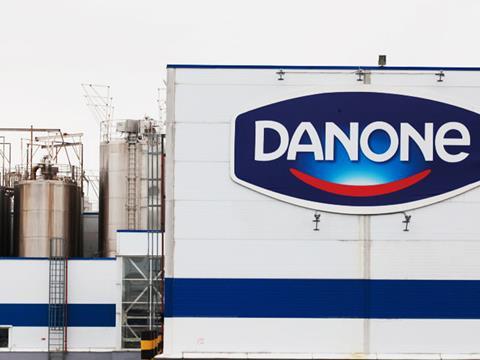 Top story
French food giant Danone (BN) has lowered its 2019 like-for-like sales guidance despite reporting revenues growth in its third quarter.
The Activia maker saw consolidated sales up 3.7% to €6.4bn in the period, rising 3% on a like-for-like basis and marking the third consecutive quarter of like-for-like sales growth.
Over a nine-month period, sales rose 2.4%, 2.1% on a like-for-like basis, to €19bn.
Growth was led by a strong performance of Danone's specialized nutrition division, which over the third quarter increased like-for-like sales 9.8% to €1.9bn driven by growth in sales of company's babyfood in China, up over 20%.
Meanwhile, Danone's essential dairy and plant-based unit, EDP, posted like-for-like growth of 0.7% in the quarter to €3.2bn, with plant-based delivering "consistent strong growth" including double-digit rises at Alpro.
The waters segment struggled, with sales falling 0.9% in the quarter as consumer caution against single-use plastic increased. Furthermore, water sales suffered from tough comparatives last year, when the exceptionally hot weather had boosted revenues for the division.
Despite the overall sales increase, Danone reduced its like-for-like sales outlook for 2019 of between 2.5% to 3% from a previously estimated forecast of 3% as it "remained vigilant" in an "environment of growing geopolitical uncertainties".
Its margin outlook of above 15% however, was kept stable.
Chairman and CEO Emmanuel Faber said: "Our business continues to demonstrate its resilience by delivering acceleration in revenue growth in Q3. The return to strong growth momentum for Specialized Nutrition in Asia is a highlight, reversing the trend reported last year. Across Danone, many of our initiatives aimed at quality of growth, product innovation, price-mix enhancement and revenue management discipline are gaining further traction with positive outcomes for our consumers and customers.
"Mindful of growing geopolitical uncertainties and softness in some markets, we continue to transform our business at pace so that it is well-positioned to respond to market needs. This keeps on track to deliver sales growth acceleration, steady improvement in recurring operating margin and strong recurring EPS expansion."
Danone shares have sunk 5.9% to €73.92 in morning trading.
Morning update
French spirits maker Remy Cointreau (RCO) has posted a 0.6% decline in first-half revenues to €523.9m due to its withdrawal from a number of partner brands.
The expected end of distribution contracts in Czech Republic and Slovakia, following the disposal of certain distribution subsidiaries, contributed to the decline.
Meanwhile, the Group Brands sales grew 6.1% over the six-month period to September, 2.8% in organic terms, driven by a strong performance of the company's flagship brand Remy-Martin.
However, sales were in part hit by protests in Hong Kong and slower-than-expected restocking by US retailers.
The Liqueurs and Spirits division rose 4.9% in the first half benefiting from a recovery in the second quarter following disruption at the beginning of the year due to changes in the distribution network in Europe.
Exiting several partner brands, led the unit to a 71% fall in organic revenues during the period contribution to the overall revenues decline across the group.
Looking ahead, the company expects the current financial year to "unfold within the framework of its medium-term objective" despite warning of a €56m impact on sales and €5m blow to operating profits following the termination of its partner brands distribution contracts.
The spirit makers shares are down 2.7% to €119.40 so far this morning.
This morning, the FTSE 100 opened down 0.3% at 7,158.60pts.
Fallers include a number of large fmcg businesses, with Fevertree (FEVR) down 1.2% to 2,141.00p, Britvic (BVIC) down 1.7% at 1,050.00p and Reckitt Benkiser (RB) down 1% to 5,961.00p.
Early risers included Associated British Foods (ABF) up 0.3% to 2,240.00p and Greggs (GRG) up 0.2% to 1,885.00p.
Yesterday in the City
The FTSE 100 closed an eventful Thursday up 0.2% at 7,182.32pts as markets and investors expressed relief at the news that Prime Minister Boris Johnson secured a new Brexit deal with the EU.
Johnson will now need to gather support for the deal from UK MPs, something his predecessor Theresa May failed to achieve with her last deal ahead of the original Brexit deadline in March.
In a green-coloured index, risers included Unilever (ULVR) closing up 1% at 4,652.50p despite announcing a slowdown in third-quarter revenue growth, Associated British Food (ABF), up 1.1% at 2,234.00p and SSP Group (SSPG), up 1.5% at 663.00p.
WH Smith (SMWH) closed up 5.8% at 2,210.00p after announcing a deal which will see its international operations double.
Fallers saw Coca-Cola HBC (CCH) close down 2.1% at 2,400p and Fevertree (FEVR) down 1.5% at 2,167p.