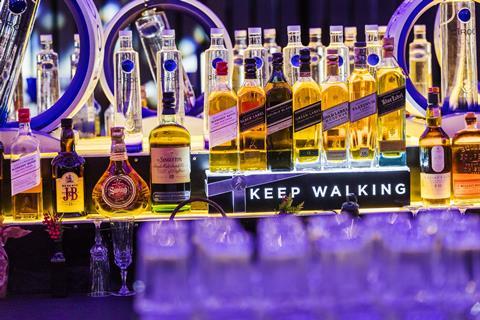 Top story
Diageo has said this morning it remains on course to hit financial forecasts despite ongoing cost pressure and geopolitical and macroeconomic uncertainties.
Speaking ahead of its AGM this morning, CEO Debra Crew reiterated its financial guidance.
"While we expect operating environment challenges to persist, with ongoing cost pressure and geopolitical and macroeconomic uncertainty, we will move with speed and agility and continue to invest in marketing and innovation," she said.
"I am confident in the resilience of our business and our ability to navigate these headwinds while executing our strategic priorities."
She said expectations for its 2024 financial year were unchanged from when it reported its 2023 annual results on 1 August.
The group remained "well-positioned" to deliver medium-term guidance for 2023 to 2025 of organic net sales growth consistently in the range of 5% to 7% and organic operating profit growth in the range of 6% to 9%.
"As I take the helm as chief executive of Diageo, I am excited to lead our teams around the world and by the many growth opportunities we see in front of us," Crew said.
"I firmly believe the strength of our portfolio, our diversified footprint and our deep consumer insights will drive sustainable long-term growth and generate value for shareholders."
Morning update
Sports nutrition group Science in Sport grew revenues and cut losses in the first half of its financial year as it continues on the recovery path.
Overall revenues grew by 7% to £34.4m in the six months to 30 June, with record trading month in a number of months in the period and Q2 delivering 11% growth year on year.
The Science in Sport brand delivered £18.6m revenue in the first half, up 20% on last year.
Its PhD brand saw a 5% decline to £15.8m, given a slow start to the year.
It saw retail growth of 21%, driven by an improved rate of sale, new distribution and price increases.
At the period end, the group had a 15.7% share in UK grocery, second behind Grenade. Science in Sport is the leader in endurance nutrition, growing 23% in the past 52 weeks and 28% in the 12 weeks to the end of June.
Additionally, international retail saw 30% growth as it saw solid sales through Shimano Europe and gains through a distributor serving Indonesia, Malaysia and Japan.
Amazon sales started slowly due to a global destocking programme. Amazon UK and Europe grew 17% to £7.5m and overall growth, including the discontinued Amazon USA business, which transferred to The Feed, was 10%.
China has been "challenging", with dampened demand, given Covid-19 in January and February and a weaker economy later in the period, resulted in revenue of £2.7m, down on the £3.1m.
Gross margin edged down to 42% from 42.8%, with further progress expected in the second half, given whey prices softening and its new in-house bar line delivering a margin enhancement.
Marketing efficiencies, its new Blackburn site and a reduction in people costs helped boost adjusted EBITDA to £1.1m from a loss of £2.8m in the prior period.
Its overall loss before tax was more than halved to £3.3m from £7.2m, with the improvement driven by the positive underlying trading performance and cost efficiencies.
CEO Stephen Moon said: "We are seeing the results from our year-long contribution margin enhancement activity reflected in a £3.9m positive movement in EBITDA. Our investment in the Blackburn site and technology are critical enablers in this. Overall growth of 7% is encouraging, but there is no doubt that consumer confidence is fragile and trading is volatile.
"Whilst we expect H2 to broadly reflect H1, the full-year outcome is always heavily influenced by Q4. Provided there is no material deterioration in consumer confidence, the improved and ongoing margin improvements give upside potential with a strong finish to the year."
"We remain committed to our long-term strategy with our premium brand equities in good health and efficiencies from our strategic capital investment delivering on track."
Meanwhile, the group has announced the proposed appointment of Dan Wright as non-executive chairman.
Wright has been the executive chairman of Accrol Group Holdings since early 2018 and has helped deliver a significant turnaround in that business.
He was previously the COO, head of portfolio and a founder partner at NorthEdge Capital, a mid-market private equity house focused on management buyouts and growth investments with £800m under management.
Wright said: "I am delighted to be joining SIS at this pivotal time for the business. The investment in the manufacturing facility and associated product development has put the business in a position to leverage the deep expertise of its people and the power of its brands into profitable growth."
Elsewhere, UK wine seller Gusbourne has posted strong UK wine sales growth and cut its losses in the first half.
UK wine sales were up by 24% to £2.3m, reflecting continued strong sales growth across its direct to consumer and UK trade sales channels.
DTC wine sales were up by 21% to £650k, driven by investment in digital marketing and direct wine sales arising from its tour and experience programme at the Nest, Gusbourne's cellar door operation in Kent.
UK trade wine sales were up 25% to £1.7m, with number of key partnerships established with prestigious, high-volume hotel and restaurant groups underpinning this performance.
However, international sales declined by 7%, due to the timing of export orders. The fall in sales was caused by high levels of existing stock in two of our larger markets at the start of 2023. Stock depletions and sales are expected to grow in the second half as trade phasing normalises, with full year revenue expected to provide double-digit growth.
Gross margin improved significantly to 68.3% from 59.9%, reflecting improved price and sales mix dynamics, in line with the group's premium positioning and product strategy, as well as a decreased mix of International sales that are at a lower margin.
That helped its adjusted EBITDA loss narrow to £0.58m from £0.7m.
Interim CEO Mike Paul said: "I am pleased to report another solid performance in the first half of 2023 where Gusbourne delivered further growth and execution of our strategy. Despite a challenging macroeconomic backdrop, we have continued to see significant consumer demand for Gusbourne wines with double-digit sales growth, assisted by the luxury status of the Gusbourne brand.
"The first quarter of the year was soft across the industry and our international sales were held back by higher than normal inventory levels; momentum improved during the second quarter. I am particularly pleased with our gross margin improvement, reflecting hard work on our pricing position, product offer and distribution mix.
"Whilst we are mindful of the current economic headwinds, with these strong results, an anticipated good harvest in 2023, new land purchases made during last year and healthy inventory levels in our cellars, the Board continues to look to the future with great confidence as we further strengthen our position as one of the UK's most significant fine wine producers."
On the markets this morning, the FTSE 100 is down another 0.5% to 7,556.2pts.
Risers include Deliveroo, up 9.1% to 120.4p, Nichols, up 3.5% to 1,034.8p and Naked Wines, up 3.2% to 58.3p.
Fallers include Kerry Group, down 3.9% to €78.78, Just Eat Takeaway.com, down 3.2% to 977p and British American Tobacco, down 3.2% to 2,541.5p.
Yesterday in the City
The FTSE 100 dropped 0.4% yesterday to 7,593.2pts.
Ocado was back in the City's firing line following heavy losses last week, dropping a further 9.8% back to 615p yesterday.
Other fallers included Sainsbury's, down 3.5% to 252.6p, Just Eat Takeaway.com, down 3% to 1,009p, Pets at Home, down 2.8% to 331p, Cranswick, down 2.2% to 3,530p, SSP Group, down 2.1% to 200.8p, Hilton Food Group, down 2.1% to 741p and Tesco, down 1.8% to 265.3p.
The few risers included THG, up 5.5% to 76.2p, McBride, up 1.9% to 39.9p, Deliveroo, up 1.7% to 110.3p, Coca-Cola Europacific Partners, up 1.3% to €59.75 and Naked Wines, up 1.3% to 56.5p.