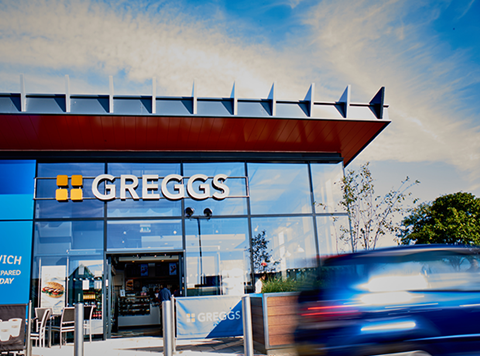 Top story
Food to go bakery chain Greggs (GRG) has reported a 7.3% sales jump in its third quarter, driven by like-for-like growth and new store openings.
In the 13 weeks to 29 September 2018 Greggs' total sales grew by 7.3% - a slight decline from the 8.6% growth posted in the third quarter last year.
Like-for-like sales growth in company-managed shops increased by 3.2%, down from 5% LFL sales growth in the corresponding period last year.
However, the third quarter was an improvement on its growth rate so far in Greggs' current financial year, with total sales now up 5.9% in the year-to-date and like-for-like sales up 2.1%.
Greggs said sales were helped by its drinks range and new focaccia-style pizzas, while it continues to see growth at breakfast time, helped by the expansion of its deals and our selection Fairtrade coffees.
A total of 93 new shops have been opened in the year-to-date, including 35 franchised units predominantly in transport locations.
A further 35 stores have been closed so far this year, giving a total of 1,912 shops – comprising 1,677 of our own shops and 235 franchised units.
Greggs still expects around 100 net openings, of which around 60 are planned to be franchise outlets.
Greggs stated: "We were pleased with our trading performance during a period that included a long spell of hot weather, which made sales patterns more difficult to predict.
"This, and the resulting mix of sales led to a lower-than-normal trading margin in the first part of the quarter, offset by improved trading as we came into September. Overall our expectations for the full year outturn remain unchanged.
Morning update
UK retail sales decreased by 0.2% on a like-for-like basis from September 2017, according to the monthly BRC/KPMG Retail Sales Monitor.
On a total basis, sales increased 0.7% in September, against an increase of 2.3% in September 2017. This is the lowest since October, excluding Easter distortions, and below the 3-month and 12-month averages of 1.2% and 1.3% respectively.
Over the three months to September, food sales increased 2.3% on a like-for-like basis and 3.4% on a total basis.
Over the same three month period, in-store sales of non-food items declined 2.7% on a total basis and 4% on a like-for-like basis. This is in line with the 12-month total average decline of 2.7%.
Online sales of non-food products grew 5.4% in September, against a growth of 10.7% in September 2017 - this is the lowest growth since January and below the 3-month and 12-month averages of 6.7% and 7.1% respectively.
BRC chief exec Helen Dickinson commented: "These figures lay bare the difficult operating environment for the retail industry. After a challenging August, constrained consumer spending in September has resulted in the weakest sales growth for five months.
Paul Martin, UK Head of Retail at KPMG, added: ""Grocery continued to perform, but growth in the category retreated in September. The non-food categories however, continued to disappoint. The historically reliable back-to-school push did not elevate apparel sales. Instead the latest tech launches were a rare source for optimism.
"The final golden quarter of the year marks the ultimate test for many players, but retailers must also successfully navigate: the upcoming government Budget, Black Friday, Christmas, and of course Brexit."
Jon Woolven, strategy and innovation director at IGD, commented: ""The September food and grocery figures cemented the trend in late August for volumes to fall versus 2017, although with some inflation in the mix, sales value remained modestly in growth.
"Shopper confidence has followed a downward path with those expecting to be financially better off over the year ahead dipping from 26 per cent in July to 22 per cent in September. Brexit related uncertainty probably plays a part in this, so retailers will be hoping for a clear resolution ahead of the Christmas shopping season."
Eastern European spirits specialist Stock Spirits Group (STCK) has issued a pre-close update for the 9 month period to 30 September, the new end to its financial year.
The group said overall trading since the half-year results announced in August has been "in line with our expectations".
It said its major markets of Poland and the Czech Republic, which deliver approximately three-quarters of its revenues, continued to show growth in spirits, in both volume and value terms.
Its Polish business has grown both volume and value share "despite trading conditions remaining highly competitive". While its Czech business is "successfully navigating the challenges it experienced in the first half of this calendar year".
Group cash flow for the period was strong, resulting in net debt at 30 September 2018 reducing to €32m from €53m at 31 December 2017.
On the markets this morning, the FTSE 100 has opened up 0.1% at 7,237.9pts.
Greggs shares have jumped 8.2% to 1,088p on this morning's stronger than anticipated quarterly growth.
Other early risers include Nichols (NICL), up 1.7% to 1,460p, Majestic Wine (WINE), up 0.8% to 391.8p and Sainsbury's (SBRY), up 0.7% to 315.6p.
Fallers so far include Premier Foods (PFD), down 2.9% to 41.1p, Coca-Cola HBC (CCH), down 2.3% to 2,325p, British American Tobacco (BATS), down 1.7% to 3,362.3p and Ocado (OCDO), down 1.4% to 779.2p.
Stock Spirits is up 1% at 202p.
Yesterday in the City
The market started the week on the back foot, with the FTSE 100 sinking 1.2% to 7,233.3pts yesterday to a new six month low as banking and oil stocks came under pressure.
There were some significant consumer fallers too, most notably FeverTree (FEVR), which had 10.3% wiped off its market value as shares sank back to 2,890p after fears were raised about the slowing rate of growth in the UK. Jefferies highlighted Nielsen data suggesting FeverTree's growth had slowed from 75% to 38% over the summer, albeit the broker suggested recent share price weakness represented a buying opportunity for the stock.
Grocery retailers also had a tough day, with Tesco (TSCO), down 2.2% to start the week back at 210.1p, Ocado (OCDO), dropped 1.7% to 790p and Morrisons (MRW), fell 1.1% to 250p.
Other big fallers included PureCircle (PURE), down 5.1% to 327.5p, Hotel Chocolat (HOTC), down 5.5% to 300p, Cranswick (CWK), down 4.1% to 3,236p, Coca-Cola HBC (CCH), down 2.8% to 2,379p, Greggs (GRG), down 2% to 1,006p and Reckitt Benckiser (RB), down 1.9% to 6,662p.
The day's few significant risers included Marston's (MARS), up 2.2% to 101p, Premier Foods (PFD), up 1.2% to 42.4p, McColl's (MCLS), up 1.1% to 138.5p and Greene King (GNK), up 1% to 487.9p.
In the FTSE 100, Compass Group (CPG), rose 0.9% to 1,609p and Marks & Spencer (MKS) was up 0.8% to 285.9p.