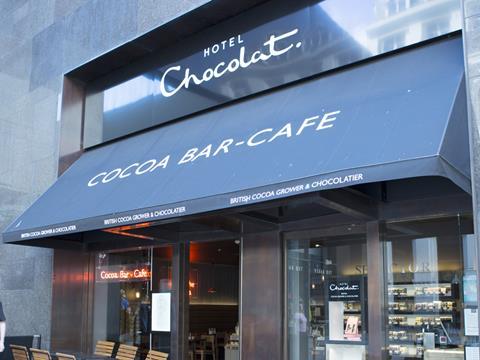 Top story
Hotel Chocolat (HOTC) has suffered a "material" impact on trading after being forced to close all retail stores ahead of Easter, the second largest seasonal peak for the business.
The company shut all stores on 23 March, when a nationwide lockdown was imposed by the government to slow the spread of the coronavirus pandemic.
However, the company said it has been able to leverage its DTC multi-channel model to redirect demand to online as well as modify the working methods of its warehouse to operate safely.
"Whilst not fully mitigating the total retail sales loss in the key three-week Easter period, the group is encouraged by the agility and resilience of the business model and continues to explore further avenues for online growth whilst working safely," the company said.
Furthermore, the business signed a new £35m revolving credit facility with Lloyds Bank, replacing an existing £10m overdraft facility.
The facility, is divided in two tranches, £25m expiring in December 2021 under the terms of the government's CLBILS and £10m on normal commercial terms expiring at the end of December 2020.
If follows a recent equity placing, from which it raised gross proceeds of £22m to fund growth capital investment and to provide operational headroom.
"I would like to thank our team for their creativity and determination to swiftly adapt so we can continue to serve our community of customers, who tell us about the joy of receiving an unexpected delivery of our chocolate with a personal message from someone they love but can't go and see, and the happy ritual of passing a box of chocolates around their lock-in household in the evening," co-founder and CEO Angus Thirlwell said.
"Our market leadership in digital and subscription chocolate is more valuable than ever and we will accelerate the planned innovations and investments behind these models. Plans are in progress to re-open our physical locations when appropriate, with adjustments in place to make shopping with us safe and pleasurable again.
"Every day at Easter the online demand exceeded the quantity of orders we could accept, due to the requirements to ensure safe working, combined with the short adjustment period. With the plans we are putting in place over the next months, we aim to be able to switch the vast majority of demand to online should the need arise in the future."
Morning update
Ingredients manufacturer Tate & Lyle (TATE) has seen a slowdown in trading in April, as the closing of schools, cinemas and out-of-home food locations led to a slump in volumes.
The company however, closed a good financial year to the end of March 2020, with each trading division exceeding the prior year's performance.
In April, the Food & Beverage Solutions and Sucralose continued to perform well, Tate & Lyle said, with volume for Food & Beverage Solutions in line with the comparative period and Sucralose 18% higher due to phasing of customer orders.
Earlier in the month, demand was strong for ingredients used in packaged and shelf-stable foods as consumers in North America and Europe filled their pantries for consumption at home.
However, as the month progressed, the stronger demand was offset by lower order for products consumed out-of-home.
Primary Products volume was significantly impacted by the first full month of lockdown in the US, with bulk sweetener volume 26% lower as bars, cinemas, restaurants and sporting events were either shut or cancelled.
Industrial starch volume was 9% lower, reflecting reduced demand for paper and packaging following the closure of schools, offices and a general decline in economic activity.
CEO Nick Hampton said: "I am delighted with our performance over the last financial year and the progress we are making executing our strategy and living our purpose.
"I am also very proud of the way we have responded to the unprecedented challenges of Covid-19. From the outset of the pandemic, our priority has been to look after our employees and local communities, keep our operations running and support our customers.
"The fact that all our manufacturing facilities have remained fully operational during the pandemic and customer orders have continued to be fulfilled, often at very short notice, is a testament to the commitment and skill of all our employees.
"Tate & Lyle is a resilient business that meets challenges head-on. I am confident that with the strength of our portfolio, people and operating capabilities we will navigate this period successfully and that our future prospects remain strong."
The FTSE 100 started the week in negative territory, down 0.7% to 5,724.73pts.
Fallers saw Tate & Lyle (TATE) open down 3.6% at 670.40p, Greggs (GRG) down 5.1% at 1,626.50p, Marks & Spencer (MKS) down 3.2% at 90p, and SSP Grou (SSPG) down 2.9% at 269.40p.
Risers saw Ocado (OCDO) open 3.4% higher at 1,670.50p, Sainsbury's (SBRY) up 0.9% at 196.40p and Hotel Chocolat (HOTC) up 0.8% at 332.50p.
This week in the City
This weeks starts slow to rump up towards the end with a trading statement from Ocado (OCDO) scheduled for Wednesday to coincide with its annual general meeting.
On Thursday, stevia producer PureCircle hosts its AGM while the Bank of England will make its monthly decision on interest rates ahead of the Friday Bank Holiday.