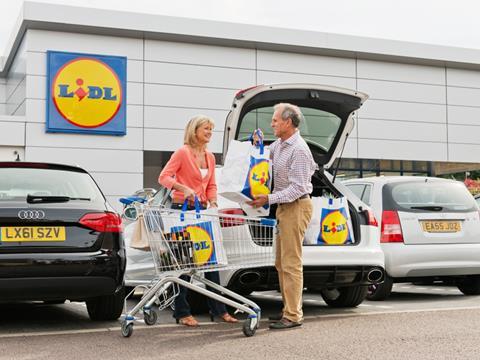 Top story
Sales at Lidl jumped 8% year-on-year over the festive period, driven by strong sales of its Deluxe range.
The German discounter reported the jump in sales over the six weeks to 30 December in spite of the "tough trading environment", UK CEO Christian Härtnagel said.
The rise in sales in December was pushed forward by 33% growth in Lidl's Deluxe lines of premium products compared to 2017. The retailer also reported an 18% increase in turkey sales in 2018.
Booze sales also surged, with total sales across Lidl's beer, wines and spirits range rising 18% year-on-year.
Seven new stores opened during the six-week Christmas period, the retailer said, as it continued with expansion plans which will see it invest £1.45bn in the next two years.
"We have continued to expand our footprint across the UK over the past year, and it is no surprise that this contributed to more customers than ever before shopping with us in December and over the Christmas period," commented Härtnagel.
"In the context of a tough trading environment facing all grocery retailers, we are particularly pleased with the performance of our 'Deluxe' premium range of products, which registered strong sales increases and proved a major draw for new and existing customers.
"We understand that shoppers are increasingly conscious of cost and for that reason, we not only continued to invest in our low prices but also innovation across our premium range, all to enable our customers to have the best possible seasonal celebrations."
Data from Kantar Worldpanel this week showed that Lidl's market share rose 9.4% in the 12 weeks to Christmas, with two-thirds of households visiting Aldi or Lidl over the festive period.
Lidl's sales rise follows Aldi's announcement on Monday that sales over the week prior to Christmas rose 10%.
Morning update
Upmarket retailer Fortnum & Mason claimed a "record trading performance" over Christmas as sales surge 12% in the five weeks to 31 December.
In the final week before Christmas like-for-like sales increased 23%, aided by the November opening of its new restaurant and store at The Royal Exchange.
The retailer's hospitality arm was its best performing area, as it reported a 15% increase from 2017.
Alongside 10% growth in its flagship Piccadilly store, the retailer was boosted by growing online sales, which represented 37% of all sales over the period.
"We have always believed that quality products, exceptional service and an extraordinary retail environment is what makes us stand out. In this day and age, it is more important than ever to be unique, and our exceptional Christmas results demonstrate that," commented CEO Ewan Venters.
"We're thrilled at the growth in sales across all channels. Whether it's champagne, truffles, caviar or tea and biscuits; our results are evidence that there is demand for quality products and unique experience.
"The exceptional performance of our restaurants clearly show experience is key."
The jump in festive sales follows a 12% total increase to £126m for the year ended July 2018, while pre-tax profits rose 26% to £9.6m.
Elsewhere, the FTSE 100 kicked off this morning as it finished, surging up 0.6% to 6,983p, aided by the weak pound.
The early risers this morning include Premier Foods (PFD), up 3.9% to 35p, Purecircle Limited (PURE), up 2.7% to 267p and Dairy Crest (DCG), up 2.2% to 455.6p.
The early fallers include Stock Spirit Group (STCK), down 4.4% to 209.4p, Glanbia (GLB), down 2.5% to €16.1, and JD Wetherspoon (JDW), down 0.8% to 1,167p.
Yesterday in the city
The FTSE 100 bounced back from a disappointing morning session, to deliver a 0.5% jump to 6,942p as it benefited from the weak pound.
On a hectic day for retail analysts, Tesco (TSCO) was upbeat as it delivered 2.6% like-for-like sales over the six-week Christmas period. Its cheer spread to investors, as it rose 2.2% to 216.4p.
It was a less positive day for Marks & Spencer (MKS), which saw shares slide 1.2% to 274.5p after it reported a continued decline in grocery and general merchandise sales.
Elsewhere, discounter B&M European Value (BME) remaining fairly flat, rising just 0.1% to 311p, as it posted a 1.6% decline in like-for-like sales in the third quarter.
Among the suppliers to post results yesterday, C&C Group (CCR) saw its share price jump 6.3% to €3.2, after it revealed sales in line with expectations for the past four months.
The other big risers over the day included MacFarlane Group (MACF), up 7.9% to 89p, Eagle Eye (EYE), up 5.4% to 126p, Devro (DVO), up 3.6% to 166p, and McBride (MCB), up 3.1% to 135p.
Grocery performed better than a number of non-food high street retailers, with Debenhams and Card Factory among the retailers reporting yesterday to suffer double-digit declines in share price.
The big fallers in the sector yesterday included McColls (MCLS), down 2.5% to 54p, Finsbury Food Group (FIF), down 1.9% to 102.5p, and WH Smith (SMWH), down 1.6% to 1,854p.