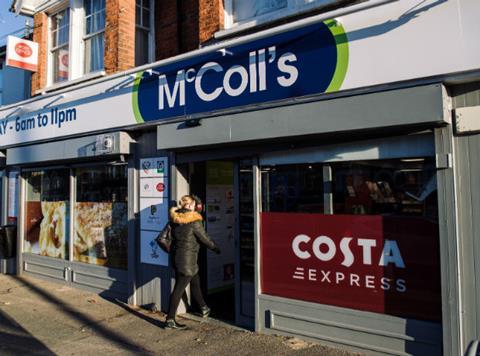 Top story
McColl's (MCLS) has issued a business update regarding the deepening COVID-19 crisis, reassuring the City that it has the "financial and operational flexibility" to deal with prolonged disruption.
All of the convenience chain's stores are currently open and McColl's said is has put in place a range of policies designed to protect colleagues and customers, keep stores open and trading safely, and to enable head office to support stores via remote working arrangements.
"Since the COVID-19 outbreak in the UK, the Group has responded proactively to current strong demand.
"We continue to work with our wholesale partners, whilst investigating complementary channels, to supply the essential products our customers need at this time."
The group's share price has almost halved so far in 2020 and is down by almost 70% year-on-year.
However, it insisted it has "the financial and operational flexibility" to deal with the effects of the outbreak, particularly having refinanced ints banking facilities until May 2022 earlier in February.
McColl's said it is taking proactive actions to preserve cash, manage working capital, maximise liquidity, and phase capital expenditure appropriately.
The measures of support outlined by the Government will further benefit liquidity.
CEO Jonathan Miller said: "The health, safety and wellbeing of our colleagues and customers is of paramount importance to us and informs all that we do.
"I would like to thank all of our colleagues who are working incredibly hard to keep the neighbourhood communities we serve supplied with the food, goods and services they need on a daily basis. Given the situation, we urge our customers - over half of whom live within just 400m of our stores - to buy only what they need and to help the elderly and vulnerable with their shopping needs if they are able to do so."
Morning update
Waitrose has issued a new set of guidelines to shop staff to back the Government's plea for social distancing.
These include: limiting customer numbers, introducing 'safe distance' floor signage, 'two-metre marshalls' to help manage queues, protective screens at checkouts, additional security and encouraging contactless shopping.
Bérangère Michel, Partner & Executive Director, Customer Service John Lewis Partnership said; "The health of our Partners and customers has always been our number one priority and we fully support social distancing.
"While these measures will dramatically change how people shop and interact with others in our stores for the moment - they are absolutely vital to ensure that our customers can shop safely and that our Partners are protected as they go above and beyond to serve shoppers in this time of crisis."
Forecourt operating Applegreen (APGN) will release its annual results on Friday despite the UK financial authorities requesting firms to avoid publishing preliminary results amid the coronavirus uncertainty.
The Ireland-headquartered firm said group profitability for FY19 will be in line with consensus which was driven by solid like-for-like growth across the business, particularly in non-fuel.
Applegreen has continued to trade strongly and in line with management expectations for the first 10 weeks of 2020. However, footfall and volumes have been impacted in the last two weeks as governments and customers take increasing measures to contain the spread of the virus.
Currently, all its stores remain open and "we are working hard to protect the health and safety of our people as well as provide an essential service in the communities in which we operate".
The group has implemented an extensive range of measures to safeguard people and communities and it said its supply chain has remained fully operational and its strong customer service levels have been maintained.
"Given the ongoing uncertainty, we are unable to quantify the impact of COVID-19 on our financial and trading performance at this stage, however we expect a material reduction to profitability for the current financial year.
"The scale is dependent on how the situation develops and over what timeframe, and the impact of further measures taken by the governments in the markets in which we operate."
In the short term the group will defer development and capital expenditure, reduce its cost base, more tightly manage working capital and stock levels, implement a recruitment freeze, defer executive bonuses and negotiate with landlords on rental holidays.
It has also decided not to recommend a final dividend in relation to 2019 at its forthcoming AGM.
Applegreen stated: "Applegreen is fundamentally a resilient business which operates in an industry which provides an essential service to the community. The Group has a strong management team in place with an excellent track record of delivery and the capability to respond and adapt quickly to changing market conditions.
"Whilst the current crisis presents multiple challenges, the board remains confident in the strategy over the longer term and believes the group will be well positioned to benefit from the normalisation in trade across the three regions."
Cake Box Holdings (CAKE) has confirmed that it has responded to last night's government announcement by informing all of its franchisees that its franchise stores should be shut until government advice changes.
Cake Box confirms that trading to date has been in line with its expectations for the financial year to 31 March 2020. However, given it is not currently possible to know how long the Group's franchise stores will remain closed for, the Group is unable to quantify the full impact of COVID-19 at this stage on its business.
As well as lost revenue from the Group's franchise stores, there may also be an impact on the timing of new franchise store openings although the current pipeline remains strong.
Cake Box said it has a strong balance sheet with a current cash balance of £4m.
As it operates a franchise model and therefore has relatively low levels of fixed costs and will take all appropriate measures to conserve its cash during this period. It said it notes and appreciates the various actions taken by the UK Government to support businesses and employees during these challenging times and will assess how best to utilise these while the group's stores remain closed.
Agriculture group Wynnstay (WYNN) is holdings its AGM this morning and has issued a trading update ahead of the meeting.
It said trading in the first four months of the new financial year was subdued, but has been broadly in line with management expectations. This market softness reflected generally lower farmgate prices, severe wet weather that limited sowing activities, and continued farmer cautiousness.
It added that the financial impact of the coronavirus outbreak is difficult to predict.
"We note the government announcement last night regarding shop closures and are seeking clarification as to what this means for our agricultural stores, which provide an essential service within the rural community and food chain," it said.
In addition to any government measures, the challenges facing the group include colleague availability, likely changes in demand for inputs, and a temporary increase to the cost base as we address issues arising out of the current environment.
While there is an uncertain macro environment, it said the group's strong balance sheet, substantial headroom in banking facilities, and broad spread of activities provide considerable resilience to address challenges.
"The Board retains its view that looking beyond the current coronavirus crisis, the business is well placed in the sector."
Greencore (GNC) has announced the appointment of Emma Hynes as chief financial officer with effect from 19 May 2020 to replace Eoin Tonge who will leave the group in May.
Hynes has held a number of senior finance roles during her career, including more latterly as CFO of Press Up Entertainment Group.
Prior to joining Press Up Entertainment Group in 2019, she spent over 11 years with Greencore in a variety of finance leadership roles. Emma's most recent role at Greencore was group finance director where she led a large finance function responsible for financial reporting, financial planning and analysis, financing and capital management, treasury, tax, strategic finance projects, and corporate activity.
In order to ensure an orderly transition, Hynes will join Greencore as CFO Designate on 6 April 2020.
Patrick Coveney, CEO of Greencore Group said: "We are delighted that Emma is returning to Greencore having gained invaluable experience with an external company. Emma was an outstanding finance leader during her tenure with us and has an in-depth knowledge of both the Group and the food and beverage sector. I greatly look forward to working with her."
Nestlé (NESN) has confirmed that its AGM will still take place as planned on April 23, 2020 to ensure the continued smooth functioning of the group and will allow for the timely payment of the dividend.
However, out of concern for people's health shareholders will not be allowed to attend in person.
On the markets this morning, the FTSE 100 has reacted to the dramatic new government guidelines restricing movement by rising back 3.8% to 5,182.8pts.
Early risers include Premier Foods (PFD), up 12.6% to 23.7p, McColl's up 8.6% to 23.9p, AG Barr (BAG), up 7% to 456p and Bakkavor, up 6.7% to 74.7p.
Fallers so far today include Cake Box, down 10.8% to 95p, Wynnstay, down 8% to 195p, Applegreen, down 4.4% to 215p and WH Smith (SMWH), down 4.4% to 877.5p.
Yesterday in the City
The FTSE 100 ended the day back below 5,000pts after dropping 3.8% to 4,993.8pts yesterday.
There were a number of significant FTSE 100 fmcg fallers, including Compass Group (CPG), down 9.7% to 1,002p, Diageo (DGE), down 8.7% to 2,216.5p, Associate British Foods (ABF), down 7.5$ to 1,627.5p and British American Tobacco (BATS), down 6.2% to 2,382p.
The supermarkets fell back again after recent risers, with Tesco down 2.8% to 212.2p, Sainsbury's (SBRY), down 3.1% to 199.4p and Morrisons (MRW), down 5.4% to 175.1p. Ocado (OCDO), also fell 5.8% to 1,265.5p to check its recent momentum.
Other fallers included Marks & Spencer (MKS), down 14.9% to 91.7p yesterday, Stock Spirits Group (STCK), down 12.8% to 139.6p, Applegreen, down 10% to 225p, Marston's (MARS), down 10% to 25.5p, Nichols (NICL), down 8.6% to 932p and Greggs (GRG), down 7.8% to 1,300p after shuttering its stores.
The day's few risers included McColl's, back up 7.8% to 22p after recent falls, Mitchells & Butlers (MAB), up 6.8% to 129.4p, Premier Foods (PFD), up 6.6% to 21.1p, Pets at Home, up 6% to 244.4p and McBride (MCB), up 2.6% to 59p.