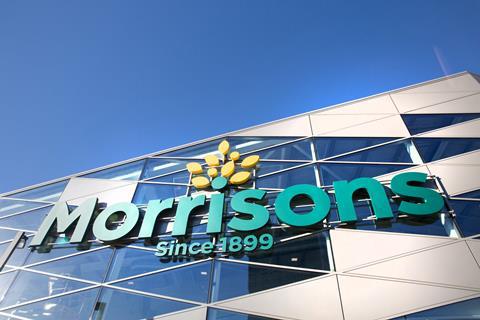 Top story
Morrisons has reported a surge in first half sales, but a double-digit fall in profitability as the extra costs of operating through the coronavirus crisis hit its bottom line.
The supermarket chain reported an 8.7% jump in group like for like sales (ex fuel) in the six months to 2 August, with retail driving growth of 7.9% and wholesale contributing 0.8%.
Its second quarter accelerated significantly compared to the first quarter, with group like-for-likes excluding fuel up 12.3% and retail growth of 11.1% though it said there was "some moderation" towards the end of the quarter as the eat-out market began to open up.
Morrisons said growth in all its online and home delivery channels - Morrisons.com, Amazon, food boxes, doorstep delivery and Deliveroo - was very substantial during the first half.
However, total revenues were down 1.1% year on year to £8.7bn driven by a 37.4% slump in fuel sales, which were severely affected during lockdown and the immediate aftermath by the impact of COVID-19.
Despite the strong sales growth, profit before tax and exceptionals was down 25.3% to £148m driven by an extra £62m of COVID-19 costs as the business hired 45,000 new and temporary staff members to cope with the surge in demand.
In total these extra coronavirus direct costs were £155m during the first half, but were part-mitigated by four months of business rates relief of £93m, meaning a net first half COVID-19 cost of £62m.
Without the costs associated with COVID and business rates relief profit before tax and exceptionals would have grown £12m (6.1%) year on year.
Morrisosn also said that operational leverage was limited as the mix of the very strong first - half sales growth was weighted towards lower margin ambient grocery categories, beers, wines and spirits, and online, while sales in higher margin food-to-go and its 'market street' service counters were severely limited for a period, and its café business was closed between late March and early July.
Profit was also impacted by the very low demand for fuel, efforts to support colleagues, NHS workers and farmers with extra discounts, and by temporary delays to various productivity initiatives as it focused all its efforts on feeding the nation.
CEO David Potts commented: "From the start of the pandemic we stepped up and put the company's assets at the disposal of the country to help feed the nation. Morrisons is at the heart of local communities and responded quickly when it mattered most, and we are very grateful for the British public's appreciation of all the vital work our colleagues are doing. I believe we are seeing the renaissance of British supermarkets.
"We are now looking forward to holding on to what we created in the first half, building on our colleagues' inspiration and innovation, and sustaining the momentum of a broader, stronger Morrisons. I'd like to again thank every Morrisons colleague for their incredible efforts: you've earned your key worker status several times over."
Chairman Andrew Higginson added: "I am so proud of all our colleagues, including our leadership team, for the contribution they are making during the COVID-19 crisis. From the first days of the virus and lockdown our teams have continued to turn in for work and serve our customers, whatever their own personal concerns.
"It is a tremendous effort, and Morrisons has played a leading role in keeping the nation's food supply open. In so doing, we have been able to help customers, colleagues, local communities and other key stakeholders such as the NHS, smaller suppliers, British farmers and charities."
Morrisons said the extra first half costs associated with the coronavirus should be offset fully in the second half by business rates relief, with extra COVID-19 specific costs at around half the level of the first half and a full six months of rates relief of £137m.
While some of the margin impacts may persist into the second half – investing in price, customer focus on lower margin goods and lower fuel sales – Morrisons said it is confident it has a plan for continued like-for-like growth and its ongoing programme of significant price cuts and investment in service for customers will drive continued operational gearing.
"We are confident of continued strong momentum into the second half, improved free cash flow and net debt, and another year of growth in profit before tax and exceptionals," it stated.
As such, its 2020/21 interim ordinary dividend is up 5.7% to 2.04p per share, reflecting the strong first-half trading performance and our confident outlook.
Morrisons shares are down 4.4% this morning to 186.4p.
Morning update
Retail property giant British Land has announced that after over 11 years as Chief Executive Officer, Chris Grigg will step down as CEO following delivery of the company's 2021 interim results on 18 November 2020 and leave the board and the company on 31 December 2020.
After a "thorough search" Simon Carter, currently CFO of British Land, will succeed Grigg as CEO on 18 November 2020.
Carter has been the Chief Financial Officer at British Land since returning to the company in May 2018. He has a broad range of experience within the Real Estate and Finance sectors and was previously the CFO of Logicor, the pan-European logistics warehouse business.
His successor as Chief Financial Officer will be announced in due course.
Chairman Tim Score commented: "On behalf of the entire British Land team, I want to thank Chris for his significant and enduring contribution to our company and wish him well for the future. Chris joined as Chief Executive in 2009 and has led our business with distinction. He has been instrumental at putting placemaking, sustainability, design excellence and a focus on the customer at the heart of how we do business.
"Under Chris's leadership British Land has consistently created outstanding places, best demonstrated by our mixed-use London campuses Broadgate, Paddington and Regents Place. We have delivered several iconic London buildings and we look ahead to the unique opportunity we have at Canada Water.
"Chris has shown consistent leadership to bring about notable cultural change and has made a lasting impression through his work to champion diversity, inclusion and opportunity in Real Estate. He will leave having established a high-quality team, with a broad range of skills, experiences and perspectives which is well placed to take British Land forward under Simon's leadership."
"The Board are confident that Simon is the right person to lead British Land forward. He is a proven, growth-orientated business leader with significant Real Estate experience and expertise across various asset classes. We look forward to working with Simon in his new role."
Grigg added: "It has been a privilege to lead British Land over the last 11 years, but I am confident that now is the right time to hand over to Simon. I am immensely proud of what we have delivered over my time as CEO.
"We've significantly repositioned our portfolio towards our London mixed use business and, through our campuses, we have created three world-class neighbourhoods for London that not only resonate with our customers but truly benefit their local communities. Buildings such as the Leadenhall Building and Clarges delivered significant financial returns and will stand as London landmarks for years to come."
On the markets this morning, the FTSE 100 has fallen back 0.7% to 5,974pts.
Early fallers include Morrisons' fellow supermarkets Sainsbury's, down 2.5% to 187.1p, and Tesco, down 1.6% to 220.1p, while DS Smith is down 1.3% to 286.1p.
Risers include Bakkavor, up 3.9% to 66.6p, Stock Spirits, up 2.5% to 226.5p, Hilton Food Group, up 2.2% to 1,196p and Premier Foods, up 2% to 81.8p.
Yesterday in the City
The FTSE 100 ended the day up 1.4% to 6,012.8pts yesterday as international markets recovered from a tech-driven slump.
Amongst the major grocery risers yesterday were Bakkavor, up 10% back to 64.1p following its interim results on Tuesday.
Also on the up were Science in Sport, up 6.7% to 33.6p, Unilever, up 3.8% to 4,743p, British American Tobacco, up 3.6% to 2,668.5p, Reckitt Benckiser, up 2.9% to 7,504p, Kerry Group, up 2.8% to €117.10 and Imperial Brands, up 2.6% to 1,360.5p.
Supermarkets Sainsbury's and Tesco were also amongst yesterday's risers, climbing 2.2% to 191.8p and 1.5% to 223.6p respectively.
The day's fallers again focussed on out of home consumption and travel, with SSP Group falling 6.3% to 236.6p, WH Smith down 4.3% to 1,137p, Greggs falling 3.5% to 1,350p, FeverTree down 2.5% to 2,093p and Nichols down 2.2% to 1,242.5p.