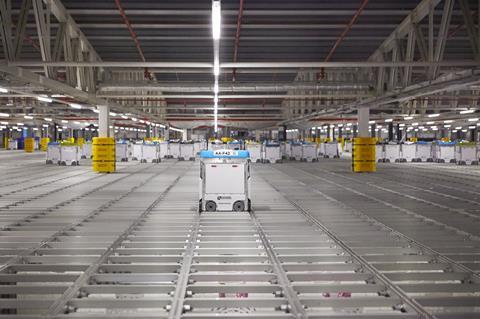 Top story
Ocado (OCDO) has posted a first half pre-tax loss of over £140m after the fire at its Andover warehouse cost the online supermarket almost £100m
Pre-tax losses deepened to £142.8m compared with restated losses of £13.6m in the first half of last year as the Andover fire led to £110.3m of costs offset by insurance payments of just £11.8m to date - though Ocado expects this insurance payout figure to rise.
Adjusted EBITDA fell 46% to £18.7m due to increased investment in developing its head office teams to support our international growth and the annualised costs of its new Erith customer fulfilment centre (CFC).
Retail revenues grew of 9.7% despite the fire, which it estimated cost 2% of sales in the 26 weeks to 2 June. Total group revenues were up 10.5% from a restated £795.3m to £882.3m.
Fees invoiced from parners in its 'solutions' division climbed 36% to £122.7m. Fees from international partners almost doubled, the online grocery group reported.
Key milestones included the creation of a 50:50 joint venture with Marks & Spencer which goes live on 5 August, the sale of Fabled to Next, the signing of its sixth international partnership, with Coles in Australia, the extension of its partnership with Sobeys – ahead of schedule – and the announcement of a second customer fulfilment centre in Montreal.
Ocado reported it had made progress in delivering the Ocado Smart Platform (OSP) to all its partners.
Delivery of the first customer fulfilment centre for Groupe Casino and Sobeys continued with both set to open in the first half of 2020, it said.
ICA was on track for scheduled migration onto OSP, and Kroger was ordering to plan, having broken ground on the first Kroger CFC, in Monroe, Ohio, with two other CFC locations announced in the half and continued progress in identifying further sites.
Bon Preu was now making online deliveries and, in the UK, Ocado continue to support the growth of Morrisons' online business
Tim Steiner, chief executive, said the centre of gravity at Ocado had shifted in the past six months from its heritage as an "iconic and much-loved" domestic pure-play online grocer to its future as a technology-driven global software and robotics platform business.
"Our exciting new joint venture with M&S creates further growth opportunities for both parties in the UK and allows Ocado Group to increase focus on growing our Ocado Solutions business and innovating for our partners," he said.
At the same time the business was beginning to apply its technology skills and expertise to other related activities which Steiner expected to be of benefit to the group's Solutions partners as well as to other Ocado stakeholders.
"The innovation factory we have created is founded on a near twenty-year heritage of constant re-examination and reinvention of technology to provide the best customer experience.
"We have never had as many opportunities to grow as we do today. As we look to successfully scale our business and deliver outstanding execution to our partners, our challenge will be to select and prioritise the most attractive of these opportunities," said Steiner.
The group's retail revenue guidance in the second half remains unchanged. It said assuming economic conditions remained broadly stable, it continued to be confident that Ocado Retail would achieve retail revenue growth of 10-15% for the remainder of the 2019 financial year, despite the impact of the Andover fire.
Morning update
Science in Sport (SIS) has reported half-year revenue up 152% to £24.9m compared with the same period last year.
The growth reflected the acquisition of PhD Nutrition last December and strong growth of the SiS brand, it said.
Total group sales grew 21% on a like-for-like basis.
The PhD brand traded in line with expectations in the six month period, with half-year sales up 16% at £12.4m (H1 2018 pro forma £10.7m). International sales were up 58% while UK sales were up 7%.
The SiS brand's sales climbed 25% in the period at £12.5m (H1 2018: £9.9m) driven by international growth, up 55%. Growth in the UK was up 10% and sales from the SiS website were up strongly at 52%.
The group reported that integration of the two businesses was progressing well and was in line with its plan and expectations.
Important milestones achieved in the first half included relaunching the PhD.com website, opening an e-commerce fulfilment facility and exploiting international distribution synergies.
Further international initiatives were anticipated in the current half year, including the test marketing of PhD in the US this summer and the Middle Eastern launch of the SiS brand via PhD's existing distribution.
New product launches during the period included PhD's vegan Smart Bar Plant, which is already become PhD's fourth best-selling product, and the SiS brand's innovative range for footballers of all levels. Planned launches in the current half include the SiS vegan Plant20 Bar.
The group's cash position at the half year remained strong at £5m. It continued to trade well and remained in line with market expectations for the full year, it said.
Wincanton (WIN) has confirmed that James Wroath will join the business from 2 September as chief executive. Adrian Colman will step down from the role and from the board from the same date but will remain accessible to Wroath James and the executive team until 31 October 2019 to ensure a smooth handover.
On the markets this morning, the FTSE 100 fell 0.1% in early trading to 7,542.5pts
Early risers include Science in Sport (SIS), up 4.5% to 62.7p following this morning's first-half figures, Majestic Wine (WINE) climbed 3.3% to 279.5p and Ocado Group (OCDO), rose 2.5% to 1,199,5p, following this morning's interims.
Other climbers include PureCircle (PURE), up 1.2% at 250.5p, PayPoint (PAY), up 1.1% at 938p and WH Smith (SMWH), up 0.9% at 2.050p.
Fallers so far today include Just Eat (JE), off 2.6% at 619.51p, PZ Cussons (PZC), down 2.5% at 214.5p, Premier Foods, off 2.3% at 36.75, DS Smith (SMD), down 1.5% at 354.8p and Fevertree Drinks (FEVR) cooled 1.5% at 2,064.5p.
Yesterday in the City
The FTSE 100 closed down 0.05% yesterday at 7,549.3pts.
Food sales increased 1.5% on a like-for-like basis and 2.4% on a total basis over the three months to June, the latest British Retail Consortium (BRC)-KPMG retail sales monitor, shows.
The performance came in ahead of the 12-month total average growth of 2.2%.
Overall retail sales on a total basis decreased 1.3% in June, compared with a 2.3% increase in June 2018.
This decline dragged the three-month average into a decline of 0.1% and the 12-month average to an increase of 0.6% – the lowest since its records began in December 1995.
Susan Barratt, chief executive, of the IGD, said: "A late start to the summer weather in June compared unfavourably with consistently drier and warmer conditions in 2018, so while year-on-year growth in food and grocery sales last month was small, it is still encouraging.
"If the recent pick up in temperatures is sustained, there's hope for stronger figures in July. Shoppers feel slightly more positive at the moment, with the percentage expecting to become worse off financially in the year ahead falling from 32 per cent in February to 27 per cent today."
Helen Dickinson, BRC chief executive, said June sales could not compete with last year's scorching weather and World Cup and had led to the worst June on record.
Paul Martin, UK head of retail at KPMG, said shoppers were more active online, making the most of the added convenience and continued aggressive pricing."
FTSE 100 fallers included Ocado Group (OCDO), down 4.5% at 1,170.5p ahead of this morning's interims, Devro, (DVO) off 4% at 206.5p, Fevertree Drinks (FEVR), down 2.6% to 2,095- and Finsbury Food Group (FIF), off 2.3% at 64p.
Stocks on the up included McColl's Retail Group (MCLS), up 3.8% at 65.4p, Imperial Brands (IMB), up 2.2% at 2,004p, McBride (MCB), up 2.2% at 78.9p and British American Tobacco (BATS), up 1.5% at 3,030p.