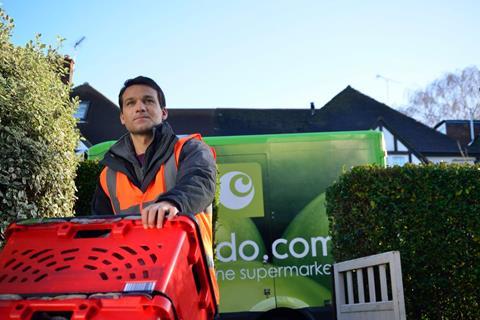 Top story
Ocado Retail, the joint venture Ocado and Marks & Spencer (MKS) has reported a double-digit revenue increase in the first quarter.
The company saw sales up 10.3% to £441.2m in the three months to 1 March, which reflected "no significant impact" from the coronavirus outbreak.
The average number of orders per week grew 10.2% to 343k, while the average basket size was up 0.3% to £110.24.
Ocado Zoom, the business immediacy service, continued to perform well and plans are progressing for the opening of a further site.
Since the end of the quarter, as customers started panic-buying to deal with the impact of the coronavirus outbreak, Ocado said it was seeing higher value baskets, with an increase in ambient goods, as well as an increased demand for orders which led to the business temporarily shutting down its service yesterday (18 March).
CEO Melanie Smith said growth in the second quarter is so far double that of the first, as the impact of Covid-19 picked up significantly since the beginning of March.
"However Coronavirus unfolds, what is clear is that the fundamentals at Ocado Retail are strong, illustrated by double digit increases in customer orders, driven by consistent execution, which deliver a best-in-market customer experience," she added.
"I am confident that our resilience, teamwork and commitment will stand us in good stead to continue to deliver for our customers even with the current uncertainties."
To deal with the "unprecedented demand", the business has also made the "hard choice" of stopping registration of new customers for the time being and installing a new queuing system on the web to reduce the impact of traffic spikes.
Ocado will also stop taking back plastic bags for recycling to reduce contact and will deliver only to the doorstep of customers' homes.
"We will continue to monitor trends in demand closely, working with suppliers to increase stock in relevant categories, where possible, and adjusting our marketing approach, where necessary, to address these shifts in behaviours," the business added.
Preparations for the M&S switch-over from Waitrose - planned for September - were on track, Smith confirmed.
Ocado shares opened down 4.4% at 1,414.50p.
Morning update
Consumer products group PZ Cussons (PZC) has appointed Jonathan Myers as new CEO, joining the business on 1 May.
Myers, a Procter & Gamble veteran, is an "experienced" fmcg executive, the company said, having worked across personal care, homecare and food & nutrition.
He has been COO at Avon Products since 2017, with global responsibility for supply chain, marketing, digital, R&D and IT.
Chair Caroline Silver said: "Jonathan is an excellent appointment for the company as our new CEO.
"His wealth of experience in our product categories and of doing business in both developed and developing markets will be invaluable. In addition, Jonathan's track record of successful business turnarounds will serve us well as we continue to deliver on the company's strategy of Focus, Scale and Accelerate."
Myers added he "looked forward" to joining the business and "create a bright future".
PZ Cussons shares opened down 0.9% at 161.46p.
The FTSE 100 started the day slightly up, rising 0.2% to 5,087.97pts.
Early risers included Diageo (DGE) up 3.4% to 2,274p, Unilever (ULVR) up 3.7% to 4,253.50p and FeverTree (FEVR) up 2.6% to 955p.
Fallers saw Greencore (GNC) open down 3% to 104.35p, Marks & Spencer (MKS) down 5.7% to 107.80p and B&M European (BME) down 2.3% at 264.20p.
Yesterday in the City
The FTSE 100 closed down another 4.1% at 5,080.58pts, as global markets continue to slump under the uncertainty generated by the coronavirus pandemic.
UK supermarkets however, showed some promising gains recovering part of the previous weeks' losses on expectations they can save hundreds of millions of pounds of business rates payments after Tuesday night's government announcement.
Marks & Spencer (MKS) was the biggest riser, up 23.8% to 114.25p. Sainsbury's (SBRY) rose 12.7% to 216.30p, Morrisons (MRW) closed 10.5% higher at 199.30p and Tesco (TSCO) up 1.2% at 228.60p. Ocado (OCDO) was also up 8.7% to 1,479.50p.
Fallers saw WH Smith (SMWH) down 18% at 743p, Associated British Foods (ABF) down 9% to 1,650p and Glanbia (GLB) down 10% at 8.40p.