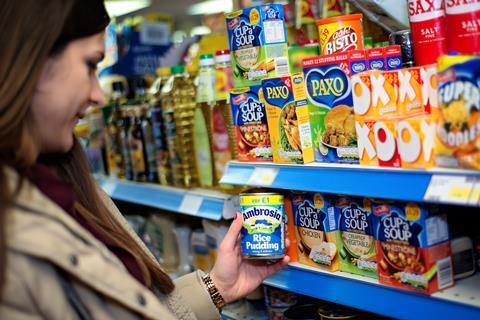 Top story
Revenues and profits have fallen at Premier Foods as shoppers started to eat out of the home more and the Oxo and Ambrosia owner lapped figures from a year ago when demand was elevated during the ongoing lockdown.
However, the group still performed better than expectations as its stable of brands continued to put in a strong showing in the first half of its financial year.
Sales fell 6.5% to £394.1m in the six months to 2 October, while trading profits slipped 12.2% to £57.8m. But when compared to two year ago before the pandemic stockpiling, the top line is up 7.5% and profits up by 13.1%.
Revenues in the second quarter of the half increased 0.4% year on year, lifted by a 2.1% rise in branded sales as the likes of Bisto, Oxo, Sharwood's, Angel Delight and Paxo all performed strongly, as shoppers continued to cook more at home despite the lifting of Covid restrictions.
CEO Alex Whitehouse said the group had delivered a "very good" first-half performance, with growth ahead of previous guidance.
"I am particularly pleased with how well the business is successfully navigating the widely reported industry wide challenges including logistics, labour shortages and input cost inflation to deliver such a strong set of results, which again underlines the robustness of our operating capabilities," he added.
Premier continued to expand overseas in the half, with international revenues up 7% versus two years ago and a test launch of Mr Kipling in the US confirmed for the second half.
Net debt is also down considerably at the group, falling 14.4% year on year to £345m - down 30% compared with two years ago.
The group said it was on track to meet its profit expectations for the year, with "robust" plans in place to respond to the ongoing industry wide challenges across the supply chain.
"As we look ahead to the second half of the year, we will be launching a range of insight driven new products and supporting six of our key brands with advertising," Whitehouse said.
"We will expand our presence in adjacent new categories, building on the initial success of Cape Herb and Spice and Oxo rubs & marinades, as well as bringing to market premium Mr Kipling biscuits and a range of branded ice cream. We will also continue to develop our overseas businesses including the full roll-out of Mr Kipling in Canada and the test launch of Mr Kipling in the USA.
"We enter the second half of the year with strong momentum, and with a series of exciting plans in place for our brands, we remain firmly on track to deliver on our profit expectations for the full year."
Shares slumped 5.8% to 107.6p as markets opened this morning.
Morning update
Online grocery sales have declined as more shoppers visited stores ahead of Christmas, according to the latest NielsenIQ data.
In-store visits at UK supermarkets increased 6.5% in the four weeks to 6 November, equal to 28 million more visits compared with the same period last year.
As a result of this shift back to more traditional shopping, online share of sales fell to 12.2%, down from 12.6% in the previous four weeks.
Total online sales declined 8.6% – compared to a 1.7% fall at stores in the four weeks – but NielsenIQ said this was primarily the result of smaller online basket spend as shoppers no longer needed to stock up. However, with the percentage of households shopping online every four weeks down only 3% on this time last year, the firm added it showed habits gained in the pandemic were sticking.
Data also revealed shoppers embracing local and last-minute convenience, with growth at c-stores up 2.1% year on year.
Total till grocery sales fell 2% in the past four weeks as trading started to lap periods of extremely high demand when shoppers stocked up ahead of the second lockdown that started on 4 November 2020.
On a two-year pre-pandemic basis, sales were up 4.9%.
Tobacco giant Imperial Brands has lifted revenues in the year ended 30 September by 0.7% to £32.8bn.
The rise was driven by higher cigarette prices - as well as an increase in excise duty - which more than offset a 2.9% decline in volumes.
Operating profits also increased 15.2% to £3.1bn as the group benefitted from the £281m disposal of its premium cigar business and also from reduced losses in the next generation products division.
CEO Stefan Bomhard said it had been a year of "important progress and significant change" for the group as it began to deliver its new strategy announced in January.
"We have substantially refreshed our leadership team, making new hires to strengthen our consumer-facing capabilities, while building on our existing deep tobacco experience. We have changed the way we work, placing the consumer at the centre of our decision making. We have simplified the organisation, creating efficiencies for reinvestment. And we have introduced more rigorous performance management, enabling better prioritisation of resources.
"This approach is already delivering improved operational and financial outcomes."
Shares in Imperial climbed 0.4% to 1,604.6p this morning.
Diageo has unveiled new growth ambitions ahead of its biennial capital markets day in London.
The spirits giant is expecting organic net sales growth in the range of 5% to 7% and organic operating profit growth of 6% to 9% for the financial years 2023 to 2025.
It also introduced an ambition to achieve a 50% increase in total beverage alcohol market value share, from 4% in 2020 to 6% by 2030.
CEO Ivan Menezes said: "Since our last capital markets day, we have continued to invest in our brands, sharpened our focus on accelerating growth and quickly responded to shifts in consumer behaviour. We have also launched 'Society 2030: Spirit of Progress', our ten-year sustainability action plan, building on our strong track record of doing business the right way, from grain to glass."
CFO Lavanya Chandrashekar added that the group had made a strong start to the 2022 financial year, delivering organic net sales growth across all regions as the off trade continued to show resilience and on-trade recovered from the pandemic.
Shares jumped 2.6% to 3,916.5p as investors reacted to the ambitions.
Domino's Pizza Group has appointed David Surdeau as interim chief financial officer with effect from 17 November.
Surdeau gas extensive corporate finance and commercial experience, and was previously interim CFO of Marks & Spencer. Prior to that, David held senior finance roles within Tesco and BAT Industries.
He will take over as CFO from Neil Smith, who leaves the company on 26 November 2021. As an interim appointment, Surdeau will not be joining the board.
CEO Dominic Paul said: "David has a demonstrable track record of success in growth businesses and his experience and skill set will be invaluable as we continue to execute our strategic plan. I look forward to welcoming him to the group."
Shares in the group rise 1.6% t o 371.8p.
Supermarker Income REIT has purchased a Sainsbury's in Swansea and a Tesco store in Maidstone for £73m.
The seven-acre Sainsbury's store in the city centre was opened in 1989 and refurbished in 2016, while the Tesco site was purpose built in 1990 and extensively refurbished in 2007.
Ben Green, director of Atrato Capital, the investment adviser to Supermarket Income REIT, said: "These two stores are excellent additions to our growing portfolio of grocery real estate and were funded using the proceeds of our recently oversubscribed equity issue. Both assets have attractive underlying fundamentals and long histories of strong trading performances."
Yesterday in the City
The FTSE 100 sank back 0.1% to 7,342.52pts yesterday.
Oatly suffered a mass sell off after issuing a revenues warning as supply chain disruption hit the Swedish group. Third-quarter revenues also came in at less than expected, sending the stock down more than 20% to a new low of $9.36 - down almost 70% on June's highs and much lower than the $17 IPO price from May.
Shares in B&M European Value Retail sank 3.4% to 579p after Goldman Sachs and RBC Capital Markets downgraded the business on the back of ongoing disruptions to the supply chain and rising costs.
Heineken shares climbed 1.1% higher to €98.36 following its proposed acquisition of Distell to form a new €4bn southern Africa business. In contrast, Distell fell 6.9% in value to 170 rand, below the price the Heineken deal valued the group.
Dutch supermarket Ahold Delhaize jumped 3.5% to €30.85 after it revealed a €1bn share buyback programme and plans to float its Bol.com retail site.
Shares in Eagle Eye also rose sharply by 4.5% to 567p as the grocery tech firm announced a further roll out for Asda's new loyalty scheme.