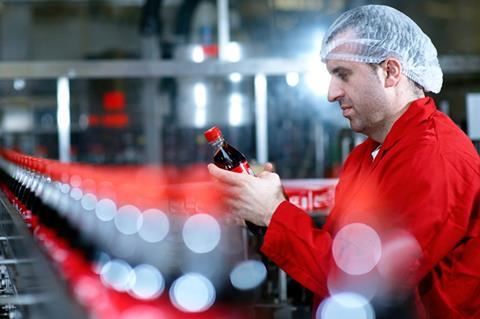 Top story
European Coke bottler Coca-Cola HBC has posted strong top-line and profit growth on double-digit price hikes and cost control.
The eastern European soft drinks group said organic revenue increased by 14.2% in 2022, driven by price and mix.
Organic revenue per case was up 15.9%, driven by pricing and targeted actions to improve mix throughout the year.
However, full-year organic volume fell by 1.5%, adversely affected by declines in Russia and Ukraine.
Excluding these markets, organic volume growth was up 8.1%, with broad-based increases across segments.
Reported net sales revenue increased by 28.3% to €9.2bn, driven by the acquisition of Coke's bottling opperations in Egypt, the consolidation of Multon Partners (its renamed Russian business) as well as favourable currency impact.
CCH said that outside Russia and Ukraine, sparkling volumes grew by 7.7%, with low/no-sugar variants up 14.3% and adult sparkling up 9.5%.
Trademark Coca-Cola volumes grew 9.1%, led by ongoing strong performance from Coke Zero, while Fanta grew 3.8% and Sprite 4.7%.
Energy volumes grew by 16.3%, with strong momentum in most markets, which more than offset declines in Russia and Ukraine. Still volumes grew by 0.5%, while coffee was up 28.2%, with gains in both rate of sales and distribution.
The group said category mix continued to improve driven by contributions from sparkling and energy, while channel mix improved due to strong out-of-home channel performance after the Covid-19 pandemic.
Comparable EBIT increased by 11.9% on a reported basis to €929.7m, benefiting from growth across its markets, cost control, currency, the consolidation of the Egypt acquisition from mid-January as well as the consolidation of Multon.
On an organic basis, comparable EBIT increased by 1.3%, while the comparable EBIT margin was 10.1%, down 130 basis points on an organic basis, as the inflationary pressures in costs, together with the cycling of last year's asset sale, more than offset pricing and mix actions.
Reported net profit of €415.4m was 24.1% lower than in the prior year respectively, mainly due to impairment charges relating to operations in Russia.
CCH said the results represented a "better-than-expected" financial performance in 2022, despite significant headwinds to its business.
"While we remain attentive to macroeconomic and geopolitical risks, we have high confidence in our broad portfolio and the opportunities in our diverse markets," it stated.
In 2023 it expects to generate organic revenue growth at a group level above its 5%-6% average target range.
However, the inflationary impact is ongoing and the group expects COGS/case increases by low teens per cent in 2023.
Therefore, organic EBIT growth is only the range of +3% to –3% for the year ahead.
CEO Zoran Bogdanovic commented: "We delivered a strong performance in 2022 against a challenging backdrop, achieving record levels of revenue, comparable EBIT and free cash flow.
"The benefits of portfolio prioritisation were clear, with growth led by Sparkling, Energy and Coffee. Consumer demand for our products and in our categories remained good. The power of our portfolio and consistent investment in our capabilities allowed us to balance pricing and mix enhancements, while also achieving another year of strong share gains.
"Our strong performance is testament to the passion and dedication of our people and I would like to thank all our customers, partners and employees for their ongoing commitment and support.
"Looking to 2023, our track record, portfolio, capabilities, the diversity of our markets and, above all, our talented people make us confident of achieving another year of strategic and financial progress, accelerating our journey to becoming the leading 24/7 beverage partner."
CCH shares are up 3.3% to 2,005p on this morning's update.
Morning update
There are no other trading updates of notes despite the busy week of annual results this week, with Coca-Cola and Carrafour updates to come later today.
The British Honey Company has announced the resignation from the board of 'Sophie' Guifang Luo as a non-executive director, with immediate effect. She is leaving the company to pursue her several other business interests, primarily in China.
Commenting on her resignation, BHC's chairman, Richard Day, said: "On behalf of the Board, I would like to thank Sophie for her significant contribution to BHC over the years. Sophie was with us at the time of the company's flotation in 2020 and the acquisition of union Distillers Limited in 2021. We wish her every success for the future."
On the markets this morning, the FTSE 100 is up another 0.5% to 7,988.5pts as it climbs to 8,000pts for the first time.
Risers include McBride, up 4.8% to 24.9p, Science in Sport, up 3.7% to 14p and Naked Wines, up 3.6% to 126.6p.
Fallers so far today include Virgin Wines, up 1.9% to 53p, THG, up 1.4% to 56.5p and Just Eat Takeaway.com, up 1.3% to 1,855.8p.
Yesterday in the City
The FTSE 100 closed at another record high yesterday, rising 0.8% to 7,947.6pts.
Risers yesterday included THG, up 4.2% to 57.3p, Unilever, up 3.1% to 4,262p, Nichols, up 2.5% to 1,045p, Greggs, up 2.3% to 2,702p, Reckitt Benckiser, up 2.1% to 5,790p, British American Tobacco, up 1.9% to 3,101.5p and Coca-Cola HBC, up 1.7% to 1,941.5p.
The day's fallers included Greencore, down 4.7% to 81.9p, Bakkavor, down 3.1% to 113p, Ocado, down 2.6% to 618.6p, Naked Wines, down 2.1% to 122.2p, C&C Group, 2% to 159.5p.