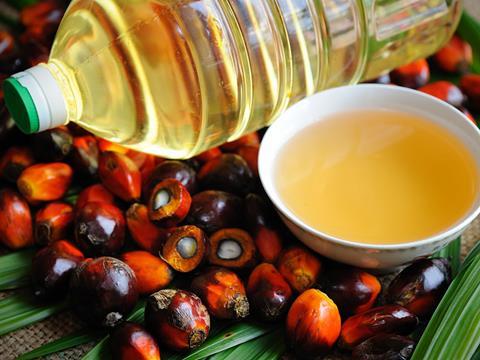 Top story
Profits have plummeted by 62% at London-listed palm oil producer MP Evans as record high prices in the wake of the Ukraine war returned to more normal levels.
The group generated revenues of $134.5m in the first half of 2023, a reduction of 21% on the same period a year ago, primarily due to the lower mill-gate price for crude palm oil (CPO).
CPO prices spiked following the outbreak of the conflict between Russia and Ukraine as commodity markets worried over global vegetable oil shortages, with prices peaking at almost $2,000 a tonne and an average of $1,622 a tonne.
Prices have since stabilised and averaged $986 per tonne in the first half of 2023, a 39% drop.
MP Evans achieved a mill-gate price for CPO of $755 per tonne in the period to 30 June, 27% lower than in the first half of 2022.
Margins sank from 38% a year ago to 17% as a result, with operating profits falling 62% to $23.4m. However, CPO pricing generally remained 8% higher than the five-year average and 20% above the ten-year average.
The group was also hit by input cost inflation as production costs jumped 26% in the period, primarily the result of higher fertiliser prices.
Overall, MP Evans increased the total crop processed by 2% to 721,100 tonnes in the half, with a 3% rise in total production of CPO to 166,200 tonnes.
During the half, the group opened its sixth palm oil mill and has since reached an agreement to acquire more than 8,000 further planted hectares.
Chairman Peter Hadsley-Chaplin said: "The group continues to increase output, notably from its own production facilities, following the commissioning of the Musi Rawas mill this February.
"We are delighted to be reporting further strategic increases in planted hectarage, both at Simpang Kiri earlier this year, and the recently announced agreement to acquire over 8,000 planted hectares in East Kalimantan.
"These developments, along with increasing cropping levels, put the group in a strong position to deliver a productive and profitable 2023 and bodes well for its longer-term prosperity."
Morning update
LondonMetric Property has sold a Waitrose store as part of £16.9m package of retail asset sell-offs.
The 27,000 sq ft store in Malmesbury was acquired from Waitrose as part of a sale-and-leaseback portfolio of five sites in June 2022.
The listed property group said it sold the store for £9.6m.
The remaining assets sold comprise 47,000 sq ft of high street retail in Sunningdale and Rayleigh.
CEO Andrew Jones said: "Following completion of our CT Property acquisition last month, we have been proactively looking to dispose of select non-core assets.
"We are very pleased to have quickly transacted on several sales at prices above our allocated book values, with the proceeds enabling us to pay off all outstanding floating rate debt, leaving 100% of our drawn debt hedged."
The FTSE 100 has opened 0.9% higher at 7,541.57pts this morning.
Early risers so far include Virgin Wines UK, up 2.3% to 53.7p, AG Barr, up 2.2% to 499p, and THG, up 1.7% to 86.9p.
Science in Sport, PayPoint and C&C Group are among the fallers, down 3.3% to 13.1p, 2.1% to 552.1p and 1.9% to 134.2p.
This week in the City
There is plenty lined up on the markets this week, kicking off tomorrow with the latest grocery market share update from Kantar and a full-year trading update from Primark owner Associated British Foods.
Premium mixer brands Fever-Tree Drinks is also scheduled to file first-half results tomorrow, while the latest UK unemployment and wage growth figures are due out.
The big news of the week is set for Thursday as the under-performing John Lewis Partnership releases first-half figures, with similarly underpressure THG does the same.