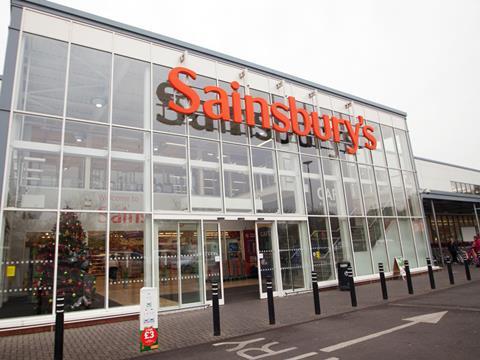 Top story
Sainsbury's (SBRY) like-for-like sales growth slowed to 0.2% in the first quarter of 2018 as it instigated price cuts to battle a "competitive market".
Like-for-like sales growth of 0.2% represented a slow-down from 0.9% growth in the previous quarter and 2.3% in the same period last year.
Total retail sales moved up 0.8%, boosted by the performance of Argos and its clothing category, with Argos online sales up 12%.
Grocery sales grew just 0.5%, as it fell from 2.1% growth in the previous quarter.
Boss Mike Coupe said he was nevertheless "pleased" by the company's progress over the quarter and added that Sainsbury's have the "right strategy in place" with its proposed merger with Asda set to create a "more resilient and adaptable business".
The company also announced that it had agreed a £3.5bn financing packaging for the merger, which Coupe said reflected "the confidence of the lending banks" in the outlook of the deal.
"The market remains competitive. However, we have the right strategy in place and our proposal to combine Sainsbury's and Asda will create a dynamic new player in UK retail, with the scale to give customers more of what they want today and create a more resilient and adaptable business for the future," Coupe commented.
Sales were also driven by a 7.3% growth in online groceries sales and 3.6% growth in convenience store sales over the period.
"I am pleased with our progress in the quarter. The headline numbers reflect the level of price reductions we have made in key areas like fresh meat, fruit and vegetables since March," Coupe said.
"Our price position has improved and customers have responded well, resulting in a continuation of the improved volume trend we saw in the second half of last financial year.
"General Merchandise and Clothing, including Argos, continue to outperform a very challenging market and we are well placed to further grow market share."
The supermarket said it invested £150m into reducing prices for customers, as it completed 51 range reviews. Sainsbury's added that it remains on track to make £200m in savings over the financial year.
90 Argos stores are set to be opened in Sainsbury's stores by the end of the 2018/19 year, as the 2016 acquisition continues to bear fruit.
Morning update
Food inflation remained flat in June as competition between retailers continued to keep prices steady.
This month's BRC and Nielsen shop price index report showed that food inflation stayed at 1.2%, the same as May, and just 0.2% up from April's inflation figure.
The steady rate of inflation will be new to shoppers' ears, said the British Retail Consortium, which added that continuing changes in dairy and cereal prices suggest competitive pricing will continue amongst the supermarkets.
Fresh food prices slowed marginally, down to 0.8% from 0.9% in May, while ambient food inflation also dropped 0.1% to 1.6% for June.
Non-Food deflation meanwhile eased by almost a percentage point in June to 1.6% from 2.5% in May. Additionally, shop prices fell by 0.5% in June, a significant easing in deflation from May's decline of 1.1%
Shoppers will be relieved by the "steady" rate of inflation as retailers continue to price competitively, said Helen Dickinson OBE, chief executive, British Retail Consortium.
"Food shoppers can breathe a sigh of relief with the rate of food inflation remaining steady and retailers continuing to fight back against a tough trading environment with competitive pricing and deals," she commented.
"Changes in global food prices of dairy and cereal as well as higher oil prices will mean this battle looks set to continue in the coming months.
"Against a backdrop of transformational change across the industry and some high profile store closures over recent weeks, government and policy makers need to do more to address the burden of things like business rates to help to ease the pressure and to support retailers to thrive through this transition and continue to offer great products to customers across the country."
Mike Watkins, head of retailer and business insight, Nielsen said: "Food inflation across retail stores is holding at the same level as last month, which is good news for shoppers and helpful to retailers as the continuation of summer weather is supporting sales of seasonal fresh foods."
AIM listed spirits company Distil (DIS) revealed a 27% growth in sales in the first quarter to June 30.
The producer of RedLeg spiced rum and Blackwoods gin and vodka, also increased volumes 21% over the period.
"Growth momentum of our key brands continues at a healthy pace, supported by marketing and promotional activities at the point of sale," said Don Goulding, executive chairman of Distil.
"The gin and rum markets remain buoyant. Our brand performance within these categories is strong and in line with our expectations."
Elsewhere, food service company Compass Group announced the departure of group finance director Johnny Thompson.
The company said that he will leave the business at the end of December, and the search for a successor has started immediately.
"We are very grateful to Johnny for his significant contribution to Compass over the last 9 years and wish him all the very best for the future," said chairman, Paul Walsh.
In early trading the FTSE 100 dipped 0.3% to 5,571pts as fears in China over US trade tariffs amped up, with markets in China hitting a two year low.
Sainsbury's (SBRY) results were greeted with a 1.1% jump in value, up to 322.1p. Other risers this morning include Wincanton (WIN), up 2.2% to 272.6p, Treatt (TET), up 1% to 444.3p and Greencore (GNC), up 0.6% to 187p.
Early fallers this morning include Compass Group (CPG), down 1.8% to 1,592p, Majestic WINE (WINE), down 1.4% to 466p and Premier Foods (PFD), down 0.9% to 38.7p.
Yesterday in the City
The FTSE 100 returned to form, closing higher yesterday on the back of investors coming back to equities following the past week's trade war fears.
It jumped up 0.6% to 7,593pts, despite a dip towards the end of afternoon trading.
Yesterday it was confirmed that KPMG is to be investigated by the Financial Reporting Council for its auditing of Conviviality's accounts prior to the dramatic collapse of the booze wholesaler earlier this year.
The risers over the day's trading included Wincanton, up 3.1% to 267p, British American Tobacco (BATS), up 2.4% to 3,910p, and Premier Foods (PFD), up 2% to 39.1p despite escalating boardroom quarrels.
McBride (MCB) fell 4.5% to 126p after issuing a profit warning and agreed the £12.5m sale of its European personal care liquids business.
It was also a less positive day for McColl's (MCLS), down 6.8% to 205p, Nichols (NICL), down 2.7% to 1,460p and Dairy Crest (DCG), down 1.4% to 493p.