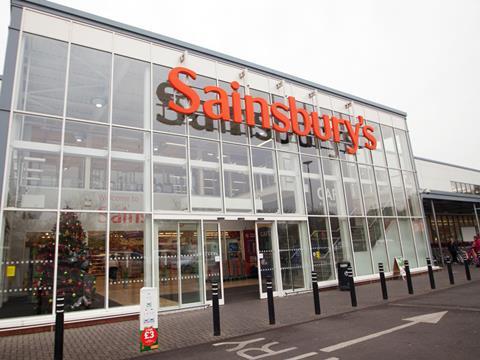 Top Story
Sainsbury's has reported a double digit grocery sales increase in the first quarter of the year, but warned it expects a profit hit of more than £500m from the coronavirus crisis.
For the 16 weeks to 27 June, Sainsbury's total retail sales rose 8.5%, excluding fuel, while like-for-like sales were up 8.2%.
Grocery sales were up 10.5%, helped by "very strong" online growth - with digital sales more than doubling over the quarter. Online orders grew 87% to 650k a week.
Going against a trend of growth among convenience stores, Sainsbury's convenience sales were down 5%, driven by very weak sales in city centre locations and the temporary closure of 26 convenience stores in city centre locations.
General merchandise sales rose 7.2%, 10.7% including Argos, while clothing sales dropped over a quarter or 26.7%, with the retailer blaming lockdown for the poor performance.
Argos 573 stores were forced shut as lockdown began in March but Sainsbury's has reopened 174 stores across the UK and Ireland and hopes to open 100 more in July.
Despite the strong sales performance, the grocer warned that the profit impact from the coronavirus crisis is expected to exceed £500m, to be broadly offset by business rates relief and stronger grocery sales.
New CEO Simon Roberts said: "The last four months have been extraordinary in so many ways and our colleagues have done an amazing job adapting our business. They have worked tirelessly to keep everyone safe, to help feed the nation and to support our communities and the most vulnerable in society.
"Our business has changed fundamentally from four months ago. We have more than doubled our weekly sales of online groceries in recent weeks, SmartShop now accounts for more than half of sales in some supermarkets and Argos sales were strong while operating as an online-only business for almost twelve weeks."
Looking ahead, Roberts added that the coming months will "continue to be challenging" and the retailer does not expect the strong growth to continue as the nation heads out of lockdown.
"We believe it is appropriate to remain cautious about the sales trajectory through the remainder of the year given the weather benefit to date and a likely further weakening of consumer spending."
Morning update
Travel food retailer SSP Group has announced it plans reorganise its UK business and cut jobs to reflect the current low level of passenger demand resulting from the coronavirus outbreak.
The business - operating in the travel sector - has seen an "unprecedented impact" from the coronavirus outbreak and despite starting to see signs of recovery in certain parts of the world, it has taken the decision to reorganise the UK business, where "the pace of recovery continues to be slow", CEO Simon Smith said.
Smith added: "In response to this, we are now taking further action to protect the business and create the right base from which to rebuild our operations.
"Regrettably, we are starting a collective consultation which will affect our UK colleagues. These are extremely difficult decisions, and our main priority will be to conduct the process carefully and fairly. Importantly, we are retaining the flexibility to upscale operations and swiftly re-open additional units if we see improved sales over the summer.
"The medium-term prospects for the group remain positive. The objective of the action that we are proposing today is to ensure that we manage through this pandemic, rebuild our business as demand recovers and, in time, deliver long term sustainable growth for the benefit of all our stakeholders."
The company expects to have opened only around 20% of its UK units by the Autumn and the reorganisation could lead to around 5,000 roles becoming redundant from the head office and UK operations.
This decision was taken despite measure to protect the business liquidity, such as furloughing colleagues, accessing the Bank of England CCFF and completing an equity placing in March, leaving SSP with approximately £750m liquidity in place and reducing management salaries among others.
Applegreen, the forecourt and convenience retailer, has announced that its Welcome Break subsidiary has successfully completed a process to access additional facilities, which "significantly enhances" its liquidity during the COVID-19 crisis.
Welcome Break has re-purposed £25m of a dedicated capital expenditure facility in its existing banking facilities into a revolving credit facility which is available to draw down for any purpose.
The lenders have also agreed to relax or remove covenant conditions for tests up to and including June 2021.
Welcome Break has traded in line with our expectations in May and June and, it has now reopened a "significant number" of its food and beverage offers to meet demand as travel restrictions started to ease from early June as traffic volumes start to recover.
The remainder of the Applegreen business has also continued to trade ahead of COVID19 projections for both May and June, aided by strong store sales in the local petrol filling station sites, good fuel margins and extensive cost saving measures.
B&M European Value Retail has seen "continued strong growth" in the first quarter with overall sales rising 27.7%.
For the period between 29 March and 27 June, B&M group revenue growth was 27.7%, with B&M UK revenue growth of 33.7% including like-for-like growth of 26.9% against a prior year comparable of 3.9%.
In the UK, B&M operated from 656 stores, with no new stores openings in the quarter due to the impact of the coronavirus outbreak.
Heron Foods, reported strong double digit like-for-like sales growth during the quarter and opened 2 net new stores, while revenue in the French business, Babou, was £54m, including like-for-like growth of 32.0% for the comparable period since re-opening on 11 May.
CEO Simon Arora said: "The group has made a s trong start to the financial year, with a particularly strong performance in our UK businesses, and progress now resumed in France after an 8 week closure period.
"However, there are a great deal of uncertainties ahead. The safety of our colleagues and customers remains our priority whilst we work hard to continue to meet our customers' needs in these difficult times."
UK shop prices have fallen for the thirteenth consecutive month in June, as retailers continue with high discounting in hopes to lure shoppers back in.
Overall shop prices fell 1.6% in the period between June 1 and 5, according to the BRC-Nielsen shop price index. This compares to a decline of 2.4% in May and is below the 12 and 6-month average price decreases of 0.8% an 1.2% respectively.
"Consumers have benefited as shop prices have fallen for the 13th consecutive month, however the situation for many retailers, such as those in clothing and footwear, remains very challenging," BRC CEO Helen Dickinson said.
"Sales have dropped significantly since mid-March and two thirds of businesses are reporting turnover below pre-crisis levels, meaning there is a serious risk to jobs as a result.
"Coronavirus has been a huge shock to the retail industry and coming on top of this, the threat of the UK leaving the EU without a trade deal is a real concern as it would lead to severe disruptions to supply chains, far beyond those experienced during lockdown, resulting in higher prices and reduced availability in shops."
Non-Food prices fell 3.4% in June compared to a decline of 4.6% in May, but food inflation was steady at 1.5% in June.
Both Fresh food and Ambient food inflation also remained steady in June at 0.5% and 2.9% respectively.
Mike Watkins, head of retailer and business insight at Nielsen, said: "Shoppers have been buying more at supermarkets during 'lockdown', in particular in grocery and frozen, but also in higher value categories such as alcohol, where sales have increased over 30% in recent weeks.
"However, Ambient food inflation remains at +2.9% and lower in Fresh foods as seasonal produce becomes available. Retailers and their suppliers continue to work together to cope with the unprecedented high demand due to the closure of most of the out of home and hospitality channels."
The FTSE 100 started the day up 0.1% at 6,178.44pts.
Risers included B&M up 3.4% to 411.10p, PayPoint up 2.5% to 614p and Sainsbury's up 1.5% to 211.80p.
Fallers saw SSP down 3.5% to 248.12p, Ocado down 1.1% to 2,005.54p and McBride down 3.9% to 60p.
Yesterday in the City
The FTSE 100 closed down 0.6% at 6,186.24pts.
Risers saw Science in Sport close up 6% at 33.4p, WH Smith up 3.9% at 1,089p and Naked Wines up 3.4% at 432.50p.
Fallers included Marston's down 6.9% to 53.62p, Devro down 3.5% at 153.47p and SSP Group down 2.9% at 255.40