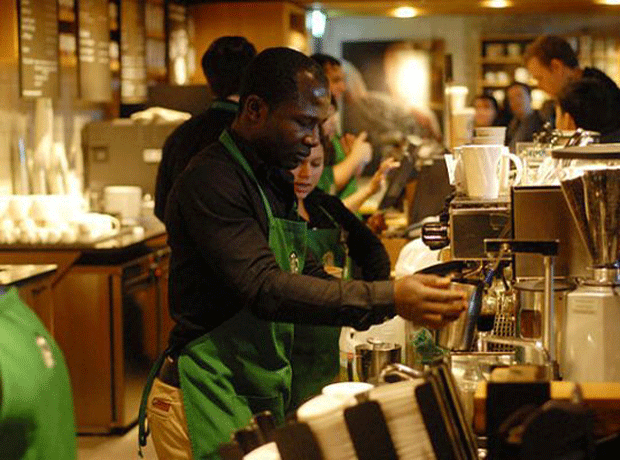 Top story
Starbucks (SBUX) has announced new sales forecasts for its third quarter trading significantly below analysts' expectations.
Shares fell as much as 5% in after-hours trading on Wall Street, as the company also announced a number of strategic changes.
Global sales for the quarter, in locations open at least one year, are projected to grow 1%, less than the 2.9% analysts predicted, according to Bloomberg.
Company president and CEO Kevin Johnson said that the recent performance of food-to-go chain was "not acceptable" and below the potential of the brand.
It announced that it would be accelerating store closures in the US, with 150 underperforming stores set for closure, ahead of the previously announced 50 closures per year.
The company said its strategy moving forward will see it move away from areas where it already has a strong presence, and towards underserved markets, which it said would see "accelerating growth in China".
The company expects to return around $25bn in cash by 2020, through dividends and buybacks, increased by $10bn from the company's previous announcement.
"While certain demand headwinds are transitory, and some of our cost increases are appropriate investments for the future, our recent performance does not reflect the potential of our exceptional brand and is not acceptable," said Kevin Johnson.
"We must move faster to address the more rapidly changing preferences and needs of our customers.
"Over the past year we have taken several actions to streamline the company, positioning us to increase our innovation agility as an organization and enhance focus on our core value drivers which serve as the foundation to re-accelerate growth and create long-term shareholder value."
Last month Nestlé agreed to pay $7.15bn (£5.3bn) for a 'perpetual licence' to sell Starbucks products outside the coffee chain's stores.
Earlier this month, Howard Schulz stood down as chairman of the company amid speculation that he would run for president in 2020.
Morning update
Dairy Crest (DCG) boss Mark Allen's pay doubled last year to £2.6m, after the Cathedral City owner saw sales up 10% for the year ending 31 March 2018.
The company's annual report revealed that Allen's pay jumped up from £1.3m on the back of long-term incentive shares, worth £1.9m in total.
The chief executive of the Cathedral City manufacturer received a base salary of £560k, with £33k in taxable benefits and another £129k from the pension scheme.
Allen said last month that it had been a "been a year of considerable progress for Dairy Crest" with strong margins despite "unprecedented price inflation in the butters market".
The company's growth in 2017/18 was driven by the continued strong performance of Cathedral City, helping to drive the dairy group to sales of £456.8m.
Adjusted profits before tax moved up 3% to £62.3m for the full year, but revenue growth over the year slowed, as cream prices increased.
Dairy Crest committed to £85m in investment into its cheese business to grow capacity and target new export markets.
The annual report shows a sales increase of almost 9% in cheese and functional foods, to £277.2m, with a 15.5% increase in sales in the butters category to £174.2m.
However inflating cream prices cut into profits, with profits in the butter category falling from £25.5m to £21.7m despite sales growth.
Profits improved significantly in the cheese and functional food category, driven by Cathedral City, up from £42.8m profit in 2017 to £50.1m this year.
The Footsie is back in fine fettle, jumping up 0.9% to 7,670pts after selling fatigue finally started to set in.
This morning's early risers in grocery include Ocado Group (OCDO), up 5.9% to 1,005p, Nichols (NICL), up 4.2% to 1,563p and Imperial Brands (IMB) up 2.1% to 2,678p.
The fallers this morning include Dairy Crest (DCG), down 0.9% to 491.4p, Premier Foods (PFD), down 0.3% to 39.5p and McBride (MCB), down just 0.1% to 140.4p.
Yesterday in the City
Despite slightly recovering from a sharp decline in early trading, the FTSE 100 still dropped 0.4% to 7,604pts as trade tensions continued to escalate.
Just Eat (JE) made back some gains, after faltering following Deliveroo expansion news last week, and moved up 2.5% to 806.6p, as UBS upped its target price, forecasting strong growth in the food delivery sector.
Other companies which had a positive day's trading included Greencore (GNC), up 2.1% to 184.1p, PZ Cussons (PZC), up 1.6% to 223p and BAT (BATS), up 1.5% to 3,691p.
Packaging giant DS Smith (SMDS) has faltered as it hopes to conclude its £1.7 billion of a Spanish rival. It dropped 4.5% to 525p.
Other fallers from yesterday included Patisserie Holdings (CAKE), down 3.6% to 466.5p, Stock Spirit Group (STCK), down 2.8% to 226.5p and TATE & Lyle (TATE), down 1.7% to 639.2p.