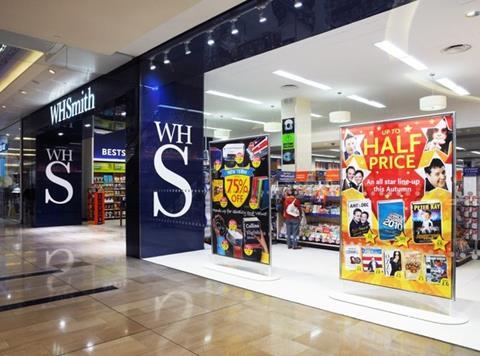 Top story
Travel and high street retailer WH Smith (SMWH) has posted top-line sales growth of 2% in the 15 weeks to 10 June, while like-for-like sales were flat as travel sales rose and the high street slumped.
Its travel business saw a sales jump of 8%, with 2% due to foreign exchange benefits resulting from the weak pound.
Like-for-like sales in the division were up 5% and gross margin "increased in line with plan".
WH Smith said this sale performance: "reflects our ongoing focus on customer service, execution, space and category management as well as the continued increase in passenger numbers."
It added its travel store opening programme is "progressing well" and is on target to open 15 units in the UK this year and further international stores, including six in Rome opening in July.
Sales slumped 4% in its high street business, with like-for-like sales also down 4%.
However, in line with its long-standing profit focussed strategy for the division gross margin improved against and cost savings were delivered in line with plan.
Its post office programme is "on track" and it has relocated 58 of the 61 post offices it announced in April 2016, bringing the total number of post offices up to 165.
WH Smith warned there remains "some uncertainty with regard to the broader economic environment". But it vower to continue to focus on profitable growth, cash generate and investing in the business while remaining confident in the outcome for the full year.
WH Smith shares are up 1.2% to 1,765p on the news.
Morning update
Last night was the prestigious Grocer Gold Awards at London's Guildhall. A full break-down of the awards will be on www.thegrocer.co.uk later today and in this week's edition of The Grocer. The Grocer of the Year award went to Tesco after a remarkable turnaround under Dave Lewis.
British American Tobacco (BATS) has issued a trading update ahead of the closed period of 27 June for its interim results.
BAT said the business "continues to perform very well" and is trading in line with expectations.
It said first half revenue is expected to benefit from good pricing, though first half volumes are lapping a strong prior year comparator and will be impacted by the phasing of shipments in a number of key markets, including Pakistan.
Full year volume is expected to outperform the industry, which BATS anticipates will be down around 4%.
Profit growth expected to be weighted to the second half of the year, due to the phasing of volume shipments, next generation product investments and marketing spend.
First half EPS is expected to benefit from a significant translational foreign exchange tailwind of around 14%.
If exchange rates stayed the same for the remainder of the year, there would be an adverse transactional impact on operating profit of 2% for both the first half and the full year. However, for translation, this would be a tailwind on operating profit of approximately 13% for the half year and 7% for the full year.
It said Canada, Romania, Bangladesh and Ukraine are performing well, but that conditions remain challenging in Brazil, South Africa, Malaysia, France and the UK.
European Coke bottler Coca-Cola European Partners (CCEP) has reaffirmed full-year guidance ahead of a presentation by its CEO and CFO at the Deutsche Bank global consumer conference today.
Chief executive officer Damian Gammell and chief financial officer Nik Jhangiani will discuss its plans and outlook with investors at the conference in Paris.
In the presentation, the recently merged CCEP will affirm full-year 2017 guidance of expectations for modest low single-digit revenue growth, with operating profit and diluted earnings per share growth to be up high single-digits.
CCEP said these growth figures are on a comparable and fx-neutral basis when compared to the 2016 comparable results. At recent rates, currency translation would reduce 2017 full-year diluted earnings per share by approximately 2%.
On the markets this morning, the FTSE 100 is up 0.1% to 7,507.3pts.
Early movers include Hilton Food Group (HFG), up 2% to 760p, PayPoint (PAY) up 1.9% to 976p, Nichols (NCLS), up 1.2% to 1,714p and Premier Foods (PFD), up 1.2% to 41p..
Early fallers include Science in Sport (SIS), down 1.5% to 84.2p, Majestic Wine (WINE), down 1.3% to 373p and Conviviality (CVR), down 0.8% to 312.8p.
British American Tobacco has edged up 0.2% to 5,424p
Yesterday in the City
As the market comes to terms with the new political reality in the UK and even more uncertainty over the nature of Brexit, the FTSE 100 slipped again after falling back 0.2% to 7,500.4pts.
The fall in the FTSE since Monday is partly attributable to the recovery in the pound since the start of the week, with the more UK-focussed FTSE 250 up 0.9% to 19,859.5pts yesterday.
Yesterday the pound jumped from a low of $1.267 to a current level of $1.279 and the UK's biggest international companies fell back as a result.
Unilever (ULVR), which reports in euros, fell back 1% to 4256.5p, British American Tobacco dropped 0.9% to 5,414p and Imperial Brands eased back 0.8% to 3560p.
Elsewhere, there were strong performances from those more reliant on the UK economy and general retail conditions.
Marks & Spencer (MKS), rose 1.3% to 363.2p, WH Smith was up 1.4% to 1744p, Sainsbury's (SBRY) was up 1.4% to 268.7p and travel food retailer SSP Group (SSPG) rose 1.6% to 484.5p.
Ocado Group continued to claw back ground from Monday's sharp falls, rising 1.7% to 275p, while Dairy Crest jumped 3.2% to 633.5p after receiving an upgrade from broker Numis.
Other risers include Conviviality (CVR), up 3.4% to 315.3p, Premier Foods (PFD), up 2.5% to 40.5p and McBride (MCB), up 1.8% to 189p.
Other fallers include Devro (DVO), down 1.4% to 220p and AG Barr (BAG), down 1.3% to 638.5p.