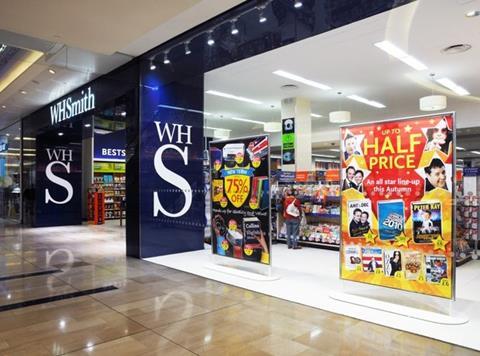 Top story
Sales at WH Smith (SMWH) have grown on the back of strong sales in its travel arm, the retailer said in its third quarter update this morning.
WH Smith, which was voted as the nation's least favourite high street store last month, suffered a continuing dip in high street sales but was supported by growing revenues in the travel retail sector.
For the 13 week period from 1 March to 2 June 2018 total group sales were up 4% with like-for-like sales up 1% compared to 2017.
Growth was driven by an 8% increase in sales for the travel arm of the company, which saw like-for-like sales increase 3%.
However, sales in the company's high street stores decreased 1%, with like-for-like sales also down 1%, in what it described as its "quietest trading period".
Gross margin continued to improve and cost savings have been delivered in line with plans for the high street stores, the company said.
It said investment will continue to go into format trials in stores, with a further ten stores due to be involved in the trials.
The travel arm, however, was boosted by growing passenger numbers and continued investment, the company said in its trading update.
Food and drink sales continued to grow in the sector, while gross margin improved in line with the company plan.
It said store openings will continue in the more profitable area of the company, with 15 to 20 units set to open in the UK this year, including new standalone book stores.
WH Smith has also seen international growth in its travel arm, with new openings bringing the company to 282 units opened internationally, with a further ten set to open this year.
The company remains confident in its full-year outlook despite the uncertain economic environment, commented WH Smith group chief executive Stephen Clarke.
"We have delivered a good sales performance in the third quarter in both our Travel and High Street businesses," he said.
"Whilst there is some uncertainty in the broader economic environment, WHSmith serves millions of customers each week and continues to grow both internationally and in the UK.
"We continue to focus on profitable growth, cash generation and investing in the business to position us well for the future. We remain confident in the outcome for the full year."
Morning update
Ahead of its AGM today, forecourt retailer Applegreen (APGN) said has had a "positive start" to the year but has seen sales damaged by the 'Beast from the East' in March.
Daniel Kitchen, chairman of Applegreen, said that sales are continuing to improve on last year, but that recent international fuel price increases have also adversely affected margins.
"Applegreen had a positive start to the 2018 financial year with trading results continuing to improve on the prior year," said Kitchen.
"The severe weather in March however affected business across all our markets but particularly in Ireland, while recent international fuel price increases have adversely impacted on fuel margins."
The company has invested into increasing its estate with 24 new sites opened since the start of the year, including 14 in the UK.
The Dublin-headquartered business also opened seven new Ireland sites as well as three in the US.
It has also reached an agreement to lease a network of 43 petrol filling station sites from CrossAmerica Partners LP, all based in Florida.
The move is planned to improve its offering in the south east of the country, following the acquisition of the South Carolina based Brandi Group in October last year.
Kitchen added: "We are delighted to build on our existing relationship with CAP given our continued focus on expanding our operations in the US market.
"We believe this transaction provides us with the ability to leverage our operational expertise and enhance the retail offering at these locations."
Subject to shareholder approval the company plans to pay a final dividend of €0.80c per share on 5July 2018 to shareholders on 15 June 2018. This will bring the total dividend for the financial year 2017 to €1.40c per share.
Listed African beef producer and retailer Zambeef, has seen profits grow on the back of easing currency inflation.
The producer said that it believes a period of economic hardship is behind it, as it recorded half year sales of $123.8m for the period ending 31 March, up from $118.3m.
Profit before tax also rose, from $590k to $2.8m for the six month period.
"The volatile economic conditions in Zambia over the previous two years, including sharp depreciation of the Kwacha against the US Dollar and relatively high inflation, presented challenges for the business. I am pleased to say that this period of uncertainty appears to be behind us," said chairman Dr. Jacob Mwanza.
"Volume and margin growth in the Retail and Cold Chain Food products division and stockfeed division indicates that the worst of the economic hardship has dissipated."
The FTSE100 is on the up this morning after yesterday's drop, rising 0.2% to 7,703pts in early trading.
WH Smith is on the rise after positive results this morning, moving up 4.1% to 2,058p.
Other early risers this morning include Majestic Wine (WINE), up 2.9% to 448.5p, packaging giant Smurfit Kappa Group, up 2.6% to 2,998p, and FeverTree (FEVR) drinks, up 0.9% to 3,055p.
Fallers this morning include Applegreen (APGN), down 2.7% to 530p, British American Tobacco (BATS), down 0.7% to 3,711.5p and Coca-Cola HBC (CCH), down 0.5% to 2,602p.
Yesterday in the City
The FTSE100 slumped 0.7%, continuing last week's negative trend, to 7,686p as it was hit by a rise in the value of the pound after better than expected growth in the UK's key services sector.
Brewery Greene King (GNK) had a positive day's trading, as it rose 4.4% to 612.4p, on the same day the company, which owns pubs across the UK, launched its first menu of vegan food.
Distribution giant Stobart Group also gained again, rising 3.7% to 238p after the company received a nomination for a new chairman from former chief executive Andrew Tinkler, who publicly suggested he did not want to re-elect current chairman Ian Ferguson.
Other gains included Patisserie Holdings, up 2.3% to 437p, McBride (MCB), up 2% to 137.8p and Smurfit Kappa Group, up 1.3% to 2,920p.
Payment service company Paypoint (PAY) dropped back after small gains earlier in the week, as it fell 2.4% to 1,050p.
Household goods manufacturer PZ Cussons (PZC) also slumped, falling 2% to 234p.
Other fallers included Stock Spirit Group (STCK), which fell 2% to 240p, British American Tobacco (BATS), fell 1.8% to 3,740p and Greencore (GNC) fell 1.4% to 183.1p.