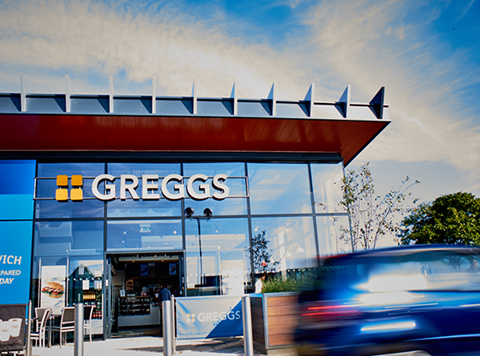 Top story
The big winter freeze knocked food to go in some of Greggs' (GRG) retail locations, impacting performance in the first quarter of the year.
The business reported total sales for the 18 weeks to 5 May up 4.7% and like-for-like sales in company-managed shops up 1.3% - down from the 3.2% enjoyed in the first eight weeks of the year.
It blamed weak customer footfall in retail locations, which had impacted demand for food-on-the-go, which was especially significant in the weeks of severe weather when many shops could not open, the company said in a trading update.
The combination of these factors, along with a strong comparative performance in the same period of 2017, made for a challenging trading environment throughout March and April.
Average transaction values continued to grow but Greggs saw a reduction in like-for-like transaction numbers, it said.
Customers continued to recognise the "quality and value" of the company's £2 breakfast offer. The hot food offering was another area of growing customer demand, providing food-on-the-go options for all times of the day.
Sales of healthier options continued to grow as Greggs extended the menu choice. It recently launched two new salads for the summer, Feta and Beetroot Dip with Grains & Lemon and Herb Chicken with Roasted Vegetables and Grains. A range of new snack pots had been added to the menu and it also launched its first Balanced Choice sweet option – a Belgian Chocolate Pot.
Greggs completed 36 shop refurbishments in the first 18 weeks of the year and opened 41 new shops, including 14 franchised units in transport locations.
It closed 12 shops, giving a total of 1,883 shops trading at 5 May, comprising 1,669 company-managed shops and 212 franchised units.
New shop openings remained focused on increasing the brand's reach into new food-on-the-go locations and the relocation of existing shops.
Recent openings included Westminster Tube station, Birmingham New Street station, Glasgow Buchanan bus terminal and East Midlands airport.
The company was making "good progress" with the investments in its supply sites that would consolidate manufacturing operations and extend its distribution capacity to support further growth in shop numbers.
Work was under way at sites in Leeds, Newcastle and Manchester and planning was well advanced for work that would start in the second half of 2018 at other sites.
Sales in May had started more strongly than those experienced throughout March and April, but it was cautions about the outlook for sales for the remainder of the year given the "uncertainties over market footfall".
It said it was well positioned to compete for sales in the months ahead with the launch of its new summer menu featuring new sandwiches and salads and it would be extending its offer of value meal deals.
Greggs was controlling costs tightly with food input cost inflation easing in line with expectations, and it expect this trend to continue.
"We currently believe that underlying profits for the year are likely to be at a similar level to last year," the company said.
Morning update
Compass Group (CPG) has reported a "strong" first-half but subdued trading on the Continent offset good growth in the UK.
Dominic Blakemore, group chief executive, said performance in Europe was mixed, performance in Rest of the World was improving and North America continued to make "excellent progress with broad-based growth across sectors".
The group posted interim pre-tax profit down from £831m to £792m on revenue down 0.8% from £11.5bn to £11.4bn. Organic revenue climbed 4.8% from £10.9bn to £11.5bn and underlying operating profit up 4.5% from £837m to £875m.
Blakemore said: "Our continuous focus on efficiencies and pricing was offset by inflation and cost of change actions in the UK. As a result, our group operating margin declined slightly in the half. However, the benefits of these actions will come through in the second half."
The business was trading well and its full year expectations were unchanged, with organic growth above the middle of its 4-6% range, and modest margin progression, he said.
Blakemore added that he wanted Compass to drive performance by focusing on its core food business.
"We are increasing our intensity around our MAP framework, with the systematic roll out of best practices and technology. At the same time, we are reviewing the portfolio to strengthen our capability and simplify the business.
"People are key to our success and we are working hard to continue to attract, develop and retain the very best talent. In addition, we will integrate our social and environmental ambitions more fully into our strategy and day to day operations."
Blakemore was "excited about the significant structural growth opportunities globally and the long-term potential for further revenue growth, margin improvement, as well as continued returns to shareholders".
Imperial Brands (IMB) has reported adjusted pre-tax profit down from £1.5bn to £1.4bn in the half year for the six months to the end of March on revenue down 0.1% to £14.3bn.
Mark Williams, chairman, said the company was on track to deliver on its full year expectations and it was making good progress delivering on its strategy, focusing on the key products, brands and markets central to delivering growth in tobacco and next generation products.
"This clear strategic focus supports active capital allocation, and we are progressing a number of divestment opportunities that will further simplify the business and free up capital."
Alison Cooper, chief executive, said: "We continue to make good progress in both tobacco and next generation products (NGP). Investment in our key tobacco brand equities has strengthened our position in our priority markets, with further share gains driven by growth brands.
"Within a tough but improving environment, we exited the first half with much stronger price/mix and expect to convert our improved share into top-line growth in the second half. In NGP our product and market launches are on track. myblu is generating positive trade and consumer feedback and we continue to invest in developing our pipeline of proprietary innovations, including heated tobacco, to enhance the consumer experience and realise our growth ambitions.
"As we sharpen our focus on the brands, products and markets that are central to our strategy, we are progressing opportunities for divestments, initially targeting proceeds of up to £2bn within the next 12-24 months."
This would further simplify the business, enhance performance and release capital to pay down debt, deliver returns to shareholders and, where appropriate, invest in its growth agenda.
Ahold Delhaize (AD) has reported a "strong" first quarter with "solid" sales growth and higher margins. Net sales climbed 2.5% at constant exchange rates to €14.9bn (£13bn), net income, rose 25.7% at constant exchange rates to €407m. Underlying operating margin edged up 0.2% to 4%.
Dick Boer, chief executive said: "We delivered €100m of net cumulative synergy savings in the quarter, of which €44m is incremental to the first quarter last year, and we remain firmly on track to realize €750m of gross synergies by 2019, of which €250m are to be reinvested in our brands."
ABInBev (ABI) posted first-quarter revenue up 4.7% in the first quarter, EBITDA up 6.6% and normalised profit attributable to equity holders of AB InBev of $1.44bn, down from $1.46bn.
Henkel (HEN) reported first-quarter adjusted operating profit down 1.45% to €842m. Sales reached €4.8bnm with organic sales up 1.1%. Negative currency effects had an impact of 8.6% on sales.
On the markets this morning, the FTSE 100 rose 0.4% to 7,596.9pts.
Early risers include Imperial Brands (IMB), up 4.5% to 2,735p, Nichols (NICL), up 1.4% to 1,552p and TATE & Lyle (TATE), up 1.6% to 607.4p.
Fallers so far today include Greggs (GRG) which plunged 15.6% to 1,069p, Compass Group (CPG), down 4.4% to 1,513p, PureCircle (PURE), down 0.6% to 392.1p and Morrisons (MRW), down 0.8% to 245.2p.
Yesterday in the City
The FTSE 100 held steady closing down 0.02% at 7,575.8pts.
Sainsbury's (SBRY) top bosses have exercised share options worth £4.5m. They include Mike Coupe, group chief executive and John Rogers, chief executive of Sainsbury's Argos. Others involved were Tim Fallowfield, Peter Griffiths, Paul Mills-Hicks and Angie Risley.
Whitbread (WTB) has appointed Richard Gillingwater a non-executive director and senior independent director.
He will take up the position on 27 June and fills the vacancy Adam Crozier left when he became chairman in March.
Gillingwater spent much of his executive career in corporate finance and investment banking with Kleinwort Benson, BZW and latterly Credit Suisse First Boston, where he rose to become chairman of European investment banking.
He moved out of banking in 2003 when he became chief executive of the Shareholder Executive, a newly formed body set up to manage the government's portfolio of investments.
He serves as chairman of Janus Henderson Group and SSE as well as non-executive director of Helical and as pro-chancellor of the Open University.
Crozier said: "I am delighted to announce the appointment of Richard Gillingwater as our senior independent director. He has played a key role in guiding many boards through periods of growth, M&A activity and restructuring.
"His experience will be of great value to Whitbread as we continue the transformation of our two businesses, Premier Inn and Costa, and as we pursue the demerger of Costa, which will provide shareholders with investments in two distinct, focused and market-leading businesses."
Christopher Rogers, has taken up his previously announced position as non-executive director of Kerry Group (KYGA). He also becomes chairman of the audit committee, succeeding Philip Toomey, who has become group chairman.
Fallers included British American Tobacco (BATS), down 2% at 3,809p, Sainsbury's (SBRY), off 2% at 295.4p, McBride (MCB), down 2.2% at 134.2p and Premier Food, off 2.4% at 36.1p
Stocks on the up included Greencore Group, up 2.8% at 162p, Greggs, up 2.3% to 1,267p ahead of tomorrow's trading update, Marston's, up 2.1% at 108.2p and McColl's Retail Group (MCL) closed up 1.7% at 241p.