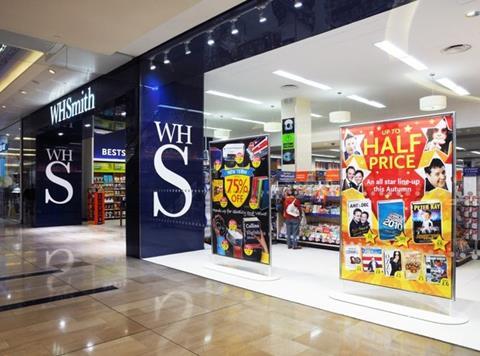 Top story
WH Smith (SMWH) has posted pre-tax profit down 1% from £83m to £82m on static group revenue of £643m in the half year to 28 February.
The retailer said it had further improved its food offer across all channels by extending its healthy eating options to include protein bars and wraps.
The hospital business continued to grow and it made further investment in the period, it said.
WH Smith said it was pleased with results from its two trial stores that include an M&S Food to Go range, with an emphasis on healthy eating, and a WH Smith Coffee House offer.
It remains on target to open about six new hospital stores in the current financial year, including four M&S Simply Food stores in the second half. The company had 129 hospital stores, including 16 M&S Simply Food stores, as of the end of February.
Stephen Clarke, group chief executive, said that Travel, which was the largest part of the group in both sales and profit, continued to see strong sales growth, up 7%, driven by continued investment in the UK and international businesses and ongoing growth in passenger numbers. Profit in Travel climbed 5%.
"We have also had a record period for tender wins internationally, with 26 new units won since the start of the year, including eight units in Madrid Airport and our first seven units in South America in Rio de Janeiro. We are now present in 48 airports across 27 countries."
Clarke said the High Street business delivered a good first-half performance, despite no publishing trend to match last year's strong sales of humour books over Christmas. Stationery performed particularly well in the period, including seasonal categories over Christmas and 2018 fashion ranges.
"While there is some uncertainty in the broader economic environment, we have made a good start to the second half of the financial year, increased the interim dividend by 10% and are confident in the outcome for the full year," Clarke said.
High Street delivered trading profit of £50m (2017: £53m), in line with guidance, according to the statement released this morning.
Like-for-like revenue, as expected, fell 4% with total revenue down 5%. High Street operated from 610 stores as of 28 February (31 August 2017: 611 stores), which occupy 2.8m square feet.
Travel operated from 839 units (31 August 2017: 815 units), and excluding franchise units, Travel occupies 0.6m square feet. Trading profit in the division rose 5% to £41m (2017: £39m). Total revenue was up 7% with LFL revenue up 3% on a constant currency basis.
Morning update
Greene King (GNK), whose brands include, Greene King IPA, Old Speckled Hen, Abbot Ale and Belhaven Best, said in a pre-close trading statement it expected full-year pre-tax profit before exceptions to be in the range of £240-245m.
The group, which brews ale brands from its Bury St. Edmunds and Dunbar breweries, said it remained on track to deliver targeted cost savings of £40-45m.
On the markets this morning, the FTSE 100 slipped 0.1% in early trading to 7,252.3p in early trading.
Greene King (GNK) rocketed 8.6% to 505p following this morning's pre-close trading statement, Marston's (MARS), no doubt benefiting from the afterglow, rose 3.7% at 104.4p, Tesco (TSCO) continued to climb following yesterday's strong results statement, up 1.7% at 229.2p and Majestic WINE (WINE), move 3.8% higher at 104.4p.
Fallers so far today include Hilton Food Group (HFG), off 1.6% at 846p, McBride (MCB), down 2.9% at 158.2p, Ocado (OCDO) Group, off 2.3% at 512p and PZ Cussons, down 1.1%.
Yesterday in the City
The FTSE 100 closed down 0.1% at 7,257.1pts
XPO Logistics (NYSE: XPO), a global provider of transport and logistics solutions, announced the introduction of XPO Connect, a cloud-based, digital freight marketplace.
Shippers gained access to business intelligence they could use to buy transportation more efficiently. This included visibility of fluctuations in capacity, spot rates and load postings by geography, the company said.
Shippers could access carrier capacity, assign loads and track freight movements through one, secure login. The company had designed XPO Connect to integrate all modes of transportation, it said.
Mario Harik, chief information officer of XPO Logistics, said, "We're tireless when it comes to finding new ways to make supply chains more efficient. XPO Connect gives customers direct access to our transportation network and the predictive data that powers it. The platform provides a new level of visibility that informs better decision-making under all market conditions."
Troy Cooper, chief operating officer of XPO Logistics, added, "We're leveraging our leading positions across the supply chain to help companies transform how they do business. The investments we're making in disruptive technology will change the game in transportation and logistics. XPO Connect gives our customers industry-first access to each new capability."
Outgoing Ahold Delhaize (AD) CEO Dick Boer told the group's AGM the business was in "great shape" and the integration of the company was largely complete.
He said it intended to have 50% of its own-brand sales coming from healthier products by 2020.
"We are the only retailer that dares to set a hard target of this kind. We are also making our existing own brands healthier. For example, Stop & Shop, Giant/Martin's and Peapod reduced the sugar content in their own-brand products by almost £1m last year."
Sales grew in 2017 by 1.7% to €62.7bn (£54.6bn). Profit margin rose from 3.7% to 3.9%, primarily because of merger-related synergies.
FTSE fallers included Coca Cola HBC (CCH), down 4.4% at 2,510 in above average trading of the stock, Fevertree Drinks (FEVR) fell 2.25% to 2,688p, Majestic Wine (WINE) closed down 1.4% at 384p and Nichols (NICL) closed down 2.6% at 1.427.5p.
Tesco (TSCO) sparked envy among its peers, surging 7.2% to 225.4p in the wake of its strong financial results. Other stocks on the up included C&C Group (CCR), which closed 2.6% higher at €3, Devro (DVO) surged 4.2% to 212.5p, and Hilton Food Group (HFG), moved up 2.6% at 860p.