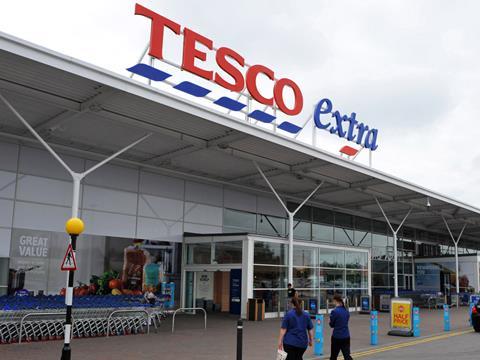 Tesco hailed its "market-leading" Christmas performance on Thursday. However, the City was less convinced by its festive numbers as solid UK retail figures were mitigated by a weaker-than-expected performance at Booker and internationally.
The UK's largest supermarket group announced like-for-like sales growth of 6.7% for the 13 weeks to 28 November 2020, and improved to organic growth of 8.1% in the Christmas trading period of six weeks to 9 January 2021. UK sales grew across all formats, channels and categories, it said, with online sales growth particularly notable at over 80%, equating to nearly £1bn of extra sales over the 19-week period.
However, Tesco shares were soon down 2.6% before recovering somewhat to a fall of 0.5% by lunch to 240.8p.
Market share data last week suggested Tesco had enjoyed the best sales growth of the major supermarkets, but analysts were sceptical Tesco's numbers showed material outperformance. Retail analyst Nick Bubb said Tesco's festive numbers looked "only par for the course", while Shore Capital's Clive Black suggested the supermarket had "not shot the lights out", with like-for-like sales growth slightly behind expectations.
Additionally, concerns were raised over weak 0.9% like-for-like sales in Central Europe in the third quarter, while a 49% plunge in Booker catering sales over the Christmas period led the wholesale arm to a like-for-like drop of 8.3% in the crucial festive trading season.
"Whereas Sainsbury's has been boosted by Argos, Tesco has witnessed greater headwinds than we anticipated from Booker in the UK, where lockdowns have been weighing heavily upon the catering side of the business, whilst the independent trade has been a little less robust than the first lockdown," Shore Capital said.
Investor caution was also influenced by Tesco's admission that increased coronavirus restrictions in recent weeks would lead to an extra £85m of costs, taking total full-year incremental costs related to the outbreak to £810m.
However, the supermarket insisted these extra costs will be mitigated by stronger than anticipated sales growth so will not dampen profit expectations.
Third Bridge analysts also suggested that the expected 3-5% food inflation during 2021 could further boost Tesco's top line, albeit this could kick off another fight to maintain market share against the discounters.
Broker Jefferies summarised: "Tesco's assured trading update demonstrated the further boost from renewed UK lockdowns. And set the stage for a much-improved second half, given a reduction in COVID costs and restrictions on food-out-of-home stretching longer than initially expected."
Tesco shares are down 3.8% year on year, but are up 4.6% so far in 2021.