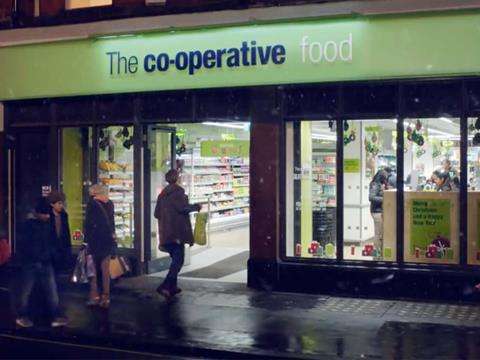 After a ­torrid 18 months, The Co-operative Group has emerged as a surprise winner over the Christmas period.

Speaking exclusively to The Grocer, The Co-op Group's retail chief executive Steve Murrells said overall like-for-like sales rose 1.5% in the key Christmas weeks, with its core convenience estate up 3.5%.

Though data from Kantar Worldpanel suggested The Co-op's sales had fallen 2.4% in the 12 weeks to 4 January, and Nielsen registered a 1.4% drop for the society, Christmas "worked for us," Murrells claimed.

Festive trading was boosted by its convenience-focused Christmas TV ad campaign, which broke in mid-­December rather than early November. The tongue-in-cheek ad showed people doing everyday things who suddenly remembered something they had forgotten to buy for Christmas.

"The Christmas TV campaigns normally start in November," Murrells said. "I didn't want to get wrapped up in that because it wasn't going in the direction we wanted to go, so we delayed it purposely until right at the end. It didn't feel comfortable at the time because people were asking 'where are you?' but we hung on in there and it worked."

Christmas had also been more profitable, he explained. "The year before, we felt we needed a big ­coupon offer. We didn't do it this time around and therefore sold at a more real price rather than a discounted one. Our P&L is back to ­normal rather than giving ­products away."

Murrells also disclosed that The Co-op had outperformed the market in the past 12 months.

In the year to 31 December, like-for-likes in its food business finished at 0.5%, with its core convenience store estate again growing like-for-like sales by 3.5%.

Of particular encouragement was like-for-likes in stores converted to its new 'generation two' format - stores that reflect shopper missions of top up, shop for today and food-to-go - which were up 7%. It has more than 300 generation two stores and plans to refurbish a further 100 this year, and 120 each year after.

As well as introducing new store formats, it has invested about £65m in reducing the price of key lines, including its new own-label bread for 75p.

"For the first time in many a year we are starting to lead in this channel in the way we set the store up and in how it follows how people want to shop," Murrells added.

"We have enjoyed the last 12 months, ­outperforming the ­market as an overall business, and that gives us some confidence."

The only blot was its larger stores, which are "finding it tough". Accounting for 10% of The Co-op's 2,700-strong estate, these are being sold off but Murrells promised "proper trials" to improve their performance as "a fire sale would be unwise".