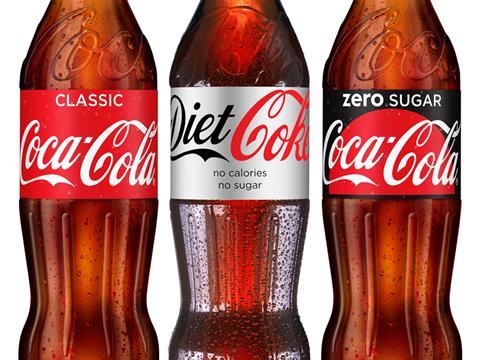 Increasing sales of healthier soft drinks have buoyed The Coca-Cola Company (KO) in the first quarter, as it recorded volume growth of 3%.
Coca-Cola Zero Sugar recorded double-digit growth in the quarter up to March 31, in what is described as a "strong financial performance".
Net revenues at the US company were 16% down on the same quarter in 2017 at $7.6bn, but this was an improvement on analysts' predictions of around $7.3bn.
Coca-Cola Co added that a 26% headwind from the refranchising of bottling territories largely impacted the revenue figures.
Total unit volume grew by 3% for the quarter, with improvements in category areas and locations.
Trademark Coca-Cola saw a 6% growth in retail value, pushed by the strong sales of its zero sugar brand and continued 3% growth in traditional Coca-Cola.
The Fanta and Sprite manufacturer is currently predicting a full year performance in 2018 with approximately 4% growth in organic sales.
In Europe, Middle East and Africa, unit volume went up by 4%, led by strong performances in Turkey and South Africa but it said this was partially offset by declines in Western Europe.
The company said that brand redevelopment of Diet Coke helped it to return to volume growth in North America in the quarter, after four new flavours were released in the region last year.
Unit case volume grew across each product sector of the business, with 4% growth in sparkling soft drinks and 5% growth for its tea and coffee brands propelling growth.
"We're encouraged with our first quarter performance as we continue our evolution as a consumer-centric, total beverage company," said James Quincey, president and CEO of The Coca-Cola Company.
"We have the right strategies in place and remain confident in our ability to achieve our full year guidance."