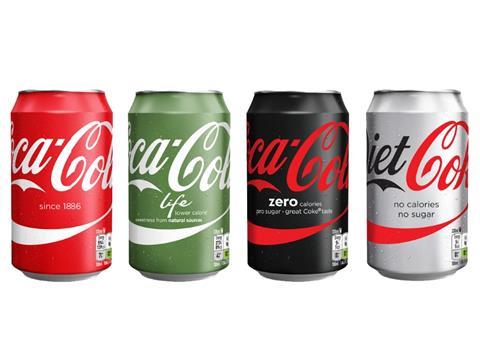 European bottling giant Coca-Cola European Partners (CCEP) has grown sales as the classic Coke brand returned to growth in the third quarter. It comes as the group appointed a new CEO.
COO Damian Gammell will step into John Brock's shoes on 28 December as the current CEO retires following the €28bn merger of Coca-Cola Enterprises, Coca-Cola Iberian Partners and Coca-Cola Erfrischungsgetränke to create Coca-Cola European Partners in August last year.
During his 25-year career with the Coca-Cola system, Gammell served as head of The Coca-Cola Company's operations in Germany and Russia, and worked in parts of Eastern Europe, the Middle East, Asia and Australia.
Brock joined Coca-Cola Enterprises in Atlanta as CEO in April 2006, before becoming company chairman in April 2008. Under Brock's leadership, CCE sold its North American operations to The Coca-Cola Company and acquired bottling operations in Norway and Sweden, forming the world's third-largest independent Coca-Cola bottler in 2010.
"The board of directors would like to thank John Brock for his leadership in establishing the strong foundation from which our new business operates," chairman Sol Daurella said.
"John and Damian were both instrumental in the creation of Coca-Cola European Partners. Damian is an exceptional leader who has the vision, experience and dynamism we need to transform and grow the business into the future. Our board of directors has every confidence in him and his ability to drive long-term growth and shareowner value. Together, John and Damian will ensure a smooth transition, and we have the right leadership to ensure Coca-Cola European Partners is well placed to realise its potential."
Revenues in the third quarter jumped 82.5% to €3bn (£2.6bn) as the Iberian and German bottlers contributed for the first full period. Like-for-like sales were flat year on year but were up 3.5% when stripping out currency movements.
Volumes were up 3.5% thanks to favourable weather conditions, the new marketing campaign and brand initiatives and a focus to drive top-line growth.
Sparkling brands grew 3%, with regular Coca-Cola up 1% and Coca-Cola Zero continuing to prove popular in the UK. However, UK revenues were down 13% despite volume growth and a good summer as a result of the 16% slide in the value of sterling versus the euro.
"Going forward, we recognise that the soft consumer environment that has affected our business is still present," COO Damian Gammell said.
Operating profits rose 78% to €405m (£353.9m) thanks to the merger and 2% on a comparable basis with the third quarter a year ago, with currency headwinds of 5%.
CEO John Brock added: "This marks the first full quarter of operation for CCEP since our merger, and we are encouraged by the return to growth in our third-quarter results.
"We remain focused on successfully integrating the territories of Coca-Cola European Partners, enhancing customer service, realising the synergies we have communicated, and ensuring we capture the growth opportunities in the market.
"This will enable us to better meet the needs of our customers, serve our communities effectively, and importantly, drive shareowner value."