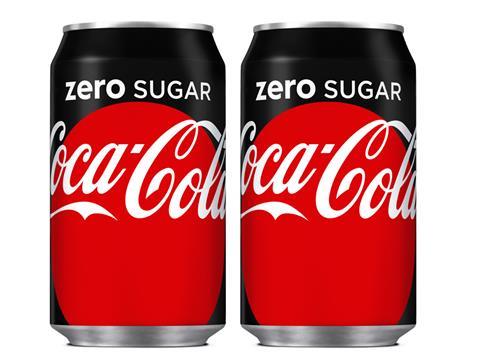 Revenues Coca-Cola European Partners (CCEP) have fallen 1.5% to €3bn in the third quarter as the popularity of Coke Zero Sugar was not enough to make up for the decline of the trademark brands.
The European bottling giant blamed poor weather across Europe, strong prior year comparatives and customer disruptions as the business focused on its margins for a 3.5% drop in volumes.
CCEP, formed by the €28bn merger of Coca-Cola Enterprises, Coca-Cola Iberian Partners and Coca-Cola Erfrischungsgetränke in 2015, was also hit by currency fluctuations, with sales in Great Britain down 3% as the sterling depreciated against the euro.
It recorded "strong" growth in the UK on a currency neutral basis, with gains in revenue per unit case and volume, driven by "solid" growth in Coca-Cola Zero Sugar, flavours and energy drinks, the group said.
Classic Coke brands saw volumes fall 4.5% across the group in the quarter as consumers continued to reduce sugar intake from fizzy drinks, with Coke Zero up 8% as a result.
Sparkling flavours and energy grew 1.5%, led by energy brands and Fanta, with still brands falling 5.5% and water brands down 8.5%, impacted by the discontinuation of less profitable brands.
Operating profits jumped 5.5% to €427m compared with a year ago, despite the decline in revenues, as CCEP margins continued to be boosted by synergies from the merger of the three bottles in 2015.
The group added it was on track to achieve pre-tax savings of €315m to €340m through synergies by mid-2019.
"Our third-quarter results were in-line with our guidance and we remain firmly on track to achieve our planned synergies and continue to make solid progress in building on our foundation of winning with customers through great beverages, great service, and great people," CEO Damian Gammell said.
"We remain focused on driving profitable revenue growth, expanding our portfolio, and continuing to invest in our business to capture the long-term growth opportunities ahead of us.
"This includes improving our sales force capabilities, evolving our routes-to-market, reducing low value promotions, and leveraging our digital abilities. These factors, combined with our focus on cash generation, will help us address the headwinds that lie ahead and importantly, support our most important goal which is driving shareholder value."