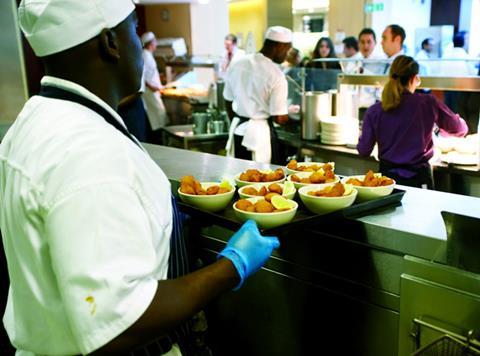 Top story
Food service giant Compass Group (CPG) reported a 5.5% jump in full year organic sales to £23.2bn, driven by rapid growth in North America.
Despite flat margins, cost-cutting plans helped the caterer's profits for the year ended 30 September 2018 to surge 7.1% to £1.74bn.
The FTSE-100 listed company also noted the higher costs of its UK business, but said new net business helped to deliver 2.1% organic revenue growth in Europe.
Margin pressures in the UK were offset by gains in its 'rest of world' region, where sales grew 2.9% on the back of "good growth in Turkey and Latin America".
Compass heralded business wins with ING in the UK and Netherlands, as well as its contract extension with Virgin Trains in the UK.
Underlying profits in Europe, however, decreased by £18 (4.4%) as a result of cost changes in the first-half of the year, while it was also impacted by "the challenging volume and cost environment in the UK".
The company says it expects organic growth for the full-year 2019 to be between 4% and 6%, with "modest" improvement in margins.
"Compass had another very strong year. Revenue growth was healthy, driven by excellent growth in North America, an acceleration in Europe and good progress in Rest of World," commented group chief executive Dominic Blakemore.
"We continue to drive operating efficiencies around the business and were able to move the margin slightly forward, with improvements in Rest of World offsetting a more difficult volume and cost environment in Europe, especially the UK.
We are actively managing the portfolio to increase our focus on food and are in the process of disposing of up to 5% of revenues in non-core businesses. We continually look at bolt-on acquisition opportunities that strengthen our offer and meet our strict returns criteria.
"Our expectations for FY2019 are positive. The pipeline of new contracts is strong and our focus on organic growth, efficiencies and cash gives us confidence in achieving another year of progress."
The group raised its annual dividend by 12.5% to 37.7p per share, up from 33.5p a year earlier.
Compass Group's shares jumped 2.8% to 1,632.5p in early trading.
Morning update
Casino, the French supermarket chain whose debts have raised concerns with investors, has appointed a new finance chief.
David Lubek, 45, has been named as the retailer new chief finance officer, replacing Antoine Giscard d'Estaing following a period of shareholder pressure.
Lubek initially joined Casino in 2013 as a group controlling officer before eventually becoming its deputy chief financial officer.
The supermarket chain has been in a battle with short sellers for the past three years, after the retailers accounting was disputed by Muddy Waters Capital in late 2015.
The appointment comes amid a series of asset sales by the retailer to cut debts and ease concerns over the financial position of both Casino and its parent holding company Rallye.
Elsewhere, the FTSE 100 has opened in the red, falling 0.2% to 6,988pts as Brexit uncertainty continues.
The early risers include Reckitt Benckiser (RB.), up 1.2% to 6,543p and Restaurant Group (RTN), up 0.9% to 225p.
The fallers include Hilton Food Group (HFG), down 3.8% to 900p, McColl's (MCLS), down 3.3% to 129.5p, and Premier Foods (PFD), down 2.5% to 36p.
Yesterday in the city
The FTSE 100 closed 0.2% lower at 7,000.8pts as UK politics and Brexit continued to trouble investors.
Total Produce (TOT) slipped 1.4% to 170p after Dole, the fresh produce supplier it purchased a minority stake in, reported a 9% decline in earnings.
Other fallers included Just Eat (JE.), down 3.8% to 533.8p, Smurfit Kappa Group (SKG), down 3.3% to 2,226p, and Imperial Brands (IMB), down 3% to 2,560p.
Meanwhile, Hotel Chocolat Group (HOTC) jumped 2.7% to 318.5p, despite reports over the weekend that City adviser Glass Lewis told investors to vote against Andrew Gerrie at the chocolatier's AGM, saying he is not independent enough to be chair because he co-owns a joint venture.
Other risers include Wincanton (WIN), up 3.6% to 245p, Produce Investments (PIL), up 3.1% to 185.5p and PZ Cussons (PZC), up 2.3% to 227p.