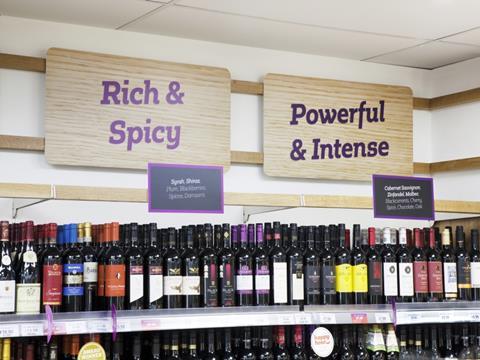 Conviviality Retail (CVR) sought to shake any shadow potentially cast over today's full-year results by the headline-grabbing reverse takeover bid of wine wholesale Matthew Clark which surfaced last week by refusing to answer any questions on the subject.
The Bargain Booze owner's PR leapt into action at the outset of an interview between The Grocer and CEO Diana Hunter this morning with a polite warning that no more details were available on the ongoing deal process. The official reason was the 'tight regulatory constraints' of the AIM market.
Hunter did say when pressed that the group had consistently stated in it strategy that it would always look at "potential, complementary, strategic acquisitions".
This morning's financial results for the year to 26 April were also just as light on detail on the potential acquisition. However, as retail analyst Nick Bubb pointed out in his daily email bulletin, Conviviality's accounts did contain one little glimmer of detail tucked away in the 'outlook' section of Hunter's statement: "During the year ahead we plan to further leverage our wholesale capability into new markets."
It is not a lot to go on but potentially offers a glimpse of what Matthew Clark could bring to the table.
Broker firm WH Ireland said in a note today that if the reverse takeover of Matthew Clark was successful it would be a "game-changing deal" for Conviviality, creating a £1.2bn group with EBITDA in excess of £45m in the first full year of ownership. Analyst John Cummins added: "Our initial view is that this could be a highly attractive acquisition for Conviviality, not least through the purchasing, distribution and back office synergies that could be achieved from such a deal."
However, other dealmakers I have spoken with have expressed confusion at what the group sees in the deal and why it has entered the race to snap up the specialist wine supplier to pubs and restaurants.
Whether Conviviality's bid proves to be the winning one or not – or whether another trade buyer of private equity firm beats them to the punch – today's results show the group on the road to growth with a clear strategy ahead.
Indeed, Cummins highlighted that in the midst of the managed sale process, the actions taken, performance and outlook for the existing business shouldn't be ignored.
Revenues grew 2.4% to £364.1m and pre-tax profits increased 4.4% to £9.7m, with underlying retail sales per store up 0.5%. The store estate also expanded by 29 to 624 as 21 existing franchisees opened additional shops and 35 new franchisees joined the group. Hunter also said the group expected to open another 50 to 55 branches a year for the next three years.
Like-for-like sales were down 1.7% during the year, which the CEO said was partly down to the tough competitive environment and partly reflected the fact that there was some work still be done with a number of franchisees. "We will work with them in the year ahead to better manage their space and help them range their stores to meet local customer needs, continue to focus on price and develop more convenience and discount ranges for their stores, as well," she added.
"The results show the strategy is working. We set out two years ago to improve the prospects of the franchisees with the sole reason of ensuring if they were successful they would start to reinvests in our business and grow more stores. And that is exactly what has happened in the last year."
She added the group had focused on improving its franchisees, range, assortment, brands and staff. "Now we've done all of that it puts us in a really strong position to grow in the years ahead.
Hunter and the Conviviality management have modernised the brands by getting involved with social media and digital marketing, with 68,000 active Facebook 'fans' – the highest number in the sector, Hunter claims. It also launched a "As if it wasn't cheap enough" app in December – which has now been downloaded more than 30,000 times – as part of its digital push.
Hunter said franchisee response to its new 'Aldi Schmaldi' marketing campaign focusing on the power of brands had been "phenomenal". And early anecdotal evidence seemed to suggest it was driving footfall into the estate and tempting in new customers.
All in all a strong set of results which higlight Hunter's restless drive and ambition to grow the business – be it by innovative pushes into the digital world, improvements in shop or a bold acquisition strategy. But the positive figures may just have left investors wishing that shares were not currently suspended while the Matthew Clark deal process edges toward a finishing line.