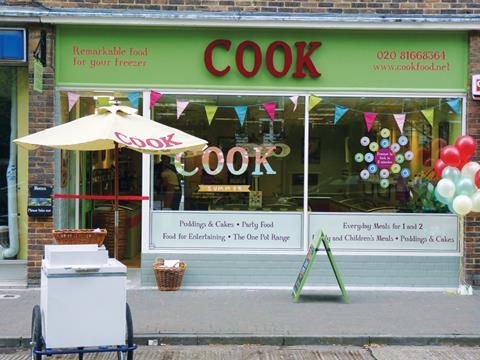 Frozen ready meals producer, retailer and franchisor Cook has hailed "strong sales momentum", despite a 10% fall in pre-tax profits.

According to accounts filed at Companies House this week, pre-tax profit fell 10.3% to £2.45m on turnover up 12.4% to £50.59m in the year to 31 March 2017. Operating profit climbed from £2.54m to £2.62m.

The company said it intentionally scaled back store openings while it waited to gauge if there would be an immediate impact from Brexit on the high street.

Newly opened shops had, however, performed well, which Cook attributed to better discipline in the site-finding process.

Now with more than 80 Cook shops across the country, chief executive Edward Perry said four new company outlets were planned for the current financial year. There were also plans to accelerate the growth of concessions given the clear opportunity Perry said the Co-op, in particular, presented.

The company expected a strong 2017/18 with like-for-like growth estimated at 6.6%, he said.

It planned to increase its rate of food innovation and would deliver four big food campaigns. A new mystery shopper programme would also be introduced, said Perry.

The past financial year saw the company move its Kent logistics bases from Lenham to Gillingham.

A new hospitality initiative in Cook retail - "Host like you would at home" - was also introduced.

The financial period saw sales momentum start to return in the autumn with the ­successful rollout of new packaging for its core range of one, two and four-portion meals.

Cook said it was also starting work on a new kitchen site in Sittingbourne, which would represent its most significant capital investment for a decade.