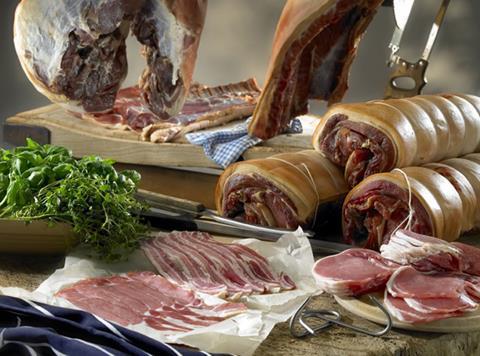 Cranswick will invest a further £35m in its processing facilities next year as it looks to capitalise on booming global demand for pork.
The group recently completed the £9m revamp of its Benson Park poultry factory, as well as the extension of its Guinness Circle facility to produce British cured meat products and the redevelopment and conversion of the former Kingston Foods site in Milton Keynes into a gammon facility.
CEO Adam Couch told The Grocer it had now embarked on the "next phase" of redevelopment of its Norfolk facility, with £6m to be spent on replacing the existing abattoir and increasing automation to boost capacity and efficiency. It is also making a "substantial" investment to upgrade the mixing and filling equipment at its Lazenby's sausage facility in Hull.
"Throughout the course of 2016 our capital expenditure programme will probably reach £35m, which mirrors what we have done this year," he added.
"Those are very strong numbers and they underline the work we need to do to keep our facilities at the forefront not just of technology but capacity enablement as well."
Couch claimed Cranswick needed additional capacity to meet booming demand for exports, particularly from the Far East. Cranswick's total exports rose 18% over the past six months, with exports to the Far East up 31%.
"Across the entire business and fresh pork in particular, exports have been a big highlight for us," he added. "We represent about 25% of all pigs processed in the UK but we are responsible for over half of all pigmeat exports from the UK. We are now shipping about 1,000 tonnes of product to the Far East every week".
He shrugged off concerns over plummeting processed meat sales in the wake of the WHO cancer report, claiming that Cranswick's products were not affected because they were "very much positioned at the premium end of the market".
Profit surge

His comments come as Cranswick reported a pre-tax profit surge of 22% £31.5m in the six months to 30 September, with sales up 9.9% during the period to £529.1m.
There was strong volume growth across most product categories, with fresh pork sales up 15%, sausage sales up 5% and bacon sales up 21%. The company's Benson Park poultry business, acquired last year, also made a "positive contribution" to growth, the company said.
Couch said fresh pork sales were boosted by AHDB Pork's pulled pork campaign, which resulted in a 19% year-on-year increase in shoulder joint sales for Cranswick over the six-week period from 27 April.
Looking ahead, he admitted there was "a lot of hard work to do", but said he was "confident" the group's investment-led strategy - which has seen £200m spent on facilities in the past eight years - would continue to drive growth.
"There are some headwinds out there but we are confident that with our export sales, as well as improved sales on the home market, the efficient operation we are running and the investment we have taken to date will hopefully leave us fit for the future and able to secure new wins going forward," he said.