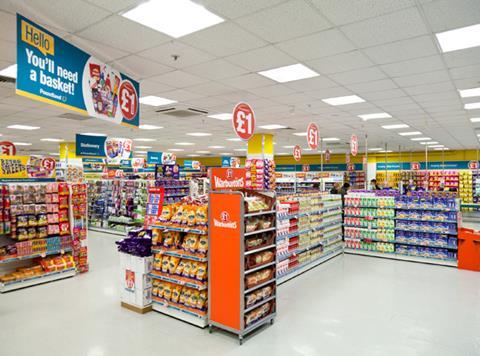 More than seven million customers were served at Poundland in the peak Christmas trading week helping the discount chain to a record festive period.
Total revenue in the 13 weeks to 28 December grew 9.8% to £328.4m, which included a "good contribution" from like-for-like store sales and "continuing good performance" from new stores, the group said.
However, sales growth at Poundland took a hit becase of later than anticipated opening dates of new stores, with analysts estimating that third quarter growth rate was lowered by about 1.5 percentage points as a result of forgone trading days.
Poundland added: "As expected though, due to the timing of our openings, the contribution from new store trading weeks was lower than the corresponding period last year, a continuation of the trend seen in the first half."
Shares in Poundland fell more than 5% on the back of the update to 345p as investors reacted to news of lost trading days for the new stores.
Poundland's house broker Shore Capital also estimated like-for-like sales of between 1% and 2% for the third quarter – a slowdown on an estimated 3.5% to 4% for the second quarter.
The retailer remains on track to open 60 net new stores in the UK and Ireland in the financial year.
A net 17 stores opened in the UK and Ireland in the third quarter, taking the total to 45 so far in the financial year and the group's estate to 573 shops.
Chief executive Jim McCarthy said: "I am pleased to report another good quarter of sales growth and a record Christmas trading period. Despite the tough trading conditions, Poundland continued to perform well and we served more than 7 million shoppers in the peak Christmas trading week alone.
"We have managed our costs and cash well, and we are in line with our financial expectations for the year as a whole. We are on track to open 60 net new stores in the UK and Ireland and we have a very strong pipeline for our 2016 financial year."
He added that Poundland was pleased with the initial progress made in Spain where the retailer is trialling a handful of outlets. Revenue from the venture was not included in the third quarter figures but four stores opened in the country during the period, taking the total to five at the end of the quarter.
Shorecap said: "We remain confident Poundland will confirm a very strong full maiden year as a listed entity, with a bright outlook driven by the continued roll-out of stores across both the UK and Ireland, and the prospect of a further medium term piston of growth in the form of the ongoing Spanish trial.
"As such we see the theme of investing in European leading discount retailers such as B&M Stores and Poundland as being as potent as ever on a medium-term perspective."