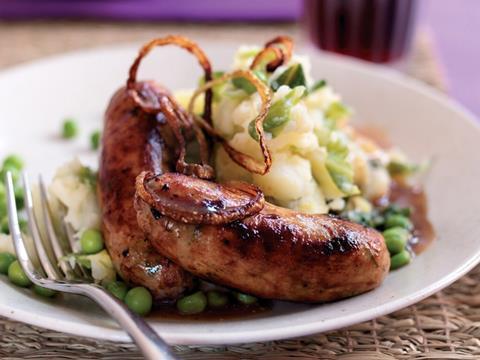 Top story
Sausage skin supplier Devro (DVO) has warned that weaker than expected sales in Russia will result in lower than expected full year sales volumes as it begins the search for a new chairman.
Devro updated the market on its trading between 1 July and 31 October 2018, noting "strong volumes performances" in North America, Latin America and South East Asia were mitigated by "challenging" conditions in Russia and weakness in the Japan.
Overall its edible casing sales volumes for the period were lower than our previously stated expectations, due to a greater than anticipated "adverse impact from Russia's economic and currency environment" and the slightly lower than anticipated ramp-up rate of its new 'fine ultra' product.
The launch of the new Fine Ultra product platform for Continental Europe, Japan and South East Asia will only deliver modest sales volumes in 2018, but is expected to be a key driver for growth in 2019 and beyond.
Full year edible casing volumes are now expected to be unchanged compared with prior year.
However, year to date underlying operating profit was higher than the equivalent period last year as improved price/mix (particularly in China), manufacturing efficiencies (particularly in the US) and progress on cost saving more than offset the modestly lower overall edible casing sales volumes and currency headwinds.
Devro said expectations for the full year remain "broadly unchanged" as growth in underlying operating profit is expected to be underpinned by a continued improvement in price/mix, especially related to China and Latin America, and the delivery of cost savings.
Savings from production costs are expected to more than offset the energy and wage inflation.
Additionally, Devro said it has reviewed its operating cost base and will be find additional savings of £2m-£4m.
Meanwhile, chairman Gerard Hoetmer will retire at the firm's AGM next April after five years in the role.
Hoetmer commented: "Having overseen the implementation of the recent capital investment programme, recruitment of a new senior management team and establishment of a new global organisational structure it is time for a new chair to oversee the next stage of Devro's development. I wish the company every success for the future."
The board has initiated a search for his successor.
Devro shares are up 0.4% to 173.6p so far today.
Morning update
Health food chain Holland & Barrett yesterday released its annual results, showing a 7.1% increase in group revenues to £702.5m after like for like sales growth of 3.9%.
Sales in the UK and Ireland were up 6.5% in the period to £561.8m, while international sales grew 9.3% to £140.6m.
It added 34 new stores in the UK and Ireland during the year, while digital revenues grew by 32.2%.
Holland & Barrett now operate 1,077 stores in 5 countries including 830 stores and concessions in the UK and Ireland, and 247 stores internationally.
Group operating profit increased 1.3% in the period to £152.1m
CEO Peter Aldis commented: "I am pleased by the strong performance in the business this year. We have just completed our 38th consecutive quarter of like-for-like sales growth, which is a milestone achievement we are very proud of.
"I am delighted that we have managed to attract a number of strong hires to the executive board over the last 12 months and am pleased by how well the team has come together in a short space of time.
"Looking forward under our new owners, I am confident that we are well positioned to drive transformation in the face of digital disruption. We expect that 2019 will also be a year of continued investment in the business to provide our customers with the most trusted and innovative range of health and wellness solutions."
The group also announced the appointment of former Homebase and Argos boss John Walden as its new chairman, who has been a non-executive director since HBI's acquisition by L1 Retail in August 2017.
He commented: "Holland & Barrett delivered a strong financial performance in 2018 with positive revenue, like for like sales and EBITDA growth, underpinned by significant growth in digital revenues.
"These results are particularly favourable against a backdrop of challenging and rapidly changing retail markets.
"As the newly appointed chairman, I am looking forward to working with the talented Holland & Barrett team and developing an ambitious strategic plan - to build digital leadership and a global platform for delivering the most trusted, ethical health and wellness products and services."
On the markets this morning, the FTSE 100 is back up 0.6% to 7,074.4pts so far in early trading.
Early risers include PureCircle (PURE), up 7.2% to 311.4p, Cranswick (CWK), up 1.5% to 3,034p and British American Tobacco (BATS), up 1.3% to 2,854p.
Fallers include Marks & Spencer (MKS), down 2.3% to 297.2p, Nichols (NICL), down 1.2% to 1,433p and Premier Foods, down another 1.1% to 37.25p.
Yesterday in the City
Science in Sport yesterday hailed the "compelling combination" with PHD Nutrition after agreeing a deal to buy the Boots-owned sports nutrition brand for £32m, but the market was less convinced.
The listed group's shares plunged 13.6% to 60.5p on the news after it announced it planned to raise around £29m to fund the deal by issuing new shares in the company at 60p each.
The FTSE 100 had another downbeat day, dropping another 0.3% to 7,033.8pts by the close to trading yesterday.
Premier Foods (PFD) was down 2.6% back to 37.65p after the announcement of its first half results on Tuesday that included the forthcoming departure of boss Gavin Darby and a plan to sell its Ambrosia brand.
Other fallers included McColl's (MCLS), down 4.2% to 130p and Greencore (GNC), down 1.4% to 192.3p.
There were a number of consumer risers however, including Cranswick (CWK), which rose 5.1% to 2,990p, Glanbia (GLB), up 4.9% to €15.95, Majestic Wine (WINE), up 4.3% to 400p and Dairy Crest (DCG), up 2.5% to 450p.
Devro was up 3.6% to 173p ahead of this morning's trading update.
Significant FTSE 100 consumer movement was more scarce, with Reckitt Benckiser the standout riser after climbing 3.2% to 6,436p.