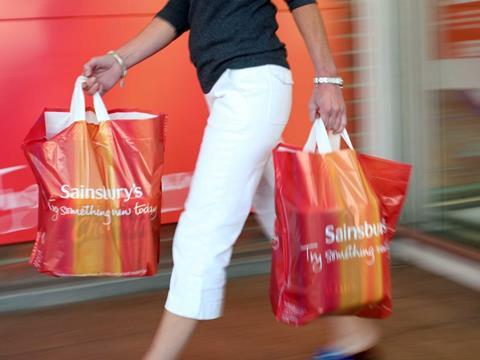 If the supermarkets were banking for better news from today's Nielsen figures, they were in for more disappointment.
The data largely reaffirmed the key trends identified by Tuesday's Kantar figures.
Firstly, Nielsen shed more light on the extent of the troubles facing beleaguered Tesco – which it said had seen a 6.1% sales fall in the 12 weeks to 13 September (its market share dropped from 29.6% to 28.1%). Secondly, the data also showed the rate of sales decline for Morrisons slowing (-2.2% for the 12 week period, compared to last month's figure of -3.3%), while Sainsbury's sales are coming under increasing pressure.
Investors were spooked by Tuesday's Kantar data on Sainsbury's showing a 1.8% sales dip; the Nielsen figures show Sainsbury's 12-week sales declining at the same rate.
While analysts are predicting fairly grim second-quarter trading figures for Sainsbury's next week, it is possible that the reason for its recent sales tumble can be found in its new pricing plan announced yesterday.
The headline data seems to point to Sainsbury's having a poor end to the summer – Nielsen had Sainsbury's 12-week sales dropping by 1.8% compared to -0.7% last month, while Kantar had the supermarket's four-week sales falling by 4.2%.
Analysts are concerned. HSBC cut its profit forecasts by 6% due to "deteriorating sales trend, worsening industry conditions and the likelihood of Tesco becoming much more aggressive" and expects Q2 like-for-likes to be 4% down. Meanwhile, Shore Capital expects to see Q2 like-for-likes fall at a similar rate and finds "the change in fortune to be perplexing and worrying" and that it is "losing share to premium and discounter retailers alike".
Is Sainsbury's following Tesco and Morrisons into crisis, then? Thankfully, for the UK's third largest supermarket, it might not be that simple.
As Shore Capital notes, Sainsbury's is suffering from tougher comparatives than its listed contemporaries (the comparative for Q2 FY2015 ex-fuel is 2%) and its sales fall needs to be seen in that context.
But yesterday's announcement that it had overhauled its pricing strategy and revamped its Brand Match scheme could also have had a hidden effect on its trading numbers.
The lower pricing strategy has already been partially employed to Sainsbury's stores and Bernstein analysts suggest "this means that a large part of that market share loss is due to its own price cuts".
Sainsbury's action on price will have a negative effect on margin, but Bernstein sees the news that they are leading Tesco on price, rather than waiting to respond to Dave Lewis' strategic changes, as a positive sign.
Sainsbury's shares fell another 3% to 250.2p by mid-afternoon today on fears over how bad next week's interim results will be. There is likely to be more short-term pain for Sainsbury's, but – perhaps in contrast to Tesco and Morrisons – Sainsbury's is making strategic decisions on price before the big sales falls have arrived.
Bernstein certainly sees no need for panic despite downgrading forecasts and its price target to 330p, noting: "We retain our outperform rating on Sainsbury's believing it has the most distinct offer of the three listed UK retailers and long term this gives it the best protection from new entrants and the best long-term prospects."