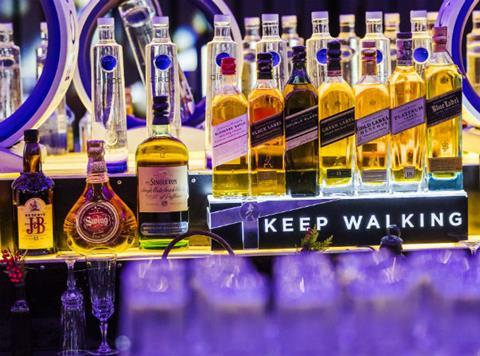 Top story
Weakness across a basket of emerging markets currencies is expected to reduce Diageo's (DGE) 2019 sales and profits, CEO Ivan Menezes has announced this morning.
In an update to shareholders ahead of its annual general meeting in London today, Menezes said "some increased emerging market foreign exchange volatility" in recent weeks will reduce full year net sales by £175m and operating profits by £45m.
Nevertheless, he said the group had start its new fiscal year, to the 30 June 2019, well and performance is in line with expectations.
The emerging markets volatility has been partly offset by dollar.
Menezes commented: "We continue to execute our strategy with discipline and agility and despite seeing increased volatility in some markets we continue to expect organic net sales growth in F19 to be broadly in line with last fiscal year and consistent with our medium-term guidance of mid-single digit growth.
Diageo expects to grow organic operating margins in line with its previous guidance of 175bps of margin expansion in the three years ending 30 June 2019.
"We are focused on delivering both growth and efficiency, allowing us to continue to reinvest in the business to support the long-term growth of our brands."
Morning update
Nestlé (NESN) has announced it is exploring a sale of its Nestlé Skin Health arm as part of its wider strategy to focus on nutrition, health and wellness.
As a result of its strategic review earlier this year, Nestlé resolved to sharpen its focus on food, beverage and nutritional health products.
Nestlé announced this morning that the board has "come to the conclusion that the future growth opportunities of Nestlé Skin Health lie increasingly outside the group's strategic scope" and has decided to explore strategic options for Nestlé Skin Health.
This review is expected to be completed by mid-2019.
Headquartered in Lausanne, Switzerland, Nestlé Skin Heath employs more than 5,000 people across 40 countries. It benefits from state-of-the-art R&D capabilities and manufacturing facilities spread across the globe. Nestlé Skin Health had sales of around CHF 2.7bn in 2017.
Chairman Paul Bulcke commented: "Our Board has fully reconfirmed the value potential of Nestlé's Nutrition, Health and Wellness strategy. Sharpening our strategic focus on Nestlé's core food, beverage and nutritional health products offers the best opportunity for long-term profitable growth and is fully in line with the pursuit of our company's purpose."
Mark Schneider, CEO, added: "Nestlé Skin Health has made significant progress under its new leadership team over the past 2 years. The company has developed convincing growth strategies for each of its business units and regained a competitive cost structure. Now is the right time to explore the best ownership structure for Nestlé Skin Health and to consider ways of taking it to the next level."
British American Tobacco (BATS) has announced that after nearly 37 years with the company, and eight years as CEO, Nicandro Durante will retire on 1 April 2019.
Chairman Richard Burrows commented: "Nicandro has been an outstanding Chief Executive. He was the architect of the current strategy to transform the business and, with the successful establishment of BAT's potentially reduced risk products business and the acquisition of Reynolds American, he has created a stronger, truly global tobacco and nicotine business.
"Through this period of great change, Nicandro has substantially grown the business, delivering consistent strong growth in both earnings and dividends during his tenure."
Durante added: "It has been a privilege to have led such a great company for the last eight years. We now have a growing potentially reduced risk product business fully embedded in our organisation and the integration of Reynolds has been successfully completed."
He will stay in his post for the next six months to "ensure an orderly handover" to his successor.
BAT said it has been considering successors for some time and it has identified a lead candidate to succeed Durante, but has not named the individual.
On the markets this morning, the FTSE 100 is up 0.1% to 7,340.1pts.
Diageo shares have edged down 0.3% to 2,606p on this morning's news.
British American Tobacco is flat at 3558.5p and Nestlé shares are up 0.2% to CHF80.12.
Early risers include PayPoint (PAY), up 2% to 929p, Greencore (GNC), up 1.6% to 185.8p and Stock Spirits (STCK), up 1.1% to 194.6p.
Fallers include PureCirlce (PURE), down 4.4% to 361p, Premier Foods (PFD), down 1.8% to 41.6p and Britvic (BVIC), down 0.9% to 792.5p.
Yesterday in the City
The FTSE 100 ended the day up 0.4% at 7,331.1pts, but a number of key grocery and fmcg stocks failed to benefit from the better market sentiment yesterday.
Greencore (GNC), which has had a volatile recent share price history after it needed to restructure its US operations, fell 3.9% back to 183p.
Other major grocery stocks on the slid included Ocado (OCDO), down 2.2% to 899.4p, FeverTree (FEVR), down 2.2% to 3,673p, Unilever (ULVR), down 2.2% to 4,144.5p, PZ Cussons (PZC), down 23.1% to 223.8p and Coca-Cola HBC (CCH), down 1.4% to 2,529p.
Tesco's (TSCO) grand unveiling of its Jack's discount arm yesterday helped nudge its share price up 0.3% to 235.8p, though it outperformed its listed contemporaries, with Morrisons (MRW) down 1.4% to 253.9p and Sainsbury's (SBRY) down 1.2% to 316.9p.
Science in Sport (SIS), was up 0.4% to 70p after recording a 20% jump in sales in the first half of 2018, driven by rapid growth in online sales.
Other of the day's risers included PureCirlce (PURE), up 17.6% to 377.5p following on from its strong results on Tuesday, Majestic Wine (WINE), up 3.7% to 410p, Nichols (NICL), up 2.5% to 1,522.5p and SSP Group (SSPG), up 1% to 708.8p.