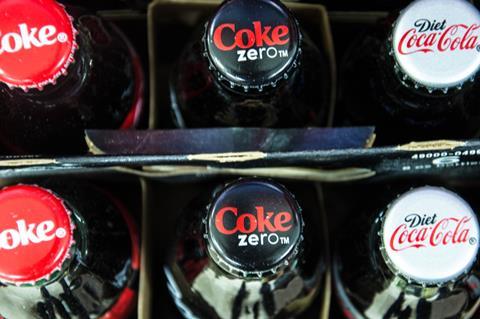 Like-for-like profits jumped 7% at Coca-Cola European Partners (CCEP) in 2018 on the back of surging sales for sugar-free and energy drinks.
The soft drink bottling business also revealed plans to trade on the London Stock Exchange as it revealed its results for the 12 month period.
CCEP forecast another of revenue and profit growth in 2019, as it reported a 4% increase in revenue to €11.5bn, while comparable operating profit rose 7% to €1.6bn.
Earnings per share increased 8.5% to €2.30, as CCEP highlighted 11% volume growth for Coca-Cola Zero Sugar, as well strong performances for Fanta, Schweppes and energy brands.
Energy drink volumes climbed 13% during the year, and the supplier was buoyed by positive summer weather across northern Europe, it said.
"After our first two years as Coca-Cola European Partners, we continue to build a company based on three pillars: great beverages, great service and great people," commented CEO Damian Gammell.
"Our 2018 results demonstrate this momentum, reflecting our ongoing focus on driving profitable revenue growth through strong price and mix realisation and solid in market execution."
CCEP also unveiled a raft of new low-sugar drinks which will duck the soft drinks levy, including no added sugar variants of Fanta, Appletiser and Capri-Sun which will launch in retail next month.
The announcement came alongside results for the UK-headquarter Coca-Cola Hellenic Bootling Company (CCH) and US-based Coca-Cola Co businesses.
Coca-Cola HBC shares dropped 6.3% to 2,523p after the supplier warned that growth would slow in a number of markets in 2019.
It made the cautious message despite reporting a 6% rise on a FX-neutral basis in 2018, while reported revenue grew 2.1% to €6.6bn.
Comparable net profit of €480.4m and comparable earnings per share of €1.306 were 6.8% and 5.9% higher than in the prior year.
The improved bottom line performance was driven by the benefits of revenue and volume growth, it said.
The US bottling business, Coca-Cola Co, also saw a decline in shares, falling 6.7% to $46.4 after it missed revenue expectations for the fourth quarter.
The Atlanta-based business also warmed organic growth was likely to slow in 2019, with sales set to be hampered by adverse currency fluctuations.
The forecast came as it reported a 6% decline to $7.06bn in fourth quarter revenues, compared to the previous year, as sales were dented by foreign currency effects.