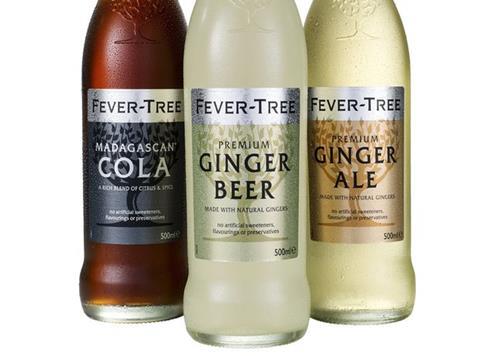 Premium mixer brand Fever-Tree (FEVR) is targeting winning market share from the North American soft drinks giants as it looks to build the US into its largest sales market.
Reporting its annual results this week, Fever-Tree boasted a bumper 118% jump in UK sales in 2016 as growing thirst for premium gin boosted revenues.
But the brand posted lower growth of 55% in the US where spirit consumption is dominated by the dark spirits category and Fever-Tree has targeted increasing penetration in this market to grow sales in the region.
Fever-Tree has already launched ginger beer, ginger ale and Madagascan cola products aimed at the dark spirit market and has lined up further launches in 2017 to grow its presence in the category.
"There is no question that cola and ginger ale are the predominant mixers in the US market," said CEO Tim Warrillow.
But he pointed out that major players in these categories, notably Coca-Cola, do not promote their brands as alcoholic drink mixers leaving a gap in the market.
"Because Coca-Cola is so ubiquitous premium spirit brands are not that excited on focussing their marketing development alongside them, so that provides a really interesting opportunity for us," he said.
He said Fever-Tree was engaged in conversations with major dark spirit brands about marketing partnership opportunities at the premium end of the category.
Fever-Tree's efforts to expand internationally reflect the acceptance that triple-digit sales growth in the UK will inevitably tail off as the tougher year-on-year comparisons kick in.
The UK currently makes up 44% of Fever-Tree sales, but Warrillow said he sees "no reason" why, over time, the US will not become its biggest single market. "We're very encouraged by the increasing distribution that we're gaining across the US and we're very encouraged by the fact the premium mixer category is starting to be recognised," he said.
In the UK Fever-Tree said it saw strong off-trade performance, driven by consistently strong growth across its principal retail customers (Waitrose, Tesco and Sainsbury's), alongside incremental sales generated by the listing at Asda in May 2016.
Warrillow said there remains significant opportunity to increase its presence in key UK retailers, given the 13% category growth of which 92% was driven by Fever-Tree itself. "Retailers make shelf space available for products that are popular and rotating fast," he explained.
Profits also soared in the year to 31 December as the group strengthened its margins, with a 97% rise in adjusted EBITDA to £35.8m and pre-tax profits of £34.3m, compared with £16.8m in 2015.
While the group has seen some cost input inflation, it said its main input costs in the UK are not exposed to foreign exchange driven cost rises and it has no plans to alter pack architecture or push for price increases.