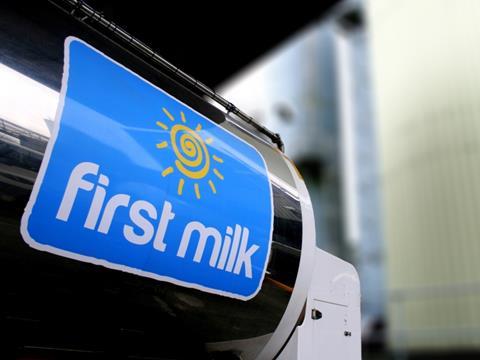 First milk has reported a 15% hike in revenue and a return to profit in its financial results for the year ending 31 March 2014.
Publication of the results had been delayed by First Milk's announcement earlier this month that it was deferring farmer's milk payments by two weeks as it looked to recapitalise the business in the wake of global dairy market volatility.
In statement issued today (28 January), First Milk chairman Sir Jim Paice said: "While trading subsequent to the financial year end has been challenging, the year to 31 March 2014 was a good one for First Milk."
The company reported 15% revenue growth to £610m, with operating profits (before exceptionals) up 201% to £6.5m and profit before tax (before exceptionals) of £3.5m compared with a £0.8m loss the previous year.
First Milk said the financial year had brought improved returns from commodity markets, resulting in higher milk prices for members that peaked at 32.5ppl in December 2013. It said its existing long-term partnerships with Nestlé, Fonterra and Volac had continued to perform well, and said a strategic partnership with Adams Foods that it entered into in March 2014 was providing a secure outlet for the majority of First Milk's cheese production. Adams Foods acquired First Milk's UK customer base for hard cheese for net proceeds of £3m, which was recorded as an exceptional item.
The business attracted charge of £7.5m from the closure of the Maelor packing facility last year following the loss of a cheese contract.
In a statement referring to trading after the 31 March 2014, Paice said there had been considerable volatility in the returns generated from globally-traded dairy commodities.
"This has coincided with a significant uplift in the level of milk production off-farm, resulting in an increase in milk supply for conversion into products which were declining in value," he added. "This perfect storm of increased volumes and falling prices resulted in the group incurring losses since the year end."
Paice said theses loses had restricted the amount of cash available to the business, which had agreed with its lenders a series of "very short term increases in our facilities".
The board decided the situation could not continue, and in January announced it was deferring farmer payments to help the business "stand on its own feet and rebuild the fundamentals of the business ahead of the spring flush".
"Deferring milk payments by a fortnight improves First Milk's cashflow significantly," said Paice. "We understand the milk payment deferral has caused concern for members and we are continuing to work with all major banks to ensure bank managers are well equipped for any conversations they have with our members. The board's priority is to make the business and its processing assets as secure as possible in order to ensure First Milk continues to process and market every litre of its members' milk."