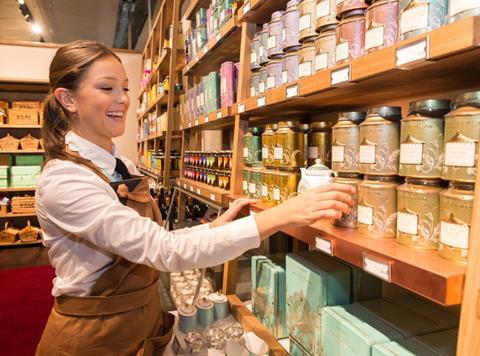 Fortnum & Mason has reported latest sales figures for its St Pancras store were "ahead of expectation for the business", with 42% sales growth year on year for the period of November-February.
Having entered its second year of trading in November, the store's best performing category was tea, where Fortnum said sales were 61% higher than expected. Wines and spirits also sold well, with sales 12% above Fortnum's forecasts for the November-February period.
Fortnums said international customers and a strong Christmas campaign helped drive up sales. Going forward, additional Marseilles services from Eurostar are set to benefit Fortnum's unit in the Summer. However, Fortnum's chief exec Ewan Venters said great products and service remain at the heart of the company's success.
"We're also working very hard to make our brand more relevant and contemporary," he said.
"We'll continue to invest in the business to provide our customers with the best possible experience, in our stores and online, and have a number of exciting initiatives planned for the year ahead."
The retailer also revealed that its new Heathrow Terminal 5 store, officially launched in January, is performing well so far.
"Our newest store opening in Heathrow Terminal 5, is delivering a strong performance across all categories however our fresh range has been the 'stand out', with caviar, stilton and chocolate truffles particularly in demand," said Fortnum director of retail Daniel White.
"Success in T5 has also been underpinned by an exceptional response to our Bar and we're proud to be welcoming back a regular clientele as well as occasional travelers wishing to enjoy the freshly prepared delights of our menu, again with our Caviar and Champagne selections proving most popular".