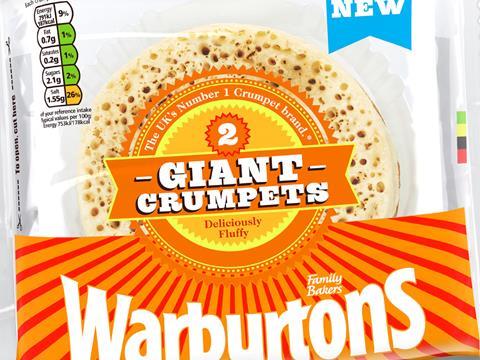 Giant crumpets, sandwich thins and teacakes helped prop up Warburtons's annual sales, as the bakery giant saw profits plunge by more than 40% in its most recent accounting period.
In the 53 weeks to 30 September 2017, revenues dipped just 0.3% to £524.7m in the face of a "very competitive Great Britain grocery market". The company's chairman, Jonathan Warburton, credited the lack of a more significant fall on "growth in non-bread products as we continue to innovate and develop new product ranges".
Warburtons classified non-bread products as all those other than traditional wrapped loaves, it told The Grocer. The supplier's most recently launched NPD was Bistro Deli Buns – pre-sliced flatbread sandwich buns in White and Malted Grains & Seeds.
Despite the modest sales decrease, Warburtons's pre-tax profits dived by 40.2%, from £34.6m to £20.7m, as the company failed to claw back rising costs amid the continued decline of wrapped bread.
"The wrapped bakery market remains very competitive, with the continuing decline in the core market compounded this year by increased input costs," Warburton said. "Recovery of input costs did not take place in the year under review and will be carefully considered to ensure we minimise the impact on the customer and consumer going forward."
The company had committed to its "quality of product and service supported by the continued development of new product ranges" its chairman added. "This continuing innovation and investment in new capability will ensure we are well placed for future progress."
Warburtons is preparing to trial a trio of artisanal loaves following a £1m investment in a bakery in Milton Keynes. Aimed at tapping the rise in popularity of 'craft' bread, a sourdough lineup will be available in white, mixed grain and seeded variants packed in paper and film.