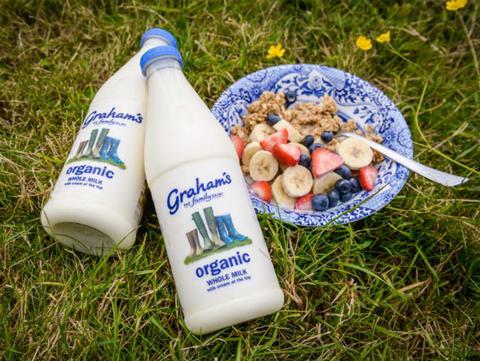 Scottish dairy group Graham's has boosted annual revenues by 20% but profits declined 9% as margins remained tight amid challenging industry conditions.
In the year to 31 March 2017, Graham's the Family Dairy built a logistics site in Kintore, invested in production capabilities and expanded its product range, as well as maintaining its position of number one Scottish food brand [Kantar International WorldPanel].
Sales in the year jumped 20% to £100.5m thanks to an increase in volumes to an expanding customer base and the full-year impact of the Glenfield acquisition.
Graham's snapped up the Glenfield Dairy in Fife from First Milk in November 2015 helping the company to extend its offering to include a new quark, cottage cheese sour cream range, all of which achieved multiple UK listings.
Maintaining the overall balance between supply and demand in raw milk continued to provide opportunities and challenges, the group said.
Margins remained tight for the business, with a 9% decline in pre-tax profits from £1.4m in 2015/16 to £1.3m last year, which reflected the challenges faced across the dairy industry, Graham's added.
"Graham's the Family Dairy is a family business at heart and our core values of farming, family, quality, heritage and provenance always ring true in whatever we do," MD Robert Graham said.
"We continue to grow our business partnerships with major retailers and now over half the Scottish population buy Graham's products. Going forward, we will constantly innovate to expand our award-winning product range both within the UK and beyond.
"Despite the challenging backdrop of balancing supply and demand of raw milk prices, we have made significant progress throughout the year in relation to key elements of our strategy. We are well positioned to take advantage of upcoming opportunities in the market place whilst at the same time looking to improve efficiency and profitability."
Graham's, which has been based in Bridge of Allan since 1939, invested £1.4m in 2016/17 in new plant and machinery and built a logistics facility depot in Kintore.
The business is currently working in partnership with Mactaggart & Mickel Homes on a 600-house development, which would allow Graham's to develop a £20m national dairy centre.
"Our joint application for housing with Mactaggart & Mickel Homes will deliver our proposals for a new £20m national dairy centre, which will focus heavily on R&D and innovation," Graham added.
"The centre, which represents the single biggest investment in Scotland's dairy sector in 30 years, will be home to scientists, researchers and food technicians, and will help put us, and Scotland, at the forefront of change."