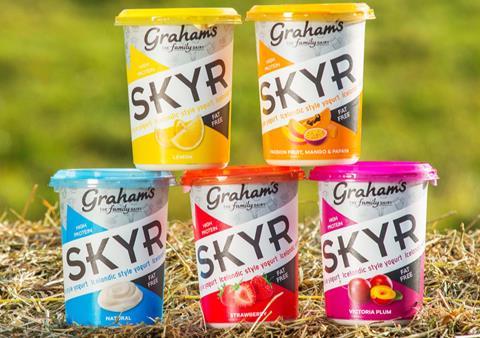 Graham's the Family Dairy has reported a "solid" annual performance with profits rising nearly 70% despite the ongoing challenges of the milk sector.
The Scottish family business reported pre-tax profits of £2.2m for the year ended March 2019, up from £1.3m the prior year.
Annual sales rose 4.7% to £109m, driven by "significant" NPD and innovation with the business investing a total of £5.6m last year.
Successful NPD included the launch of Graham's skyr product, which to date remains the company's best-performing new product launch.
In March 2019, the dairy also expanded its high-protein range with the introduction of its Goodness low-calorie ice creams and flavoured cottage cheese, receiving "unprecedented" customer interest.
"It has been a good year for us which is great in this obviously very competitive market," said MD Robert Graham.
"We are in a bizarre situation where the largest two liquid dairy companies in Britain have got combined losses of £140m and our small family business in Scotland is the most profitable liquid dairy company in Britain," he added, in a nod to the difficulties faced by Arla and Müller and the recent collapse of Tomlinsons Dairies.
"That says a lot about the market, and we need to continue to drive profitability, both as a business but also as an industry."
Graham described the company's performance as a "dichotomy" between a profitable liquid division working with "very slim margins" and a value-added division which drove most of the profitability.
"We have to continue to drive sales on these added-value type products, continue to innovate with NPD and work hard and quickly," he added.
To this end, the business had a "strong pipeline" of new products ready to launch in the coming year, which are expected to contribute to a continuing positive financial performance as margins in the liquid division remain under pressure.
Meanwhile, Graham's is also awaiting a final decision on the approval of an ambitious plan to build a £40m processing plant and an accompanying housing development at Airthrey Kerse in Stirling. In Janaury 2019 the Court of Session overturned a decision by the Scottish government to dismiss the supplier's planning application.
In financial year 2018, Graham's booked exceptional costs of nearly £900k in relation to the initial planning application refusal, leading to a pre-tax profit after exceptional items of £363k.