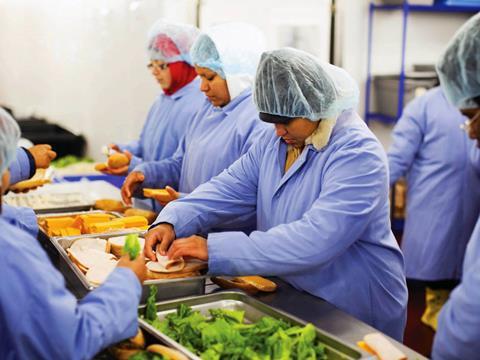 Greencore's (GNC) share price resurgence after its humbling exit from the US last year hit turbulence this week on a significant slowdown in growth.
The food-to-go specialist's shares are up 29% year on year as the company has undergone a "fundamental reset" to focus on UK convenience food after selling its US operation in October 2018.
However, the shares dipped 3.4% to 239.9p as it released its annual results on Tuesday, despite posting an improvement in underlying sales and profits as its second-half growth slowed.
Revenues from continuing operations in the year to 27 September fell by 3.5% in the period to £1.45bn, reflecting various business exits and site disposals in the period. Pro forma revenues grew by 2.6%, driven by increased sales in its core food-to-go categories of sandwiches, salads, sushi and chilled snacking. However, strong growth of 7% in the first half slowed to organic growth of 0.3% in the second six months of its financial year.
Broker Jefferies suggested this slowdown pointed to a 0.1% drop in fourth quarter organic sales in its core food-to-go business (which represents two-thirds of its sales) and a 2.3% drop in other UK convenience foods.
Greencore blamed overall market growth, which was below historical trends, driven by unseasonal weather and varied trading performance across customers, noting it was still outperforming the wider market. However, Jefferies suggested consensus estimates "will come down slightly to reflect the FY19 operating miss and slow terminal sales momentum"
Despite rising wage costs, overall adjusted operating profit rose by 0.9% to £105.5m while headline operating profits increased from £49.8m to £99.8m as a result of a reduction in the level of exceptional items during the year.
House broker Shore Capital maintained Greencore remained on the right track, despite the second-half slowdown. "Its 'fundamental reset' leaves the group focused upon seeing through what we do deem to be a considerable opportunity in the attractive UK food to go market where Greencore has undoubtedly leading capabilities."
Elsewhere, Britvic's (BVIC) annual profits were hit by the closure of its Fruit Shoot multipack operation in the US and adjustments relating to the sale of factories in France, despite posting solid results in its UK carbonates business.
Organic revenue for the year to 29 September increased 1.4% to £1.55bn, driven by strong performance in its UK carbonates business and growth in Pepsi sales.
However, reported profit after tax declined 30.9%, due to adjusting items of £84.6m relating to the US and the sale of French juice manufacturing facilities to Refresco.
Liberum commented: "We are excited for Britvic's free cashflow story to improve but believe it is priced into the shares… We suspect consensus 2020 to come down a few percentage points."
Britvic shares ended Wednesday unchanged at 985p, despite dipping to 950p in early trading, as investors were reassured by the continued strong growth in its UK carbonates business.