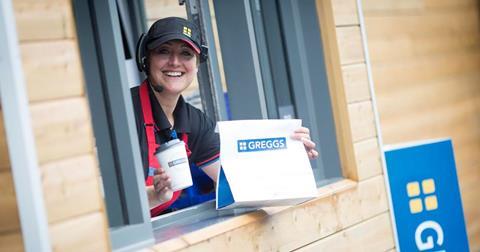 Greggs (GRG) has posted a jump in annual sales and profits following an 'exceptional' year for the food to go chain, but admitted it has seen a 'significant' slowdown in sales in February due to stormy weather.
The bakery chain posted total sales growth of 13.5% in the year to 31 December up to £1.17bn, driven by company-managed like for like growth of 9.2%.
That level of like for like growth was significantly higher than the 2.9% recorded in 2018.
Greggs said that, despite significant increases in wage and pension costs, the strong sales growth in 2019 converted to improved profitability.
Underlying pre-tax profit, excluding exceptional items, grew by 27.2% £114.2m, while including exceptional items saw pre-tax profits grow to £108.3m from £82.6m.
During the year Greggs opened 138 new shops with 41 closures, bringing its total to 2,050 shops trading at 28 December 2019
It said its 'exceptional performance' was "founded on transformational changes made across multi-year strategic investment programme".
Customer visits began to build during 2018 and then stepped up again, with the successful launch of its new vegan product lines in January 2019 receiving widespread media coverage
Product development drove quality, sustainability, variety and brand appeal, while it also made significant progress in delivery of supply chain investment programme, with benefits ahead of plan.
It is also developing 'Next Generation Greggs' programme aimed at increasing customer loyalty, choice and access to Greggs across multiple channels.
However, a "very strong" start to 2020 in January, has fallen off with a significant slowdown in February due to storms
Company-managed shop like-for-like sales are up by a more modest 7.5% in the nine weeks to 29 February 2020.
CEO Roger Whiteside commented: "2019 was an exceptional year of progress for Greggs, during which we experienced a sustained increase in customer visits as increased awareness and appreciation of our brand gathered momentum. Our exceptional performance was founded on the changes that we have made across our multi-year strategic investment programme, which has delivered transformational change across the business and has now set us up for the next phase of growth.
"We made a very strong start to 2020 in January, but in February saw a significant slowdown in sales growth as a result of the storms that have affected the UK. There is some uncertainty in the outlook, particularly given the potential impact of Coronavirus. This aside we expect to make year-on-year progress and will do so from a strong financial position, supporting our investment for further growth whilst also delivering good returns for all stakeholders."
Greggs added that it will consider capacity for special dividend at time of interim results.