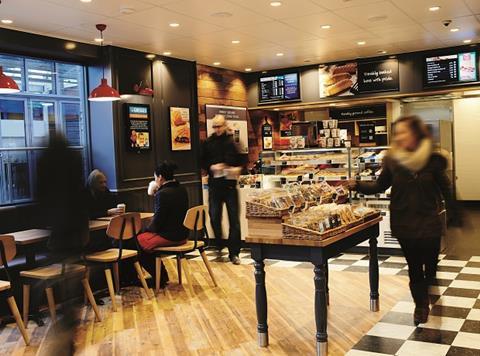 Shares in Greggs (GRG) have crashed 11% as like-for-like sales growth slowed in the fourth quarter after the high street baker came up against strong figures from a year ago and footfall on the high street weakened.
Sales in stores opened more than a year increased 2.3% in the three months to 3 January, down from 4.9% in the third quarter. The performance left Greggs with like-for-like growth of 4.7% for the year, with total revenues rising 5.2% - its second record year in a row.
CEO Roger Whiteside plans to add a flat white and an improved mocha to the popular coffee range, which forms part of its fast-growing breakfast offering, as he seeks to tempt customers to visit shops more often. Whiteside also confirmed there would be new gluten-free lines introduced to stores this year.
"2015 saw us deliver another excellent year of progress as we continue to transform Greggs into a modern, well-invested food-on-the-go retailer," he said. "We anticipate that we will report full-year results for 2015 in line with our previous expectations."
Investors took flight at the news of slowing sales and difficult high street conditions, which also plagued Poundland over Christmas, sending Greggs share price down 11% to 1,108.3p as the markets opened. The stock has recovered slightly but is still down 8.8% at time of writing. However, Greggs has been one of the big stock market winners in the past two years, with shares up almost 200% since January 2014 and 75% in 2015.
Canaccord shaved its target price for the stock by 25p to 1,325p as a result of the "tough" Q4 but retained the 'buy'rating.
Analysts at the investment bank said: "We believe there's still plenty of momentum within the business [but] there is still plenty to do. Greggs is only in the second year of a five-year plan to transform itself from a high street retailer to a bakery food-on-the-go operator."
During the year Greggs opened 122 shops (including 61 franchised sites), closing 74, to leave the estate 1,698 strong, with 202 refits completed and 20 conversion to the larger bakery café format.
Whiteside's focus on a healthier food-to-go offering paid off in 2015, completing his turnaround of the business since joining in 2013, with sales growth particularly strong in the 'balanced choice' sandwich range, which now represents 10% of total turnover.
Greggs said seasonal favourites, such as mince pies and its festive bake, also made a strong contribution to sales over the Christmas and new year period.
"In the year ahead we will continue with the implementation of our strategic plan to enable the business to compete more effectively in the food-on-the-go market," Whiteside added.