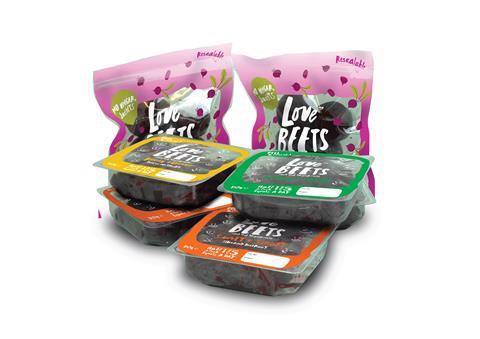 UK fresh salad and veg giant G's Group remained in the red last year as costs associated with taking control of its US Love Beets business negated rising sales.

The group posted a 4.9% rise in annual sales for the year to 4 May 2019 to £496m, helped by the inclusion of US revenues - of £17.1m - for the first time.

Gross margin improved to 12.2% in the year from 9.8%. However, the group remained loss-making, posting a pre-tax loss of £910m compared with £1.7m in the previous year.

Tax payments on the loss meant it posted a total loss for the period of £2.6m compared with a £4m loss in the previous financial year.

The company, which supplies a range of fresh produce to major UK supermarkets, was forced to take £3.7m of overhead costs and an additional £5.3m of amortisation charges, both related to its US business.

It stated that without the amortisation of goodwill relating to taking a controlling share in its US Love Beets arm, it would have posted a pre-tax profit of £4.4m.

In October G's told The Grocer it was facing difficulties in recruiting and retaining seasonal workers, meaning it was having to invest more in attracting labour. The accounts show its staff costs were up just 1.2% in the year to £89.3m, but on a reduced headcount, meaning staff costs per employee were up 4.6%.
The accounts also stated that short-term risks remained from the possible "disruption to the free flow of fresh produce from the group's EU operations to the UK in the event of a hard Brexit".
However, it said it was in a "strong position" to adapt to "whatever operating environment develops as the exit process unfolds".
The group intends to exploit opportunities by moving into higher value-added ranges, both in the UK and Continental Europe, the US and the rest of the world.
During 2019 it launched its Love Beets beetroot brand to UK consumers by partnering exclusively with Tesco. The brand comes in four variants of cooked beetroot: Salsa, Sweet & Smoky, Honey & Ginger and No Vinegar.

G's declined to comment on its accounts.