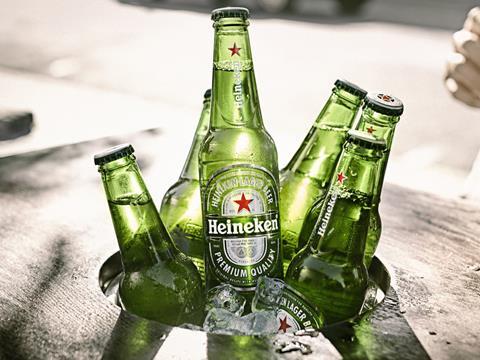 Heineken's entrance into the Brazilian market left a sour taste in the mouth for investors this week.

The brewing behemoth acquired Japanese brewer Kirin's business in Brazil in a $700m deal last year, as it sought to take on AB InBev's dominance in South America and tap the growing market. However, its exposure to South America ultimately took the fizz out of its half-year results this week - shares fell 5% to €86.54 as it lowered its profit margin forecast for the year. "Marked acceleration" in the country would mean the region's lower margins would dilute group-wide earnings.

The company recorded total volume growth of 4.6%, with sales value up 4.2% to €10.8bn. Nevertheless, currency fluctuations and dropping margins in Brazil cut into profits, which fell 2.9%, while margins themselves went from 17.5% to 16.3% for the period.

It was a stark contrast to its key opponent in the region, AB InBev, which recorded only 0.9% beer volume growth in its results last week, but with a significantly better margin, at 31.2%.

Heineken's profits fell below analyst expectations, but Moody's VP and lead analyst Ernesto Bisagno expects "large volumes and price mix to drive stronger profits" despite "weaker" margins.

Elsewhere, AG Barr shrugged off a "volatile" period, marked by reformulation on the back of April's sugar levy, by delivering 5% sales growth in the 26 weeks to 28 July 2018. The Irn-Bru maker said that the sugar levy was a key driver for sales value growth, alongside hot summer weather at the end of the half.

AG Barr rose 3% to 681p on this news, with Shore Capital confident that the Scottish drinks company will "continue growth into 2019" following the figures.

"Barr has an excellent portfolio of brands with a strong innovation pipeline, an increasingly efficient and flexible manufacturing capability as well as net cash on its balance sheet," said Shore analyst Phil Carroll.