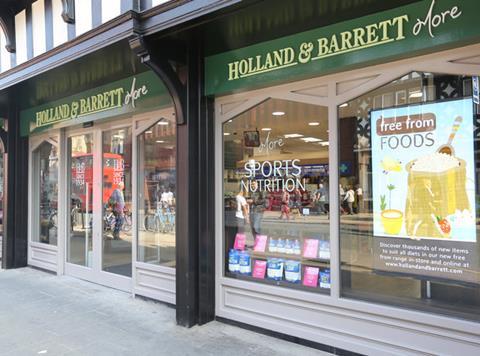 Holland & Barrett International has announced an annual increase in sales of 11.7% and growth in profits of 12.2% for its full financial year ending 30 September 2015.
Sales increased from £513.6m in 2014 to £573.8m during the year, with profit before tax up from £130m to £146m.
Footfall across UK their 744 stores increased by 8% and items per basket by 2%. Like-for-like sales in the UK increased by 10.4% and direct channel sales by 27.5%.
The overall revenue growth means the health foods retailer has recorded seven years of consecutive growth for the company (with CAGR in excess of 10%).
Peter Aldis, CEO of Holland & Barrett International, commented: "This year's performance, especially our rapid growth overseas, underlines the fact that rising consumer interest in healthier living and wellness is by no means a UK or even western phenomenon."
"Demand has continued to increase for our long established propositions in vitamins, minerals and supplements, but our investments in further developing our product ranges in sport, healthy beauty and healthy food have shown notable increases in sales and footfall across all of our stores in all markets."
The retailer, owned by Carlyle Private Equity since 2010, has announced its intention to grow revenues to £1bn by 2020 driven by international growth.
Aldis said its international franchise model has enabled it to grow quickly in markets including Kuwait, Malta, Singapore and China.
"Our experience is that the British heritage behind our brand gives us significant advantage in our sector, and overseas consumers, such as those in China, seem to prefer the quality and reliability of our products compared with local competitors," he said.
It recently opened its 100th franchise store in the city of Taiyuan, bringing the total number of franchised stores in China to 34.
2015 also saw some 56 new stores opened by the business, bringing the total number of stores under the brand to 1071, of which 104 are franchised.
The business is also in "advanced stages" of negotiation with a strategic partner in India, and are "hopeful" that the first Holland & Barrett franchise store will open in that market next year.
Aldis added: "Our home market in the UK continues to be the first to benefit from our very healthy new product pipeline and from our continued investment in innovation.
"We will continue our relentless focus on new technologies and driving integration across our ecommerce channels to benefit the shopping experience of both new users and loyal customers who have really made the business what it is today."